A Hospital, Not a Club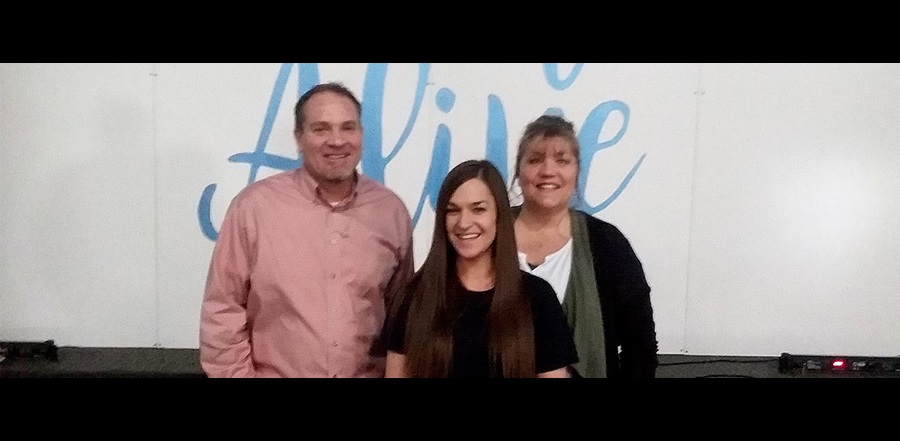 Don't miss any stories. Follow AG News!
Dalinda "Dee" Lyons is grateful that she likes yogurt. When Idaho Falls New Life Church gave away the dairy product to Lyons a couple of years ago, that did much more than assuage her physical appetite.
Lyons, a 49-year-old single mother who considered herself irreligious, went to a Sunday morning service to ensure that she would be near the front of the food distribution line after church. But she became so enthralled with the opening sermon on the Book of James she came back the next four weeks to hear concluding messages. Soon after, Pastor Jay Spangenberg baptized Lyons in water, and she has been attending ever since.
She says prayers of people of New Life have sustained her through a series of family health crises: her back surgery, the delivery of her 27-year-old daughter Kailee's premature baby; and an emergency operation to remove the lower jaw of her 16-year-old daughter, Quincy. Lyons also lost her job because of the recuperation time needed following her medical procedure.
"I don't think I would have made it through all the challenges without the church," says Lyons, who notes she never lacked basic necessities during her trials. "I know it's ridiculous to say that my whole relationship with God began with a case of yogurt, but that's what happened." She now has a teaching degree and is a full-time special education teacher.
Such transformational stories abound at New Life. Spangenberg, the 51-year-old pastor, didn't become a Christian until 29, when his devout grandmother convinced him to attend a Heaven's Gate, Hell's Flame presentation in Nampa, Idaho. Spangenberg says he grew up as a CEO Christian — his family attended church Christmas and Easter only. He began drinking alcohol at an early age, and at 24 met his wife, Cindy, at a nightclub bar.
"I grew on a barstool, I always had a beer in my hand." Spangenberg says. "If God hadn't got a hold of my life, I probably would be dead. I was out of control."
Although he committed his life to the Lord at the altar during the drama presentation, deliverance from alcohol came a few weeks later — when Spangenberg went to bed after finishing off a 12 pack.
That night, Spangenberg says he heard an almost audible voice in his head repeatedly saying Galatians 4:8-9. He looked up the passage, which talks about how those enslaved by a habit before salvation shouldn't return to those patterns all over again. Otherwise, God is wasting His efforts.
Spangenberg, delivered by the Lord, never took another drink.
He owned his own successful drywall construction company, following eight years in the Air Force. Bill A. Wolfe, then pastor at Nampa Christian Faith Center, mentored Spangenberg, and convinced him to take a huge pay cut to become facilities manager at the church. Wolfe also convinced Spangenberg to enroll in Global University distance-education courses. Spangenberg stayed at the church for 11 years, ending up as executive associate pastor.
When the lead pastor position at New Life came open in 2008, Spangenberg accepted — with a congregation of 15 people. A decade later, 200 attend the church regularly. Much of the growth stems from support groups that are meeting a community need. An Alcoholics Anonymous group on Monday evenings attracts 90 on a weekly basis, including many people who otherwise wouldn't darken the doors of a church. Yet many have started attending Sunday morning services and become involved in church. Several AA attendees also come to a Tuesday evening biblically based support group called Overcomers.
"We decided to be a hospital to people, not a club," Spangenberg says. A message of acceptance and forgiveness stands in contrast to the works-mentality lens to which many local residents have become accustomed.
Idaho Falls is one of the most heavily concentrated areas for members of the Church of Jesus Christ of Latter-day Saints. According to an Association of Religion Data Archives report, 59,311 of the 76,103 residents of Bonneville County, where Idaho Falls is located, are Mormon adherents and 138 of the 185 houses of worship in the county are LDS. One of the 159 Mormon temples in the world is located in Idaho Falls, a city of 60,200.
Megan Sasinouski has been children's pastor at New Life for a year. Spangenberg appreciated the dependability and faithfulness of the mother of two elementary school-age sons.
Sasinouski, 29, began drinking alcohol at 9 and taking illicit drugs at 11. She spent time in jail for illegal possession. She read the Bible behind bars, rededicated her life to Christ, and has been sober for three years. She started going to the addiction recovery groups at the church.
IMAGE - Jay Spangenberg (left), Megan Sasinouski (center), and Dee Lyons of New Life Church.