A Large Feat for Small Feet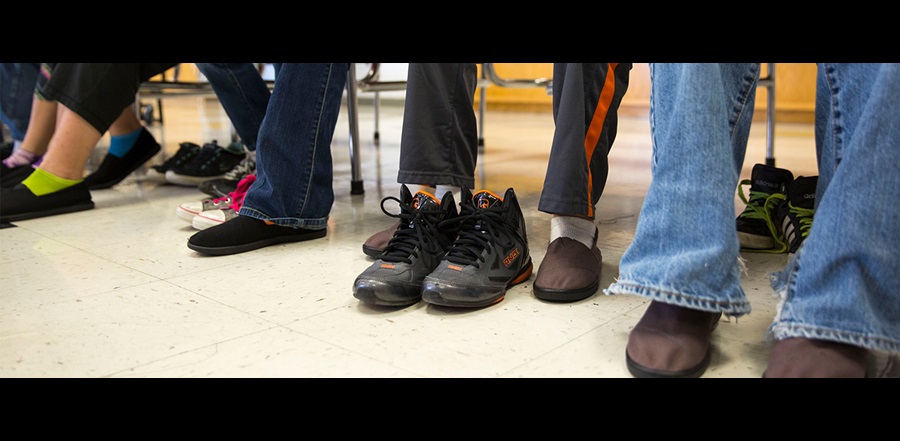 Don't miss any stories. Follow AG News!
Pastor Austin Bishop and a team from First Assembly of God in Philadelphia, Mississippi, witnessed beaming smiles more than 500 times after telling students they had a gift for them.
Jason Dyess, who served as associate pastor at the church, attended a district conference sponsored by Rural Compassion. At the event, Dyess learned Philadelphia qualified for a program through a nonprofit that would allow students to receive new shoes.
Dyess wasted no time bringing the idea back to Bishop, and the two began a plan to resource children in need. Bishop, now 59, began his first full-time pastorate role at 51. Previously, he had worked as an area sportswriter, which gave him some unique connections to stakeholders, including coaches, in the community of 7,400. Once the church found a school to serve and Rural Compassion approved the application, the plan sprang into action.
Bishop and the team at First Assembly of God pulled off a large feat measuring the students for shoes, receiving orders, packing them, and distributing the footwear at what became a memorable event. Last year, Bishop and staff handed out over 300 shoes at Union Elementary School. More recently, they distributed 584 pairs of shoes at Philadelphia Elementary School.
"We have about 50 in attendance each Sunday," Bishop says. "A small church can do something like this. It takes a lot of organization, but it can be done."
Since having success with events like this, Philadelphia Elementary School has invited First Assembly of God back to assist with an outreach during the school's standardized testing.
"It's not about changing your church numbers," Bishop says. "It's about letting the community know that you care."
Travis Creel, assistant principal at Philadelphia Elementary School, says he heard that message loud and clear.
"You could just feel the excitement in the air when the kids walked into the gym to get their new shoes," says Creel. "Some of our students have never had their own pair of brand new shoes, so it felt like Christmas morning."
Creel says Bishop has continued to find ways to show compassion since then.
"He's not just about reaching the people in his own church," Creel concludes. "He's blessing everybody in this community."