A Long, Painful Miracle Journey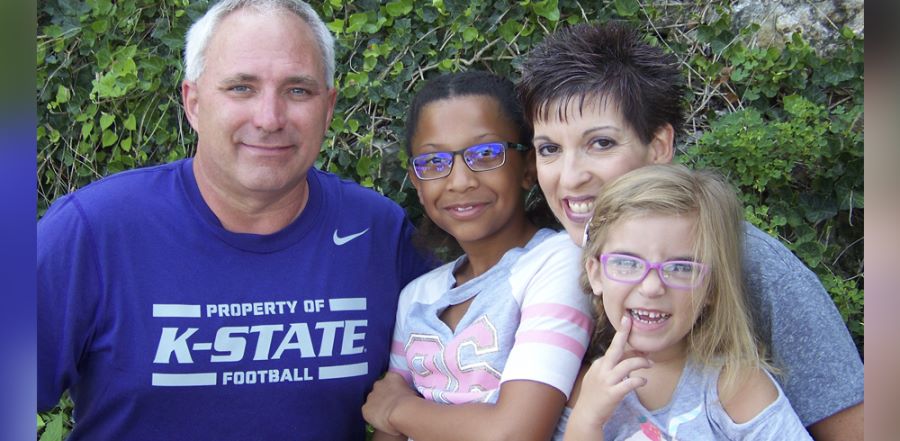 Don't miss any stories. Follow AG News!
Andy and Sharon Knoll talk about their daughters, Cheyenne, 11, and Hannah, 4, with the love and pride of any parents. But for the Osborne, Kansas, couple, their journey to parenthood is also a story of redemption, God's faithfulness, and the power of prayer.
Married in 1994, the Knolls learned they couldn't conceive children biologically. Sharon struggled with anorexia, and, as a result, her monthly menstrual cycles became irregular and finally stopped. After several years, the Knolls decided to pursue adoption.
They endured a year and a half of false hopes, and experienced heartbreak when a proposed adoption fell through. They finally adopted Cheyenne as a newborn in 2007.
About a year after the adoption, Sharon sought more medical tests to determine if there might be any possibility of her being able to conceive naturally. Her doctor returned with grim news: Sharon's ovaries had "shriveled like raisins."
Sharon didn't give up. In 2010, still battling anorexia, she visited a Christian therapist. As therapy progressed, she began to feel release from the physical and mental bondage of the eating disorder, and in 2011, her menstrual periods resumed. Although a physician prescribed a pharmaceutical to regulate her cycles, Sharon felt God's prompting to instead pray for complete healing, including a healthy pregnancy and delivery.
The church the Knolls attend, Osborne First Assembly, conducts regular Friday prayer group meetings. One night late in 2011, Sharon sat near the altar when Andy's aunt Carleen Knoll began a prophetic Spirit-led prayer over her. According to pastor Mike E. Krager, 64, people nearby could feel heat radiating from Sharon's body. Sharon initially felt as though she were suffocating and began to scream. As the sensation subsided, she told her husband, "Something's happened."
The next morning during Sharon's prayer time, she sensed God explaining that she would undergo a process in which He would replace her withered organs with new ones. About 10 months after the altar experience, Sharon became pregnant. However, she later miscarried. Despite Sharon's disappointment, her doctor found encouragement that she had been able to conceive and that tests showed her ovaries looked normal again.
Another pregnancy occurred, but then another miscarriage. Sharon found it difficult to remain positive. At church, Sharon cried out at the altar about her hurt. Andy also wondered whether to risk another pregnancy. But after pouring out her heart to the Lord, Sharon felt peace and told Andy, "If I give up now, I'll be calling God a liar."
In August 2013, Sharon, then almost 41, became pregnant a third time. She experienced bleeding and fear rushed in, but an ultrasound showed no damage to the developing baby. The Knolls prayed daily for a healthy child.
Another major hurdle remained: the delivery itself. As the due date approached, Sharon's doctor ordered an ultrasound. The examination revealed the umbilical cord wrapped around the baby's neck, not once, but three times. Sharon underwent an emergency Caesarean section.
Hannah is now a healthy 4-year-old girl, whom doctors describe as a miracle.
Cheyenne loves having a sister. In spite of their age difference, the girls share a special bond of divine intervention. Cheyenne was born with high levels of marijuana in her system due to her birth mother's drug use. Although she briefly went through withdrawal, she didn't show any long-term complications.
Sharon says Hannah's birth quieted doubters and encouraged those weary praying for her. She marvels at how God used the entire process to bring about redemption from her painful past, including freedom from the eating disorder.
"Andy and Sharon's faith has been inspirational," Krager says. "For nearly 20 years, they remained faithful in church and steadfast in prayer in spite of their circumstances. And God gave them a bona fide New Testament miracle!"