A Long, Slow Recovery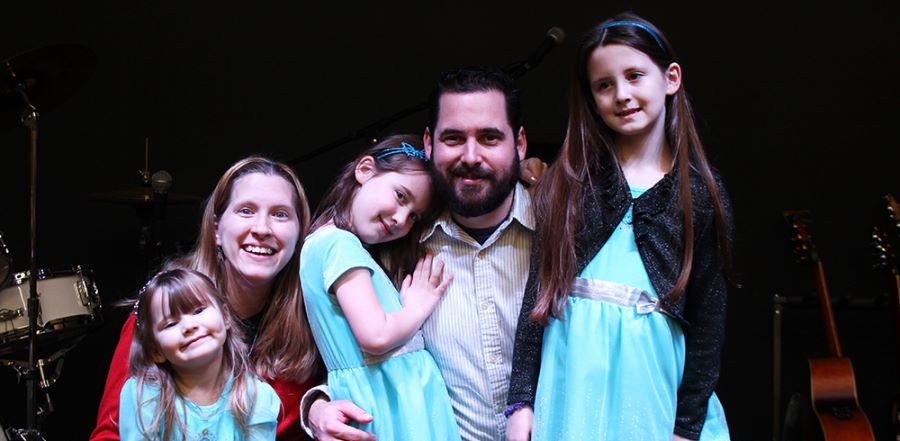 Don't miss any stories. Follow AG News!
Sarah Lawton's life took an irreversible turn as she drove down a back road in Cobleskill, New York, on Dec. 29, 2010.
While en route to visit friends, she lost control of her car and crashed into a building on the side of the road. An obstruction in front of the building swung the car sideways, preventing a head-on collision.
Daughter Kaylee, then 3, sustained only a bruised lip. Younger daughter Kiera, 10 months, miraculously escaped unscathed.
However, the impact of the wreck caused major head trauma to Sarah.
After being transported to a small local hospital, Sarah then went by ambulance to Albany Medical Center, where she underwent emergency surgery.
Doctors told her husband, Sean, then family life pastor at Calvary Assembly of God in Cobleskill, New York, that his wife might not survive the operation.
Overwhelmed, Sean clung to 1 Peter 1:7, which speaks of faith through life's trials. He resolved to give God glory no matter the outcome.
"We live in a fallen world and bad things happen in a fallen world," he says. "It's up to us whether we will bring God glory through the situation."
Following the surgery, Sarah spent 10 days in a medically induced coma at the medical center's intensive care unit.
Once transferred to Sunnyview Rehabilitation Hospital in nearby Schenectady, Sarah spent five weeks beginning to learn how to walk, talk, and live again. Sean spent almost every night at his wife's bedside during her recovery period.
Returning home, Sarah continued outpatient rehabilitation at a nearby facility. Meanwhile, the family adjusted to the new reality of a wife and mother who had been much different than the one last in the house 10 weeks earlier.
The family moved in with Lawton's parents, who took care of the children throughout the week, as Sarah continued her recovery.
"Who my wife was died in that accident," Sean says. "Everything is different."
Sarah had good and bad days, and often forgot how to perform simple functions she had learned the day before.
She struggled with making decisions and controlling her emotions.
A year after the crash, Sean joined the staff of Bethel Full Gospel AG in Schenectady. He spent about three years there, preparing to plant a church in Scotia, New York.
"You can't wait for a perfect situation to do what God calls you to do," he says. "When God says go, you've got to go."
During this time Sean says God remained faithful through the many trials the family faced.
Sarah gave birth to the couple's third daughter, Katherine. A friend paid the mortgage on their home for a year when the Lawtons couldn't make ends meet.
"This is a story of faith ­­­– not faith in us, but faith in God," says Sean, now lead pastor of Converge Community Church in Scotia, New York. "God is good, and He's not going to stop just because we face a tough time."
Last year, Sarah gained acceptance into a day program for people with traumatic brain injuries as well as a secondary program called Neuropsychologic Rehabilitation Services, which is a therapeutic intervention designed to assist retraining thinking skills.
Sarah has made much progress because of the programs, Sean says, and her verbal skills are quite good. Yet Sarah still struggles to recollect her identity. Memories from before the accident are limited, and she doesn't recognize many past events.
Sean's parents continue to assist in caring for the three Lawton children during the week. Sean says communication with Sarah is difficult at times due to her disability. At times she is laden with a flood of emotions, and she doesn't always respond properly to situations.
Nevertheless, Sean has renewed hope. He clings to a promise that he says God made to him early on that his wife would be fully healed one day.
"I'm waiting for the moment when God revives her and she starts living her life again," Sean says. "To look at it five years later, it's not where I want to be, but God hasn't left me through it. I wanted to give up several times, but God is too good to give up on me. I can't let go of Him."