A Model for Urban Outreach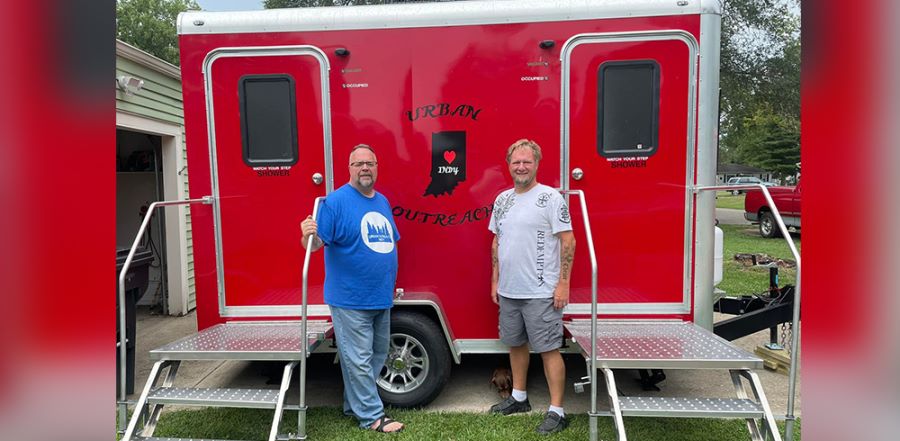 Don't miss any stories. Follow AG News!
Jay S. Covert is an East St. Louis-based urban
U.S. missionary
who with his wife, Cinnamon and team members have planted 11 Urban Outreach centers in 10 cities over the past 23 years, reaching the outcast, addicted, and street-hardened with unconventional methods.
"We plant Urban Outreaches in the most violent areas," says Covert, who grew up in an Indiana farming community, using and selling illicit drugs before nearly losing his life to an overdose.
Adult & Teen Challenge
essentially saved his life in 1991.
Today, the nationwide Urban Outreach ministry he leads is headquartered in East St. Louis, Illinois, where "everything is boarded up, burned up, or barred up," he says. "It's hard for some visitors to process that this is a city in America."
Covert, 52, came to this
blighted area
in 2004 after completing a
Master's Commission
program and then working at the original
Urban Outreach
in Washington, D.C., for four years. Alone for a year, Covert ministered in East St. Louis out of the back of his Ford Aspire, which he packed with snack bags and clothing to distribute freely to homeless people, drug dealers, and gang members.
When a storm hit in 2006, knocking out power for two weeks,
Convoy of Hope
dispatched three 53-foot trailers of food and ice. As a result, the mayor gave Covert a civic award of leadership, which he still keeps on his desk.
"I got dubbed the crazy white preacher by the street people," says Covert, who is an appointed general missionary with
Intercultural Ministries
.
Urban Outreach flourished in the most dilapidated and crime-infested housing projects in that city and others, such as
nearby St. Louis
. Covert brought bounce houses and puppets for kids, and pulled a large, custom-built cooker in front of known drug houses to prepare food for people inside. He replaced his tiny Ford with a donated box truck painted in Urban Outreach colors. Covert also still uses the 12-passenger
Speed the Light
van he received in 2007. Nobody vandalizes Urban Outreach vehicles or property because its ministries command respect in crime-riddled neighborhoods.
"We take care of all our stuff," Covert says. "Just because we're in the 'hood doesn't mean we need to act like it."
One of the most recent Urban Outreach plants is in
Phoenix
, where two campuses helped 570 people get off the streets and into discipleship programs and emergency housing in 2022. Led locally by
Church Mobilization
U.S. missionary
Nathanael "Zippy" Dirkes
, and his wife, Elizabeth, the ministry receives millions of dollars in donations from major manufacturers and distributors of food and goods.
"We came out here on straight faith and God did the rest," says Dirkes, who served in the U.S. Navy, then played Arena League football. Dirkes later fell into drug addiction and became suicidal. He credits
The Lord's Gym
in Covington, Kentucky, another of Covert's Urban Outreach outposts, with restoring his life.
On Thursday nights, Dirkes and his teams fan out to minister to hundreds in many parts of the Phoenix metroplex, taking meals, hot chocolate, and coffee to the homeless where they live.
"We get to know their names, figure out why they're out here," says Dirkes, 35. "Then we ask them what they need prayer for. Everybody wants prayer."
Many times, teams are able to get people into apartments for a few months, then connect them to government aid and help them to secure jobs.
"We go to the places other people don't go, and we go after people no one else wants to deal with," Dirkes says. "Then we watch God transform lives."
Dirkes and crew members have been shot at, had machetes drawn on them, and seen brawls break out.
"It's violent where we go, but we constantly show up with consistency to love people where they're at," he says. "We say, 'We want to lead you to the One who has the answer, and we have the resources for that.'"
Weekly services on Tuesday and Friday nights draw 90 or so adults plus 130 children and youths. All Urban Outreaches operate debt-free, with many of the ministry's buildings donated. Some share campuses with an existing AG congregation, functioning as a church within a church.
All operate in supernatural ministry.
"You don't have to convince us that there are people who are demon-possessed, or that I should be praying in the Spirit, or that God wants me to use the gifts of the Holy Ghost," Covert says. "We are very Pentecostal and we don't apologize for it."
The loyalty within Urban Outreach is also impressive. Of the 11 original planters, 10 are still working with Covert, some for nearly 20 years.
"Jay is constantly encouraging me, lifting me up," Dirkes says. "The goals and standards he holds work."
All of Covert's lieutenants are nationally appointed ministers with U.S. Missions, and each Urban Outreach operates a bit differently. In
Denver
, it's a weekly dinner for down-and-outers. In
Indianapolis
, it's shower trailers for street people. In
New Orleans
, it's fine meals served out of a large truck. In
Covington
, The Lord's Gym — an actual gym with a boxing ring — is a center for helping the homeless and addicted with discipleship and job placement.
Covert has no website, creates no media, and communicates with supporters almost exclusively via a paper newsletter mailed four times a year. He doesn't even email the newsletters.
"I'm old-school and I'm not going to change," says Covert, who is licensed through the AG
Illinois District
. "When I go to a church, the only thing I have is a handful of missionary cards in my back pocket."