A New Heart for God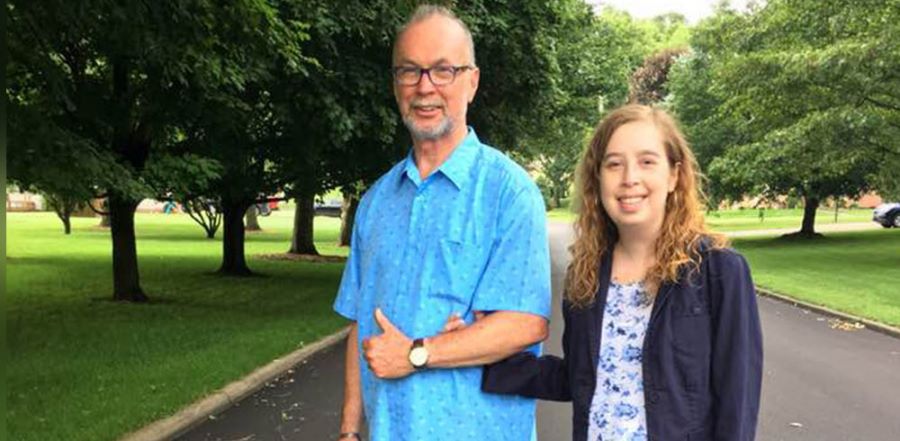 Don't miss any stories. Follow AG News!
By all accounts, Jessica R. Fletcher should be dead. Born with the rare hypoplastic left heart syndrome, a congenital birth defect where the left side of the heart — which pumps oxygen-rich blood to the rest of the body — isn't fully developed, Jessica underwent experimental heart surgery at the Cleveland Clinic when she was five days old to replumb her heart by adding a shunt and converting her right ventricle into the main ventricle pumping blood to the body.
Since no baby had ever survived this type of delicate surgery before Jessica's 1983 birth, she had a slim chance of survival.
"Doctors were cautious, and encouraged us not to get our hopes up," says Jessica's mother, Ruthie, an ordained Assemblies of God minister. Ruthie and her husband, Larry, also an ordained minister and at that time youth and associate pastor at Calvary Assembly of God in Orville, Ohio, listened to the doctors' predictions.
They took the prognosis to the Great Physician.
"All we could do was pray, so we prayed," says Larry, who has served the past 34 years as lead pastor at LifeWay Church in New Philadelphia, Ohio.
Day-by-day Jessica slowly grew stronger, stunning the medical community. Doctors released her to go home, but with the pronouncement that she could take a turn for the worse at any time; they expected her to live a few years, at most. Because her heart had been unable to normally push oxygen throughout the body and brain before the surgery, they also had concerns that she would suffer significant learning disabilities.
"We chose not to focus on what might be," Ruthie says. "We chose to focus on believing God had a plan for Jessica." And as Jessica grew older, the fears expressed by medical personnel didn't happen. She had no learning disability. And although she progressed more slowly through certain milestones, such as walking, she still progressed to normal levels.
"The staff at Cleveland Clinic still can't believe it," says Larry, who is an executive presbyter with the Ohio Ministry Network. "They call her a medical miracle because she shouldn't be able to do what she can do."
Jessica attributes exceeding physical expectations to God. Her faith kept her perspective grounded so that she never struggled with the typical why-me thoughts that tend to come with major challenges. Though Jessica needed three more heart surgeries by the time she turned 21, she insists she never felt sorry for herself.
"I knew I just had to live with it," Jessica says. She also knew she had dreams to accomplish, the biggest being the call she felt to become a children's pastor.
Jessica attended the University of Valley Forge and in 2012 she graduated with a bachelor of arts in children's ministry. As providence would have it, Victory Assembly of God in Newcomerstown, Ohio, a mere 21 miles from her parents' home, had an opening for a children's pastor. She eagerly accepted the position, which allowed her to be close to family, near her doctors, and best of all, pursue her vocation.
Jessica thrived in her role of leading children to Jesus and helping them grow in their faith. Everything seemed to fall into place. Her health stabilized, she lived independently, and made friends in her new community.
But by July 2018, her health began to deteriorate. She noticed atrial flutters and a heavy feeling on her chest. She tired easily, and simple actions, such as walking across a room, became overwhelming obstacles. Her thinking slowed and she found it difficult to mentally process information as sharply as she had before. A physician at Cleveland Clinic stopped and started her heart, hoping that would take care of the issue. It seemed to work, and Jessica resumed normal activities.
However, her heart struggled again in January 2019. Though she received a pacemaker in February, she faced a painful reality: after 36 years, her congenital birth defect had destroyed her heart. If she hoped to survive this time, she needed a new one.
Stunned by the announcement, but out of options, Jessica and her family once again returned to prayer for wisdom.
"At one point when we were praying, I opened my eyes and saw four angels in each corner of the room," Jessica says. "I felt God tell me, I've got you. And you're going to be OK."
On May 18, 2019, a heart became available. Though Jessica knew someone had to die in order for her to keep living, she also knew that God had been with her through the entire ordeal.
The surgery went well. So well, in fact, that her new heart began beating immediately without the necessary electric shock doctors give in these procedures. Today, for the first time, Jessica has a whole heart and is doing better than her doctors expected. It's another nod to the faithfulness and healing power of God, she says.
Though she's still in recovery, she plans to return to her work at Victory Assembly of God in the fall.
She has received a death sentence more than once, and yet, she insists, she continues to survive because God has other plans.
"My life isn't just about living with something," she says. "It's about living for something. And I have a lot of that left to do."