A New Kind of Fire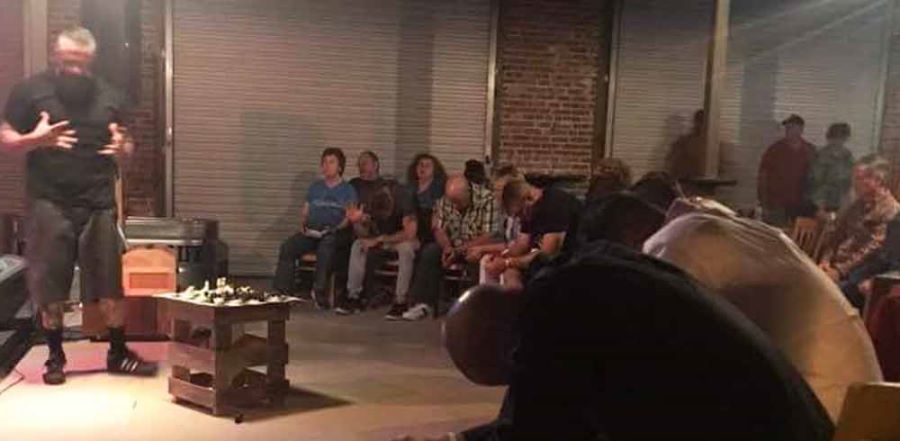 Don't miss any stories. Follow AG News!
A new Assemblies of God fellowship that meets in a former bar is attracting nontraditional churchgoers in a central Florida community.
An expression of One Church in Longwood, Florida, One Fire — which meets in a building that housed five bars and restaurants the past 15 years — launched in January in Eustis. John Tompkins and his wife, Mia, saved money for more than a year to rent a 20,000-square-foot concrete building. The church began in their home four years ago after the couple started street ministry.
"Our slogan is One Fire, City of Refuge: coffee, music, mercy," says Tompkins, 43, who sold his new Harley-Davidson motorcycle to help pay for the church's first year's rent. "I didn't want to sound too churchy, but more intriguing. I wanted people to come in and ask, 'What is this place?' And they do every day."
One Fire attracts 60-plus people from every walk of life on Friday nights for a potluck-style dinner in what is now a coffee bar area of the building. Teaching, worship, then "chill time" follows, when attendees can hang out to play pool, basketball, air hockey, and ping pong.
The ministry is also open Thursday for a variety night featuring games, socializing, and an open microphone. Additionally, a men's meeting is held on Tuesdays with concerts on Saturdays. The front entrance of the building functions as a thrift store, which is open Fridays and Saturdays.
Harry Love is part of the worship team at One Church and is also actively involved at One Fire.
"One Fire is the Acts 2 church expressed — where everyone comes together daily to just be with Jesus," Love says. "It's a place everyone is welcomed and accepted."
Mia Tompkins, 41, likewise says unity is a goal at One Fire.
"We see every age bracket, social class, different ethnicities and cultures all gathered together to fellowship and worship," she explains. "We see rejection lifted off lives, chains broken, and people healed of physical and spiritual pain."
One Fire draws a share of ex-drug addicts and former alcoholics. Tompkins became a Christian five years ago after someone gave him a Bible. He went by the nickname "Sick Boy" most of his adult life when in and out of trouble, addicted to prescription drugs, and involved in street fights and strip clubs.
Three weeks after Tompkins accepted Jesus as Savior, he had an idea to open a church between two strip clubs starting at 10 nightly — the time he usually began roaming the streets. Several pastors discouraged him because of his lack of preparation.
However, Tompkins — who graduated from and now teaches at One Church's Leadership College — went to One Church Pastor Ron P. Johnson with the idea of starting One Fire about two years ago. Johnson cheered him on.
"It's amazing to see what God has done," Johnson says. "John came out that world of the people he is ministering to. God saved him, redeemed him, changed him, and sent him back to be an instrument of transformation in that world."
"I believe in what John Tompkins is attempting through One Fire," says AG Peninsular Florida District Superintendent Terry Raburn. "I'm praying for great success and a huge harvest of souls by this new concept church."