A New Sweet Home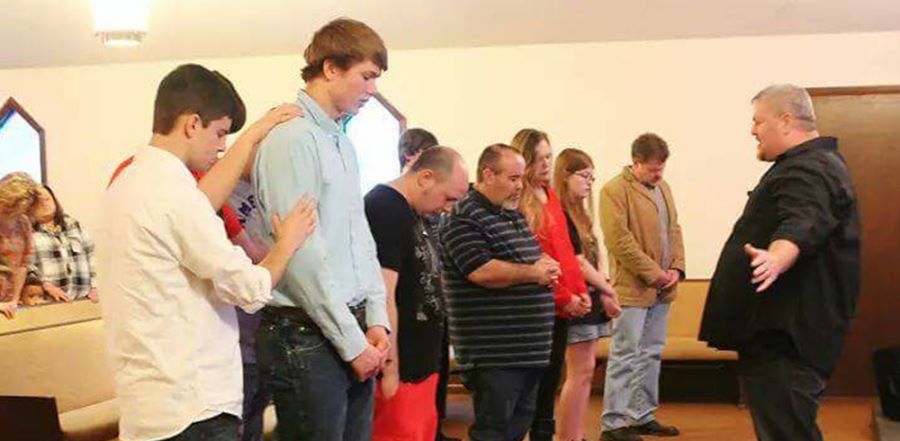 Don't miss any stories. Follow AG News!
Mark Hallmark enjoyed a successful -- if illegal -- business dealing drugs. His community in Lawrence County, Alabama, known for its outlaws, moonshiners, and dope, provided plenty of opportunity to ply his chosen trade.
Helping others wreck their lives didn't faze him; it's the only life he had ever seen modeled. Hallmark had begun taking drugs at age 13. At 16 he began to deal.
But one sweltering day, he saw a boy sweating in a car parked at a crack house, waiting for his parents, who were buying drugs. While there's pleasure in sin, it's for a season, Hallmark says.
"That was the end of my pleasure," says Hallmark, 43. "Somebody stabbed me in the heart. It was wrong."
That turning point ultimately led him to surrender his life Christ in 1998. Soon the Holy Spirit led him to Calvary Assembly of God in Decatur, Alabama.
Four years later, Calvary AG opened the Decatur Dream Center, a Christ-focused community outreach and residential recovery center for women addicted to drugs and alcohol. It is modeled after the Dream Center vision founded in 1994 in Los Angeles by Assemblies of God Pastor Tommy Barnett.
Hallmark and his wife Sonia began volunteering for the new center's Adopt-A-Block program, which provides free hot Saturday meals and groceries for needy men, women, and children to take home with them. It offers other services large and small: haircuts and manicures, blood pressure checks, General Educational Development testing, and job- and life-skills classes. As a satellite of Calvary, the Decatur Dream Center offers worship and devotional services.
In September 2014, the Lawrence County Dream Center opened in Town Creek, Alabama, as a residential recovery facility for men. Hallmark is its pastor. His goal is for each man to leave the program not only with a trade that can earn a living to support his own family, but also with a vibrant faith in Christ and restored home.
Currently seven are in the men's recovery program. Eventually the center will accommodate 13, Hallmark says.
Among lives Hallmark has seen transformed since the men's center opened, Mike and Blake stand out. Mike, 49, a construction worker, fell off a building 20 years ago and lost his leg, which led to hopelessness and substance abuse. Through the Dream Center's recovery program, Mike and his fiancée both came to faith in Christ.
Then there's Blake, 24, a meth addict with legal woes that had cost him his family. Now he's part of the church and is active with the men's program, where he is learning to be a father to his two-year-old twin sons.
Hallmark says that the similarities between himself at that age and Blake are stunning. Both were brick masons who had alcoholic dads. Both accepted Christ as Savior in their early 20s. Hallmark recognized the pattern he saw in Blake.
"You're doing to these kids what somebody did to you," Hallmark says. "I started taking pills to forget about it." He sees the vicious generational cycle ending, especially as Blake's sons both come to church each Sunday.
This area of rural farmland is rife with social problems. The U.S. Census Bureau reports that 17.5 percent of Lawrence County residents live below the poverty line. According to the Kids Count Data Center, 25 percent of the county's children under 18 suffer from food insecurity, defined as "the household-level economic and social condition of limited or uncertain access to adequate food." Poverty had been a problem even before Lawrence County's biggest employer, International Paper, closed two years ago.
The Dream Center models its work after Christ's own ministry.
"Jesus would feed them, preach to the them, and see people's lives change," Hallmark says. In the past couple of months, he's seen a dozen people make salvation decisions for Christ. Many are simply coming off the streets looking for something, he says.
"God is willing to change anybody willing to open the door and let Him," Hallmark says. "I want to raise up men of God who experience the new life God has for them, and recognize God has a purpose for them. God created them to be husbands, fathers, hard workers. I want to teach them to be men."
Pastor George H. Sawyer, who planted Calvary Assembly 35 years ago and now sees more than 2,000 regular worshippers on Sunday mornings at three campuses, notes that schools, courts, and government social service agencies all have welcomed partnership with the Dream Center. Often the courts release drug offenders to the Dream Center instead of incarcerating an offender.
"The judges are looking for alternative sources of corrections," Sawyer says. "The trust we have with law enforcement is God's favor resting on this. They're aware of the Dream Center programs and they see the results."
Those who complete the Dream Center's program have high success rates, Sawyer says.
"They're graduated, employed, churched, and they get their children back," Sawyer says.
Ken Draughon, district superintendent of Alabama Assemblies of God, praises the program.
"Through the leadership Pastor Sawyer is using in his team, they're investing in raising up spiritual warriors," Draughon says. "They're dreaming outside of their campus, giving hope and a future of people who couldn't dream."