A New Warming Season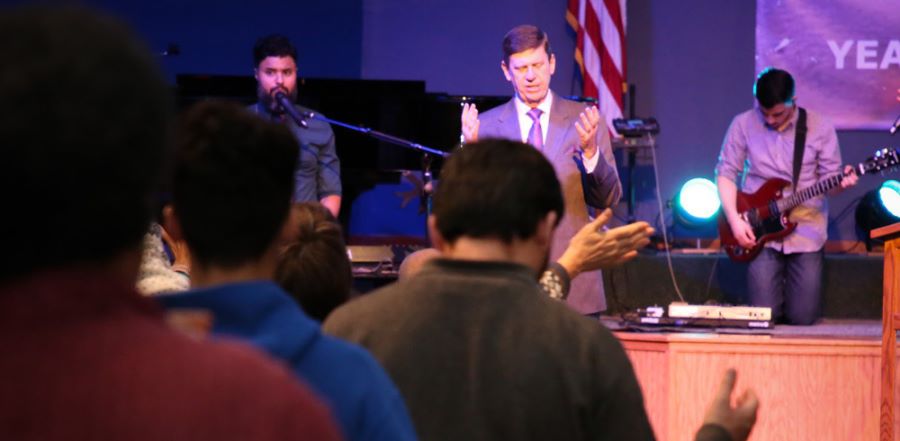 Don't miss any stories. Follow AG News!
After serving as Assemblies of God world missionaries in Southern Asia for 16 years, David E. Stewart Jr. and his wife, Lisa, were unaccustomed to New England winters. Raised in the South, Stewart never had experienced howling blizzards until joining New Life Church (NLC) in Leominster, Massachusetts as lead pastor in 2014.
"I have learned the value of every season God has designed," says Stewart, 59.
NLC also had gone through a time of winter when Stewart arrived. Weekly attendance plateaued to a little over 400, reflecting the spiritual indifference pervasive in New England. Sunday School programs and the midweek service had been discontinued. Potential leaders were not being trained. In addition, a growing opioid crisis had invaded the surrounding communities.
Leominster, a city of 41,600, is located close to New Hampshire and about 50 miles northwest of Boston. Only 4.7 percent of the residents are evangelical Protestants.
Praying and seeking God's will for a turnaround, Stewart attended a minister's retreat during his first year in Leominster. He sensed the Holy Spirit crystallizing a recovery plan in his mind.
NLC ministers to a multiethnic congregation, representing 16 countries and a range of ages and occupations. Weekly attendance is growing. People are finding faith, getting baptized, and growing in the Lord.
Parishioners signed on to programs devised as a result of Stewart and a lay ministry team attending Acts 2 Journey cohorts financed by AGTrust. They joined the new discipleship teaching hour introduced between the two Sunday morning worship services.
KidsLife, a children's ministry, runs concurrently with the worship services. The discipleship hour is held in a renovated basement facility also used during the week by teenagers and young adults.
Leadership U is another program to develop current and potential leaders. Next Steps is a new assessment tool that helps congregants connect to church ministries.
Auto mechanic Bruce Nash accompanied his wife, Lori, to a Mother's Day service three years ago to please her, unaware that she had submitted his name to the church prayer list. A skeptic, he responded to the pastor's altar call at the end of the service.
"It felt like God lifted me up," says Nash, 54. "I gave myself to Christ and did a 180 in my life." He attends the discipleship hour now, ushers and volunteers in KidsLife.
NLC recently opened Living in New Life, a substance abuse recovery program. Chuck Zierle, 58, a mental health clinician at AdCare, an American Addiction Recovery Centers facility in nearby Worcester, and an ordained AG minister, leads the ministry.
Zierle accepted Jesus as Savior at Adult & Teen Challenge in Philadelphia in 1987 and has been in ministry since then.
"I want to help those struggling with addiction," Zierle says. "We invite people, who cannot join programs like Teen Challenge for 18 months, to consider Christ as the answer to their addiction."
Stewart believes New Life Church has moved into a flourishing spring season.
"Winter has passed," he says. "We are hungry for the presence of the Holy Spirit and the gifts of the Spirit."