A Quilting Legacy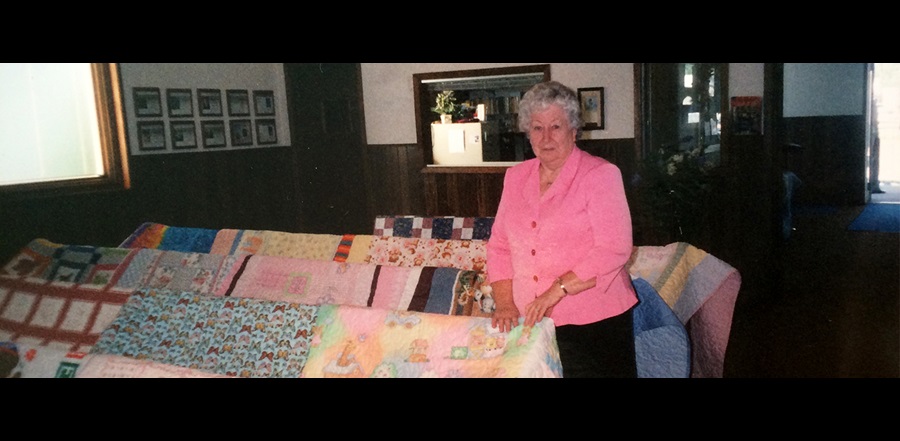 Don't miss any stories. Follow AG News!
Amie Williams' earliest memories with her grandmother Helen Jansen are of sewing. They would make outfits or knit hats and gloves to send to missionaries around the world. As Williams grew older, Jansen introduced her to quilting, with each quilt going to an Assemblies of God U.S. or world missionary.
Each year Jansen, who attended First Assembly in Knoxville, Iowa, made between 15 and 30 quilts. Even when diagnosed with cancer, she continued her work, sending a dozen quilts for Christmas four months before she died in March 2016 at the age of 84.
"She was amazing," says Williams, who lives in North Canton, Ohio. "Sewing and quilting were her ministry. She committed her whole life to missions and providing what she could."
In 2013, when Jansen was diagnosed with cancer, Williams began asking more detailed questions about her grandmother's quilting. The more Williams learned about her grandmother's heart for that ministry, the more it sparked in Williams the desire to pick up her grandmother's mantle.
"I wanted to do something to carry on what Grandma did," says Williams, 41.
With the family's blessing, Williams collected her grandmother's quilting loom and transported it to Ohio. Standing 15 feet long and 4½ feet wide — and all in one component — it took a great deal of care to move to its new home 700 miles east. But Williams felt it essential for her to work on that machine.
She knew she couldn't keep up with her grandmother's workload, especially with two young children at home and with the expense. Initially she decided to focus on providing for one missionary's ministry. She chose the one dearest to Jansen's heart: the Menominee Indian reservation in Keshena, Wisconsin.
In 2016 Williams' mother, Debbie Jansen, contacted Mike Eldridge, the AG U.S. missionary at the reservation, and asked how many quilts he needed.
"To continue to help them is not only an honor to Helen, but important to missionaries as a whole," says Helen's daughter-in-law Debbie Jansen, who figures Helen's qulits, clothes, and other items are in virtually every nation in the world. "When missionaries lose someone like Helen to heaven, they've not only lost a friend, they've lost support for their work."
Mike Eldridge, an Intercultural Ministries missionary, was glad to receive that call.
"For years Helen sent quilts for Christmas," he says. "When she died, everyone here was sad and asked, 'Who's going to do this for us this year?' But I didn't know." He says those quilts mean a great deal to Native people because of the bitter cold weather and limited resources. "Our people were thrilled when a box arrived last Christmas filled with five quilts."
This year, with help from her mother and from her Facebook donations page, Williams plans to ship seven more in time for Christmas. That's no easy task, considering each quilt, depending on the complexity and detail, takes Williams anywhere between 16 to 120 hours.
"Grandma was much faster," Williams says. "She could whip one out pretty quick. I'm not that good yet."