A Stable Force for Good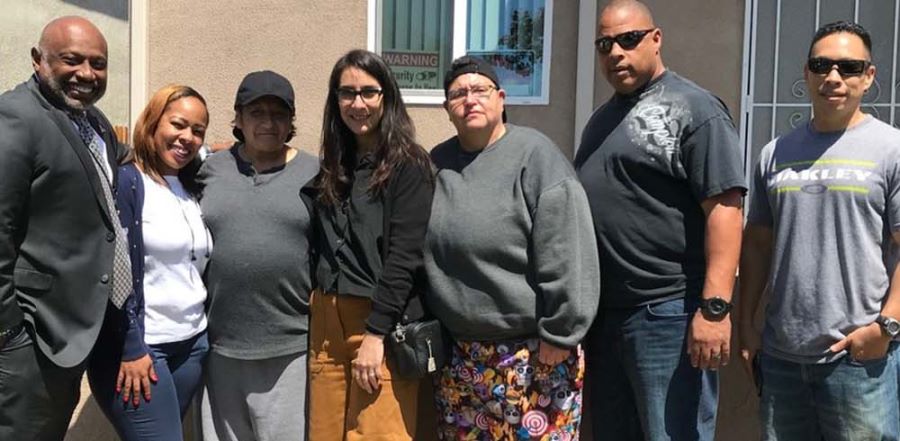 Don't miss any stories. Follow AG News!
An Assemblies of God congregation and its parachurch ministry are being credited for helping thousands of men and women who have been sidetracked by addiction or homelessness to get back on their feet in inner-city Los Angeles.
For more than 25 years,
Inglewood Community Church
(ICC) and
Christ-Centered Ministries
(CCM) in the California city have worked hand in hand to develop housing projects and support programs to help the downtrodden transition into mainstream society.
Pastor Troy F. Vaughn has used his housing, construction, and public funding skills to benefit the city's addiction recovery needs. Vaughn is a catalyst in providing multiunit housing, paid for with grants, to shelter people who otherwise would have no viable long-term solutions.
"Inglewood Community Church has been a stable force for good in the City of Inglewood for 27 years," says Inglewood Mayor
James T. Butts Jr.
"Pastors Troy and Darlene Vaughn have been an example of how the Church and government can achieve great things when they collaborate to provide needed services to the people of our community."
Regina Velilla and her 3-month-old baby boy, Ivan, currently live in CCM's Pregnant Housing for Formerly Incarcerated Women, where she attends parenting and substance abuse classes.
"I don't know where I would be without this program," says Velilla, 32. "It's given me and my baby a home with people who genuinely care about us, and want to see me succeed in life and not be on the streets getting into trouble. I don't have to worry about a place that is warm and safe to go with my child. This program has given me faith that things will get better."
Luis Sanchez, who has stayed at CCM's Restoration Re-entry Residence, also is grateful.
"I didn't know what to expect when I got here," Sanchez says. "I thought it was going to be like a hospital. It's a clean facility, the staff is friendly and it's simple as long as I follow the rules. This is way better than jail."
Vaughn, 55, can empathize with the plights of Sanchez and Velilla. He endured a seven-year drug addiction in the 1980s. After rededicating his life to Christ at the age of 28 in 1992, Vaughn went to a rescue mission in downtown Los Angeles. There he began to be motivated to see others delivered from the
chains of addiction
.
"I believe that the therapeutic value of one addict helping another is without parallel," says Vaughn, who studied business corporation at Concord Law School and has extensive knowledge in creating permanent supportive housing for disenfranchised populations. He also clearly understands the mechanisms and various legal ways to avoid the pitfalls of multiunit housing complexes.
CCM has been involved in awarding $8 million in contracts and $500,000 in private donations, in partnerships with churches, parachurch organizations, and businesses. CCM has developed 11 properties that each house 20 people. The entity has 220 clients and 160 employees.
In addition, CCM works closely with the Los Angeles County Department of Health Services to contract for needed services. Through this partnership, CCM has provided a way for people to safely transition from homelessness, incarceration, and institutionalization into stable and affordable housing. Many
ICC
members volunteer in the recovery homes and raise funds for special projects.
"We have seen many men and women recover their lives," Vaughn says. "Recidivism is being reduced. We have a 90 percent success rate of placing people in long-term housing. Around 90 percent that come to us are stabilized in some way. Although it is not mandatory, many have selected to attend church."
Rich Guerra, superintendent of the
AG SoCal Network
, says the inner city is largest harvest field in Southern California.
"We need innovative solutions to help reach the lost," Guerra says. "Inglewood Community Church and Christ-Centered Ministries are the full demonstration of how we can step outside our four walls to meet the lost where they are located. God's compassion and love is on display in their homes."