A Survivor's Victory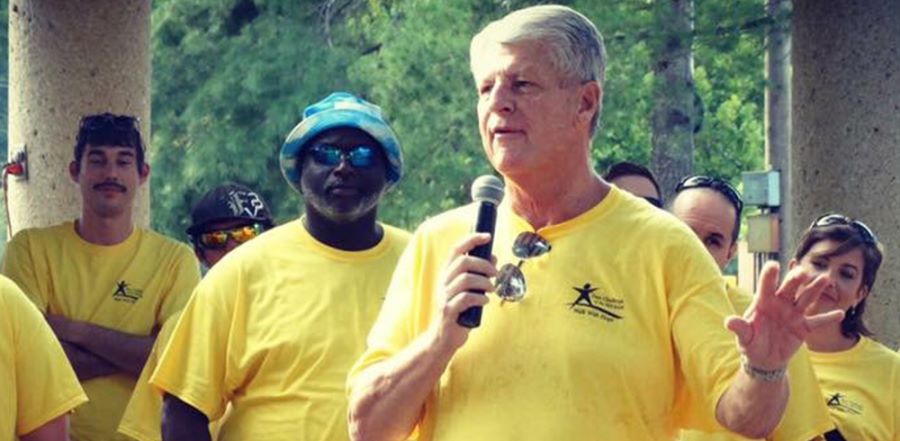 Don't miss any stories. Follow AG News!
The trauma of combat wounds represents a long-term battle for many veterans. Survivors endure much torment. Roger Helle, executive director of Teen Challenge of the Mid-South (TCMS) in Chattanooga, Tennessee, relates well to men and women trapped in various addictions. As one who suffered serious war wounds, the U.S. Marine veteran understands their pain and scars.
While leading a rifle platoon on his third tour of duty during the Vietnam War in 1970, Helle suffered life-threatening injuries within a few minutes. An exploding grenade knocked him to the ground. Helle, covered in blood and burning phosphorous, but still able to rise, was shot by a Vietcong soldier firing from 40 feet away. Another enemy combatant suddenly appeared and thrust a rifle bayonet into his stomach and left him for dead.
Dragged to safety and flown by helicopter to a U.S. Army evacuation hospital, Helle faced an almost certain demise. In a hospital bed, Helle bargained with God pleading, "If you let me live, I will do anything you want."
With his life spared, Helle delayed that promise before passing through a dark tunnel of 27 operations, plastic surgeries on his face, alcohol abuse, and a failing marriage. Nightmares of Vietnam and survivor guilt invaded his sleep every night for more than four years.
In 1974, Helle and Shirley, his wife of only two years, reunited after a separation and surrendered their lives to Christ. They began a journey serving God in a coffeehouse ministry that eventually led to working for Teen Challenge of the Midlands in 1978. Roger became director of MSTC, based in Colfax, Iowa, in 1994.
"We meet the residents on the worst day of their lives when they are hopeless, and offer real hope and love through the gospel of Jesus Christ," says Helle, who now has worked for Assemblies of God U.S. Missions Teen Challenge for 38 years.
TCMS's 30-member staff ministers to 55 residents, typically 35 men and 20 women. Nearly half lived in Tennessee, Alabama, or Georgia, and the rest come from across North America. While living in separate dormitories under strict guidelines, the residents attend chapel services and classes together, share joint outreaches such as participation on choir and drama teams, and eat in a common area. Every Sunday they all pack into five vans to attend a local church. From the beginning, biblical standards of purity, character, and integrity are tightly woven into the curriculum.
According to Helle, the experiences of Teen Challenge residents have morphed over the years beyond hard drugs and alcohol. Many men and women carry multiple personal problems from their past, reinforced by poor choices. Their troubles run the gamut: pornography addiction, anger, eating disorders, physical abuse, rape, prostitution, molestation, body mutilation, and involvement in the occult.
Sonia Silva of Victoria, Texas, joined the program in 1998. Sexually abused in a church at the age of 8, she eventually turned to crack cocaine to numb her pain.
"I was accepted into the drug culture and lived a life with no boundaries," Silva says.
She felt overwhelmed and scared walking into the Chattanooga center. But the staff's love and acceptance persuaded her to stay.
"It was like they were running healing fingers through the wounds in my heart," Silva recalls. "God slowly revealed himself to me."
A disciplined lifestyle helped her change and grow in grace. Her faith flourished. The co-educational setting, with its boundaries, proved to be a healthy path for trusting men again. Following graduation in 2000, Silva became personal assistant to Leanne Goff, senior pastor of Family of Faith Community Church in Newark, Ohio.
Overall TCMS, one of 254 Teen Challenge U.S. centers, has a success rate of 80 percent of graduates staying drug free long term. A sizable number of graduates have stayed in the Chattanooga area, with some forming local businesses and hiring graduates. Through social media such as Facebook and Twitter, TCMS staff rack up about 100 contacts with former students each month.
Helle was awarded three Purple Heart medals for his combat wounds in Vietnam. He serves on the board of directors of Vets With a Mission in Newberry, South Carolina. The group sponsors teams of physicians, dentists, and veterans to Vietnam, rebuilding clinics and hospitals and providing aid to struggling churches.
Teen Challenge International U.S.A. President Joseph S. Batluck Sr., who spent nearly three decades serving as an Assemblies of God military chaplain, affirms Helle's commitment and compassion for the addicted and hurting veterans.
"Roger gives 100 percent to the Lord and those he serves," Batluck says. "He embodies the Marine Corps slogan always faithful."