A Throwaway Redeemed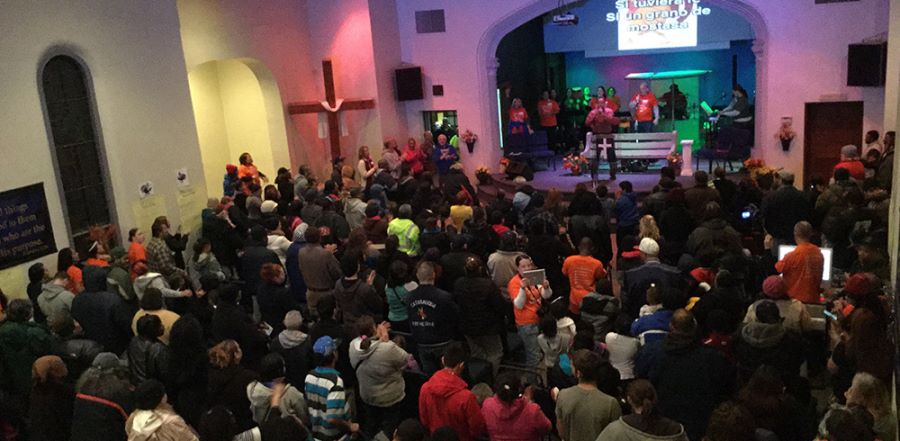 Don't miss any stories. Follow AG News!
Underneath a stained glass window at City Limits Assembly of God in Allentown, Pennsylvania, is a park bench. An unusual fixture among the vintage décor, it has a history as rich as the 200-year-old church building in which it sits.
Thirty-three years ago, Lead Pastor Jim Rivera sat on the bench in downtown Philadelphia with heroin syringes hidden in his socks. Abused as a child, Rivera, who was 27 at the time, had been homeless and on drugs since the age of 10.
"I felt abandoned. I wanted to end my life," he says. "I thought I was a throwaway."
As he entertained these thoughts, a group of men approached him. Among them was David Wilkerson, founder of U.S. Missions Teen Challenge, and Tom Keinath, lead pastor of Calvary Temple International Assembly in Wayne, New Jersey.
They were in the city for an evangelistic campaign and told Rivera that Jesus had sent them. After anointing and praying over Rivera, they handed him a card with contact information for Teen Challenge Philadelphia.
Although initially annoyed, Rivera soon checked himself into the program.
Three days later, he committed his life to Jesus as Savior while attending a Bible study led by Pastor Steven Bogdan at Highway Mission Tabernacle in Philadelphia.
Upon completing the first stage of treatment, Rivera transferred to the Teen Challengein Rehrersburg, Pennsylvania, where he met his future wife Deborah. At the center, he sensed a calling by God to reach the lost.
Rivera earned his ministry credentials, and then became an intern under Pennsylvania-Delaware Ministry Network Assistant Superintendent Bryan Koch, who was an associate pastor at Glad Tidings Assembly of God in Reading, Pennsylvania, before returning to Teen Challenge as a vocational administrator.
When he felt the time had come to plant a church, Rivera, who is Puerto Rican, chose Allentown, which has the second highest number of Hispanics per capita on the east coast.
He began his ministry in the First Ward, a low-income, crime-ridden neighborhood. He and Deborah handed out bagged lunches and an invitation to attend a service in the gymnasium at a local school.
That night he led 56 people to salvation decisions.
Twenty-two years later, Rivera is still meeting the needs of the people, including the multicultural congregation of 235. 
"To save a life, first meet the need, then save the soul," Rivera says. "We must learn to earn our permission to be heard."
Every three months for the past 20 years, each row of seats in the church is labeled with a street name for congregants to visit and build relationships with its residents.
Outreaches include food, water, and bicycle giveaways, turkeys at Thanksgiving, and Christmas trees in December. Financial management classes also are offered at the church and two halfway houses for men struggling with addiction have been established.
The homes are named after Rivera's son Timothy, who plays drums for the worship team. Rivera's daughter Jessica works in the youth ministry and his other daughter Jasmine is a police officer in New Jersey.
Last year, Rivera helped spearhead the establishment of Executive Education Charter School located 12 blocks from the church.
The school draws 95 percent of its students from low-income families. Of the 855 enrolled this year, 50 are from City Limit's congregation.
According to CEO Robert Lysek, the school is the first of its kind in the state to use a normative model, which operates on expected behaviors as opposed to rules and laws. Students learn anti-bullying tactics, life and social skills, and crisis management.
"It's the foundation of our program to teach respect, discipline, and character building and to ultimately make these children productive members of our society," Lysek says.
Rivera says the school helps fulfill his vision to reach the lost for Christ by embracing people at their need and helping them to live from a position of victory.
It's a position Rivera has come to know well since that day on the park bench. He purchased it 20 years ago and has led hundreds of people to the Lord on it.
Engraved are the words of his daughter Jessica: "My daddy got saved here."
Rivera's story will be chronicled in the book, On Borrowed Time: Earth's Stewards of Heaven's Grace, by Patricia Kline. A release date has not yet been set.