A Vision for Heaven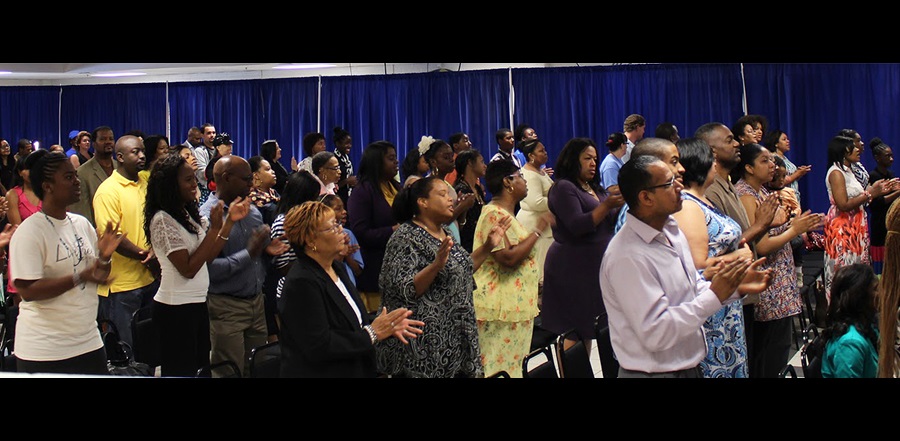 Don't miss any stories. Follow AG News!
When Dan Miller became superintendent of the dwindling German District of the Assemblies of God in 2007, he didn't exhibit a tremendous amount of confidence.
Only one church of the remaining 11 in the district organized in 1922 offered a German-language service. Miller didn't speak the language, although he had pastored an all-white, prosperous congregation of people who shared his German heritage. A decision to lease the district campground, which some of the remaining Germans considered hallowed ground, didn't endear him to the stalwarts.
"I thought I was going to be the undertaker for the district," quips the cheerful and unassuming Miller. "Young people are not interested in attending German-speaking services."
A decade later, the district has mushroomed because of a new focus on church planting among non-Germans. Now dubbed the International Ministry Network, it has a variety of ethnic minority congregations, including predominantly Cuban, African-American, Haitian, and Mexican.
"We've taken on a different flavor," says Miller. "The Lord wants to diversify the Assemblies of God."
Simultaneously, Miller is in his 30th year of pastoring that onetime all-white Michigan congregation, now called Blue Roof Church. The congregation has lost scores of white attendees as a fallout of the diversification move. But of the 400 regular attendees at the main campus in St. Joseph, which is located on Lake Michigan in the southwest tip of Michigan, 30 percent are African-American.
Radical new steps are nothing new for Miller, who forsook a thriving business career to enter full-time ministry.
While simultaneously pastoring an AG church for 8 years — with a weekly salary of $25 — the entrepreneurial Wisconsin native also served as president of a succession of ventures: a paper mill, leather goods company, women's clothing firm, custom shirt and suit business, and a hardware store. Sales and profits increased at every enterprise Miller tried.
That corporate acumen led to his hiring as business manager at Trinity Bible College, where he stayed for 10 years, also serving as campus pastor.
The International Ministry Network lineup includes MiddleTree Church in St. Louis, pastored by AG Executive Presbyter Brian Schmidgall, as well as New Life Church International in Lima, Ohio, co-pastored by Darnell Williams, executive secretary of the AG's National Black Fellowship.
"The churches are all in relationship," says Miller, 74.
Although still the smallest of the 67 Assemblies of God geographic and ethnic/language districts, International Ministry Network is spread across the nation in 11 states, from Washington to Florida. The network has no ethnic or locale requirements. It includes three plants of Blue Roof Church, two of them majority Hispanic and one pastored by a Haitian.
Leadership of the International Ministry Network is diverse. Darnell Williams is secretary-treasurer. Charlene Williams, his wife of 24 years, is Women's Ministries director.
"I love the inclusivity of the network to make sure everyone is a part," says Charlene Williams, a native of Guyana. "It's not just one ethnic group."
Williams lauds Miller and his wife, Pat, who assists her in the Women's Ministries role, for their genuine passion for others.
"Pastor Miller understands the importance and value of diversity in the local church and at a district level," says Williams, who for the past 11 years has been co-pastor of New Life Church International in Lima with her husband. "Pastor Miller makes everyone feel important, and that is why the district is attracting such diversity."
Callie Campbell, elected in 2016 as a regional presbyter for the network, became an ordained AG minister in 2014 after 14 years in the Foursquare Church. She attends Blue Roof Church in St. Joseph.
"The district looks like our nation looks," says Campbell, 47. "Dan always projects a vision the Lord gave him for a multiethnic congregation."