AG Church Heavily Damaged by Fire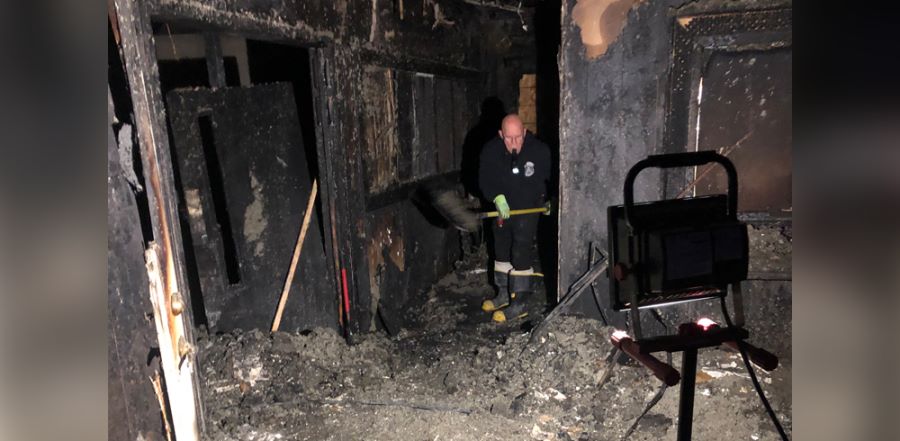 Don't miss any stories. Follow AG News!
The First Assembly of God in Camdenton, Missouri, caught fire and experienced extensive damage Friday afternoon. Pastor Greg R. Mills says that the exterior of the church is still standing, but the interior was heavily damaged by fire, smoke, and water.

"It was determined that the fire broke out in the church's basement and worked its way upstairs into the foyer then spread to the attic space above the sanctuary," Mills says, who has been leading the Camdenton congregation with his wife, Amber, for five years. "The interior looks like a total loss, there was structural damage, and there's nothing salvageable inside the church."

The church potentially could have burned to the ground, but Camden County Sheriff Tony Helms and Chief Deputy Jimmy Brashear happened to be driving by and noticed heavy smoke coming from the church. Fire fighters arrived within four minutes of the officers' 911 call.

Mills, who was supposed to attend the Super Bowl as his brother had purchased them tickets for the game, chose to remain in Camdenton over the weekend and had a remarkable service on Sunday.

"Last summer we sold fireworks for missions," Mills says, "So, I called Danny Ferguson, pastor of Osceola First Assembly, and explained the situation with the fire and asked about the possibility of borrowing a tent for Sunday since the weather was predicted to be beautiful. Brother Ferguson simply said, 'We will make this happen.' They brought up the tent and together we set it up Saturday."

What was remarkable about the service, Mills explains, is that throughout last year, the church averaged about 40 people on Sundays. But over the last month, people have been getting saved every Sunday, they've held three baptism services, and have another baptism service scheduled for Sunday. He's seen attendance jump to 65 over the last month. On Sunday, meeting in a tent on the church property, there were 71 in attendance, with five people rededicating their lives to Christ.

"I had asked Pastor Matthew King to fill in for me this past Sunday since I would have been out of town," Mills says. "Friday, Pastor Matthew came to the fire and shared with me the title of the message that he had already prepared — Rebuilding Solomon's Temple. Even though I had already decided that I would be staying here for Sunday, I asked him to go ahead and speak since God had obviously given him a timely message for our church."

Mills says that the church and individuals lost their instruments in the fire, but that the lake community and Southern Missouri district office has been incredible in its outpouring of concern, support, and encouragement. Currently, the church has already secured a regular meeting place for Wednesday evening services and children's activities as well as for the ladies' Bible study. They are still working on a place to meet on Sundays.

"It will be at least six months, if not more, before we can meet back in our own building," Mills says. "We're kind of at the insurance's mercy right now."

The fire did not appear to be suspicious, but is being investigated by district and state fire marshals to determine the cause.