AG Leaders Among Speakers for Jerusalem 2015 Global Congress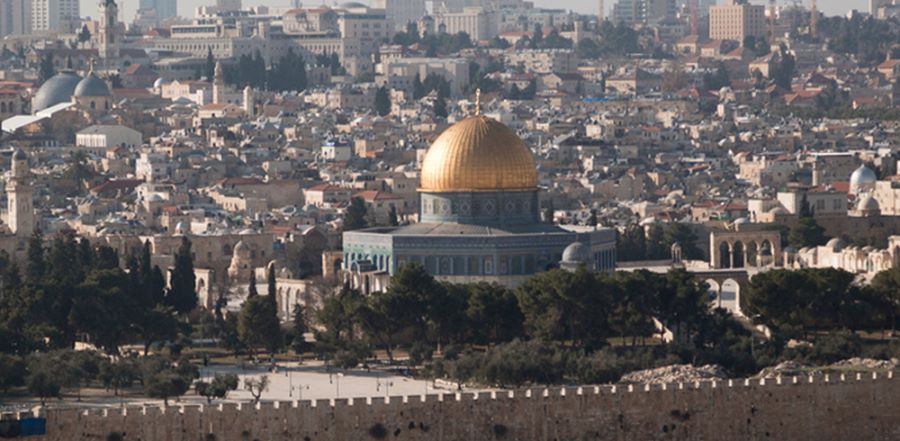 Don't miss any stories. Follow AG News!
Empowered21 has announced that several Assemblies of God leaders, including Empowered21 Global Co-Chair and AG General Superintendent George O. Wood, will be among the more than 100 speakers at the Jerusalem 2015 Global Congress, May 20-25, 2015. Speakers include teachers and leaders from the global Spirit-empowered movement that will share practical spiritual insights with attendees.
"The Empowered21 Global Congress is truly a historic gathering of the global Spirit-empowered community," said Empowered21 President and Global Co-Chair William M. Wilson. "Attendees will have the opportunity to learn from world-renowned ministry leaders, while in the land of Pentecost. I am confident that each attendee will be blessed with the experience of a lifetime and energized to reach their world for Jesus Christ."
Dr. George O. Wood agrees with Wilson, stating that the historic gathering will expose those in attendance to leaders with a God-given passion to reach the world for Christ. "You will be inspired by not only being present in Jerusalem and experiencing the Holy Lands first hand," Wood says, "but by hearing key leaders from around the world doing incredible works for the kingdom of God through the power of the Holy Spirit. This gathering will infinitely enrich your view on evangelism!"
The Jerusalem 2015 Global Congress is a call to all believers from around the world to celebrate Pentecost in the land of Pentecost. The event will attract Spirit-empowered Christians from every continent to Jerusalem during the week of Pentecost to unite in faith for a fresh outpouring of the Holy Spirit.
Speakers representing the AG, in addition to Dr. Wood, include: Heath Adamson, national Youth Ministries director; Alton Garrison, assistant general superintendent; Sol Arledge, chief operating officer; Mark Entzminger, senior director for Children's Ministries; Samuel Rodríguez, Jr., president of the National Hispanic Christian Leadership Conference; and Scott Wilson, senior pastor of Oaks Fellowship.
A few of the many other speakers include: Christine Caine, co-founder of A21 Campaign; Claudio Freidzon, pastor of Rey De Reyes church (Buenos Aires, Argentina); Dave Donaldson, co-founder and director of global partnerships for Convoy of Hope; Chadwick Mohan, lead pastor of New Life Assembles of God (Chennai, India); Mart Green, founder of Mardel Christian and Education; Prince Guneratnam, chairman of Pentecostal World Fellowship; David Wells, general superintendent of the Pentecostal Assemblies of Canada; and Reinhard Bonnke, founder of Christ for All Nations.
The Jerusalem 2015 Global Congress will be a pivotal event. After the opening celebration on Wednesday, May 20, Thursday will feature general sessions and focused tracks including: "Next Gen Trending, Values and Ministry," "How to Pray and Intercede Effectively," "Prophecy and the End Times," and 16 others (for a complete listing of sessions and speakers click here).
On Friday, May 22, an outdoor worship event will be held in Manger Square in Bethlehem. Reinhard Bonnke and Daniel Kolenda, president and CEO of Christ for All Nations, will speak. This will be a time of praise, prayer, and preaching focused on the coming of Jesus in Bethlehem.
There will be a special service on Saturday, May 23, at the Jordan River at the spot where it is believed that Jesus was baptized by John the Baptist. This part of the river also narrowly divides the nations of Israel and Jordan.
Also, on this day and other points in the week, Empowered21 and Convoy of Hope are partnering together for "Hope in the Holy Land," an outreach created to show love and appreciation for those who reside in the region.
Sunday, May 24, attendees will spend the entire day in worship and prayer at several points around Jerusalem, including the King of Kings Community.
The Global Congress will end Sunday night in a Pentecost celebration at the Jerusalem Arena. This will be a special service for the next generation and everyone seeking the power of the Holy Spirit to reach the world for Jesus Christ.
Individuals can register for the Global Congress online at e21.ag.org. For groups of 10 or more, please contact the Center for Holy Lands Studies at 1-855-700-CHLS (2457) for group incentives.