AGUSM Spotlights ATC Graduate John Hoffman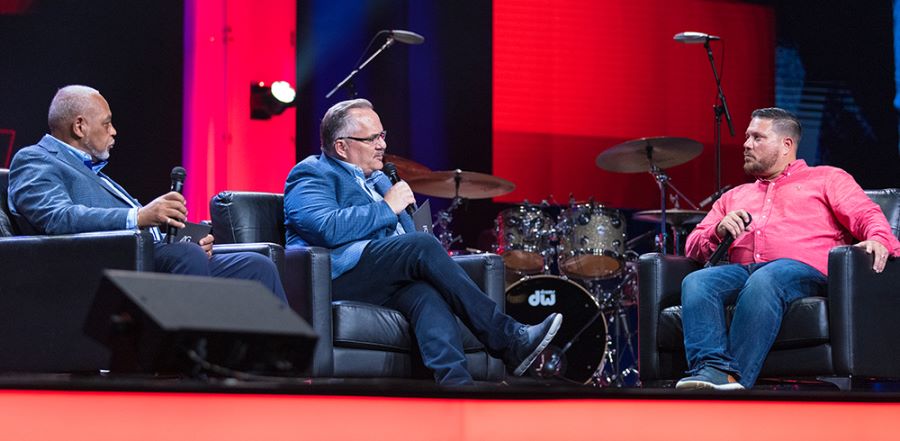 Don't miss any stories. Follow AG News!
During each of the three evening services at GC21, AG U.S. Missions is spotlighting an inspirational testimony that speaks of God's love, plan, and purpose.
On Wednesday, John Huffman, shared how he grew up with a mother who was addicted to drugs, no father, and spent most of his young life going in and out of juvenile detention centers and later, faced years in jail.
His mother turned her life around and became a Christian — even starting a ministry. She urged John to attend Teen Challenge (now
Adult & Teen Challenge
); he didn't want anything to do with it.
But while John was awaiting sentencing on a felony charge, his mom sent a letter to his judge — who had come to know her — telling him about John and Adult & Teen Challenge (ATC). At his sentencing, John recalled the judge's words: "I've seen God work in your mom's life, are you willing to let God work in yours?"
John chose to attend ATC and while there, at the age of 26, he accepted Christ as his Lord and Savior. Now, more than 10 years later, he has four kids, a wonderful wife, a successful business, and is on the advisory board of ATC in Fort Myers, Florida.
"I'm still at Teen Challenge, I'm there once a month," Hoffman said in a video post. "I'm sowing into the students there that are sitting in those seats that I was sitting in, letting them know there's hope . . . what God can do in one day, can take man 10 years. That's why Teen Challenge is so successful, because
God
transforms you."
In the evening service, Malcom Burleigh, executive director of AG U.S. Missions and Gary Blackard, president of Adult & Teen Challenge, accompanied Hoffman on stage to interview him.
Hoffman shared about the funerals he's recently attended as too many people struggling with drugs are trying to fill a void only Christ can fill and believe "self-help" is the answer, but it's not. "Christ is the answer," Hoffman stated. "Christ is the answer and that's what Teen Challenge is so successful for . . . there's not many times we talk about the addiction [at ATC], we talk about the Healer."
When Burleigh asked how the AG as a fellowship can address the issue of addiction, Hoffman urged leaders to connect with Christian people and ministries, such as ATC, who know what it's like to deal with people who are hard to deal with.
"I've always said that Teen Challenge is a specialist [in helping people who are addicted]," Hoffman said. "Get to know the people in the community that are equipped to deal with addiction, because it's not easy."
Jim Bradford, lead pastor of Central Assembly in Springfield, Missouri, and former AG general secretary, then announced Project Reach scheduled for 2022 — a partnership being developed between every U.S. ATC center and local churches for 90 days of street ministry in their communities.