Age and Stage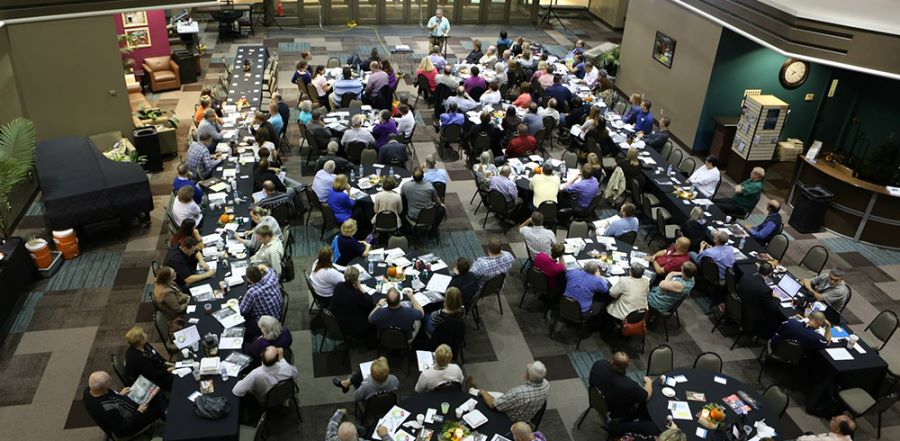 Don't miss any stories. Follow AG News!
Children at New Life Church in Aurora, Ohio, are taking home Sunday School lessons outlining the key theme, a tool their parents can use to lead family devotions that week to reinforce the teaching. 
Lead Pastor Josh Willaford sees this as the first step in developing a lifelong process that will help members in the Assemblies of God congregation grow spiritually while increasing their evangelistic outreach. 
"We're seeing parents light up about it in a good way," Willaford says. "The dream is this: as a parent takes on the responsibility to disciple a child, a parent will be discipled. The reason many adults are afraid to make an impact in their world is they haven't had any practice." 
After starting last fall with preschoolers, the church has added a lesson for parents of teens and is working on an emphasis for elementary students. 
This initiative originated with "Age & Stage," a model developed by David Pafford, the new director of leader development for the Ohio Ministry Network.
Pafford has designed a pyramid with 15 milestones for children, youth and adults, aimed at recognizing key stages in their spiritual development. Among them are the prayers of faith, communion, water baptism, and Spirit baptism.
The leadership development director unveiled the emphasis last October through presentations to more than 1,000 people in 14 parts of the state.
Pafford, who hopes to complete an e-book on the model by the end of the year, used various resources and input from such leaders as Ohio Ministry Network Superintendent John Wootton to develop the program. The materials are available online.
Though in its early stages, Pafford knows of at least five churches that are using it. He outlines its goal as a comprehensive outlook on life, where Christians practice what the Bible says and fuse their faith with their career. 
Age & Stage is already attracting interest beyond Ohio. Pafford has been in contact with two churches in Missouri and some AG children's education directors from other states. 
A member of the Ohio Presbytery, Willaford started researching parental discipleship prior to Pafford taking office last June. 
The pastor's study included watching videos produced by Brian Haynes. The author of the book, Shift: What It Takes to Finally Reach Families Today , Haynes has developed "Legacy" milestones in children's lives, which he encourages all churches to recognize.
Calling this a kind of "catechism for the 21st century," Willaford says Deuteronomy 6:7 teaches that there are lessons adults need to impress on their children's heart.
With that in mind, New Life has set a goal of 60 percent of parents leading weekly devotionals by the end of this year.
"We're leaning hard into this," Willaford says. "It's not just for parents, but for our kids. The clock is starting to tick. We need to see this as a long-term objective."