Always Alert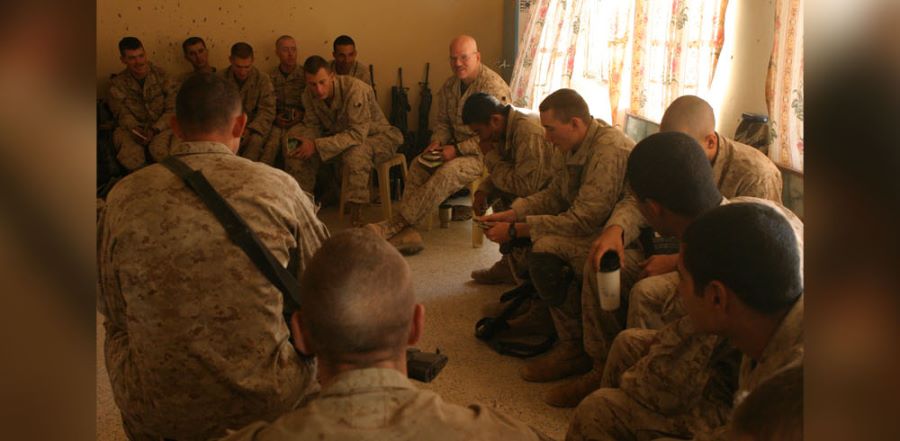 Don't miss any stories. Follow AG News!
CAMP LEJEUNE, North Carolina — Assemblies of God U.S. Navy chaplain Denis N. Cox is equally adept at ministering to raw Marine recruits and military brass as force chaplain with the II Marine Expeditionary Force (MEF) stationed at Camp Lejeune in Jacksonville, North Carolina.

The senior chaplain in the MEF, the mustachioed Cox, a captain, directly supervises 62 MEF chaplains and 66 religious program specialists (RPs) at the massive Camp Lejeune complex, which houses 40,000 Marines in the MEF.

As the senior chaplain at the camp, the straightforward yet good-natured Cox also has entrée to armed forces higher-ups.

"I can walk into the office of a three-star general and pray with him," Cox says. "I can walk into any colonel's office, address him by his first name, and talk about their relationship with God and their family."

Although some officers may feel uncomfortable, most appreciate his presence. They expect his routine of stopping to chat in the office and engaging them in conversation.

He also connects with junior enlisted personnel. The muscular Cox might challenge a corporal to a series of pushups as he traverses the duty station. The chance encounter is designed to open the door to a spiritual dialogue.

"This may be the first face-to-face encounter that person has with someone who is a minister representing God," says the gregarious yet intense Cox, 59.

CONVERSION TO CHRIST
Cox had no interest in spiritual matters until well into adulthood. While working as a county probation officer in 1988, Cox noticed the transformation in Steve Grubb, a co-worker and friend since their days together at The Ohio State University. Grubb appealed to Cox's love of history and challenged him to read the Scriptures as a history book (Cox currently has 4,000 books in his Camp Lejeune home). Cox accepted the dare in an effort to prove his friend wrong. He read the entire Bible in a week and it changed his outlook. He accepted Grubb's invitation to attend Radiant Life Church, an AG congregation in Dublin, Ohio.

Then a 26-year-old alcohol abuser, Cox felt convicted at the service, rushing to the altar even before the sermon. As worship ended, the weeping Cox approached the pastor, Dennis Griffin.

"I need Jesus," Cox blurted out.

"You've come to the right place," Griffin replied. Cox left the church a converted Christian.

While enlisted in the Army National Guard, Cox sensed a calling to ministry. He enrolled at Assemblies of God Theological Seminary (AGTS). Just as he began classes at the school in Springfield, Missouri, he met future wife, Karen Wuertz, who had already graduated.

While Denis attended AGTS, Karen served as an Assemblies of God world missionary in Cambodia. She thought in the interim the Lord might convince Denis to join her as an overseas missionary. But when she returned, racial riots that occurred in urban areas of the States changed her mind.

"God opened my eyes to how much people in the inner city need to know the Lord," Karen says.

In 1994, the couple wed and set off to Columbus, Ohio, to plant an inner-city church led by the newly ordained Denis.

"I believe it was harder to reach people in Columbus than in Cambodia because in Cambodia many people had never heard of Jesus," says the confident Karen.

While they found inner-city church planting rewarding, Denis kept feeling the tug to full-time religious work in the military. In 1998, Cox began his career as an active-duty Navy chaplain.

He has 10 sea service deployment ribbons, including to Iraq twice with the 1st Battalion, 8th Marines. He was part of the initial combat push through Mosul and later involved in the Battle of Fallujah that took place during Operation Phantom Fury.

WINDING DOWN
Since April 2021, Cox has been stationed, for a second time, at Camp Lejeune.

In the wake of the chaotic withdrawal of American forces last year from Afghanistan, Cox went to work immediately putting together "combat operational stress" teams. As the senior MEF chaplain, he helped send chaplains, psychiatrists, psychologists, and psych technicians to meet service members returning from Afghanistan. He arranged for classes, individual counseling, and group sessions to provide much-needed ministry to the military members in the weeks afterward.

Now, Cox would be the one to decide where 62 chaplains need to be deployed if the military is mobilized for a conflict in places such as Ukraine or Taiwan.

Karen, a credentialed AG minister since 1990, gets involved in ministry wherever Denis is stationed. Karen, who found salvation in the Lord at the age of 21 as a result of reading an article in the Pentecostal Evangel, still sees herself as a missionary.

"Initially I didn't think of the military as a mission field, but the Lord convinced me," says Karen, 60. "Every time we move, I ask the Lord how He wants to use me at that duty station."

Her ministry has run the gamut, from teaching workshops at retreats to leading Bible studies in chapels. She also has the gift of hospitality, often hosting chaplains at the family home for a meal. And she always lets the wives of commanding officers know that she is a safe person in whom to confide. Karen is considered a senior spouse because of the number of years Denis has been in the military and she enjoys mentoring young women.

Before his planned retirement in July 2023, Cox is busy investing in chaplains. He encourages them to allow their RPs to handle some of the detail work, both to prevent burnout and to allow the RPs to be prepared to be prepared for promotion. Based on his experiences in Iraq, Cox developed a training program for chaplains and RPs regarding how to minister in a combat environment.

While there have been societal shifts since Cox entered the military, the mission remains the same.

"Young men and women from disparate backgrounds, beliefs, and cultures still raise their right hand in affirming something greater than themselves," Cox says. "Every day in this country, they join a cause that's beyond them."

Karen says she has often reminded her husband that he will continue influencing those he's mentored, even after retirement.

"He formed a special bond with the Marines and sailors he served with in combat," Karen says. "He's still in contact with many of them when they are struggling or need advice."

Cox plans on teaching Sunday school and volunteering once he retires from a 41-year military career to Gettysburg, Pennsylvania, where he owns a home. The Coxes have two daughters, Sarah, 24, and Julia, 17.
Lead Photo: Denis Cox (center) conducts an Easter service in Mosul, Iraq.
Bottom Photo: Denis Cox baptizes a staff sergeant while crossing the Atlantic Ocean.