Answering an HBCU Call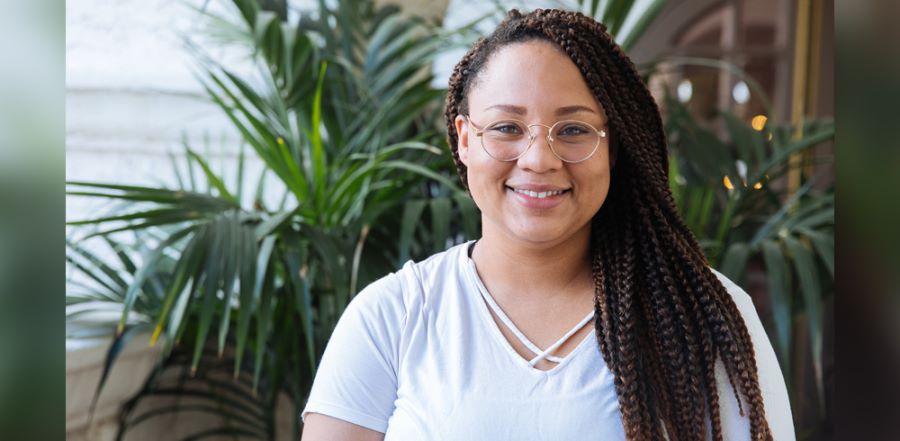 Don't miss any stories. Follow AG News!
As a child, Mariah Jones Abraham attended Sunday School in Ponca City, Oklahoma, but otherwise felt mostly unsure of herself and rudderless growing up. She believes she had a difficult time making friends in high school because of her introverted nature.
Abraham, who has four siblings, came from a family of modest means. Even though neither of her parents attended college, Abraham figured furthering her education would present an opportunity to reinvent herself in an environment where nobody knew her.
However, as a student at nearby Northern Oklahoma College she quickly fell into the wrong crowd. At the community college in Tonkawa, Abraham hung out with a group of students who enjoyed partying more than studying.
But that changed after Abraham accepted a friend's invitation to be part of the
Chi Alpha Campus Ministries
group at
Oklahoma State University
in Stillwater.
"The first time I went to Bible study was the first time I understood what it means to follow the Lord," says Abraham, who has a sparkling personality. She also met her future husband, Brian Abraham.
FULL-TIME MINISTRY
In 2013, Mariah graduated with a radiologic technology degree from Meridian Technology Center, a two-year technical college in Stillwater. She went to work as a full-time X-ray technician, yet also served as a full-time volunteer at OSU's Chi Alpha. She says in prayer the Lord told her to focus on ministry.
She served a Chi Alpha one-year internship at the
University of Louisiana-Lafayette
with U.S. missionary
Eric A. Treuil
. Abraham then returned to be on staff at OSU's Chi Alpha.
Her relatives didn't understand why someone would become a missionary to college students — especially if she had to raise her own support.
Cynthia Gandhi Dobbs
led a Bible study with her husband, Destry, that Abraham attended at the Chi Alpha chapter at OSU. Dobbs, a native of India, says she and Destry immediately sensed Abraham's leadership potential in the small group in Stillwater.
Greg E. Tiffany, Chi Alpha state director in
Oklahoma
, asked Abraham to consider planting a chapter at
Langston University
, the only historically black college or university (HBCU) in the Sooner State, located only 20 miles southwest of Stillwater. Tiffany is white; Abraham is African American.
"I had no desire to be a pioneer and I didn't want to be a campus director," Abraham says. "But I agreed to pray about it."
For a decade — ever since an athletic team from the AG's Southwestern Assemblies of God University played a contest against Langston — Tiffany says he felt a burden to start a Chi Alpha group at the predominantly African-American school. That desire only increased as the national Chi Alpha team stressed
embracing ethnic diversity
in recent years. He has been on staff with Chi Alpha for 36 years in Oklahoma.
For an entire semester, Abraham drove to Langston University on Tuesdays and prayer walked around the campus. She met with leaders of various other Christian ministries on campus and discovered they all basically just had someone preaching sermons to students, with no discipleship.
Abraham agreed to plant a Chi Alpha, although she had to take a class at the school in order to qualify to start the ministry. In 2019, she and Brian began leading a coeducational Bible study at Langston.
"A Spirit-filled ministry was needed on campus," says Abraham, 30. "We want students leading Bible studies. We want students leading worship."
"Mariah and Brian are the right people for Langston," says Tiffany, 66. "It's more than color; it's heart. They had tenacity in getting onto campus to make Chi Alpha an officially recognized group."
HBCU NEED
Along with her husband, Dobbs — who is now part of the
national Chi Alpha team
as
cross-cultural missions resource specialist
— likewise encouraged Abraham to start the Chi Alpha chapter at Langston University.
"She had the grit required to be a pioneer missionary," says Dobbs, 36. "Jesus sent Mariah to Langston and she had the courage to obey. She always has been a person who has persevered if an obstacle is in front of her."
There are 101 historically black colleges and university campuses in the U.S., but Chi Alpha has a presence at only eight of them. Yet strides are being made by the Assemblies of God U.S. Missions department,
planting chapters
in
previously unreached places
.
"Reaching HBCUs is a necessity because African-American history is American history," Abraham says. "HBCUs have to be part of Chi Alpha because there are students there who will be leaders of the African-American community."
Mariah continues working part time as an X-ray technician and Brian is a hospital patient access services representative. They hope to be able to raise enough missionary financial support by the end of the year to focus their full-time attention to Chi Alpha.
This fall, Vickie Cone will join the Langston staff and four student leaders will facilitate Bible studies. Mariah and Brian — whose parents immigrated to the U.S. from India — wed in 2019. They are expecting their first baby in December.
Langston, founded in 1897, has an enrollment of 2,200 students. Abraham says many students come from broken homes, which is a contributing factor to the school's high dropout and
low graduation rate
. Just 18 percent who start taking classes at Langston finish.
She believes numerous students come to the institution much like she did more than a decade ago, not really academically prepared and without clear goals.
Abraham is encouraged that Chi Alpha is making ethnic diversity a priority.
"There has been a lot of racial division and unrest in our country lately," Abraham says. "The Church has the answer for unity: Jesus."
Although Langston isn't prestigious by any means, Abraham believes the school has great potential.
"Identity in Christ can change a person's outlook," Abraham says. "The graduation rate should go up when more people know Jesus."