Back to Prison, for a Different Reason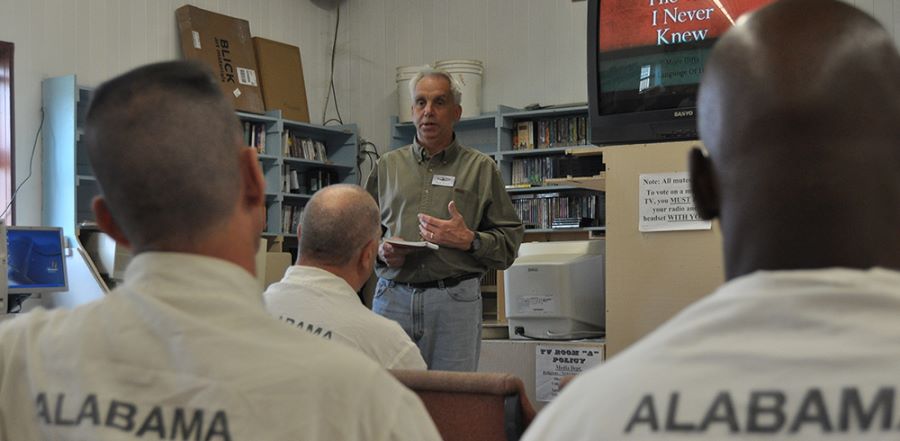 Don't miss any stories. Follow AG News!
Frank D. Gossett spends 40 hours a week at
Bullock Correctional Facility
in Alabama as a volunteer Assemblies of God chaplain, preaching, teaching, serving Communion, counseling, baptizing, and delivering notifications to prisoners about the death of a relative.
For a five-year stretch starting in 2005, Gossett spent 168 hours a week at Bullock, involuntarily. A life of drinking alcohol started at 8 and he began using illicit drugs at 11. At one point in early adulthood, Gossett spent $300 a day for cocaine.
"I was a drug addict for 40 years," says Gossett, 61. "I stole from my family and others just to support my habit. Sometimes I would even physically hurt people."
But in 2008, while at Bullock, Gossett accepted Jesus as his Savior at the invitation of fellow inmate Robert Whitson, himself serving two life terms. Whitson, freed in 2012 after 23 years incarcerated, says he had been sentenced as a habitual offender under the state's three-time loser law. Now 50, Whitson became a Christian when a janitor at a state mental hospital evangelized him. He is working for an Alabama ministry called
Royal Pines Recovery Center
.
Although originally sentenced to 25 years, Gossett had to serve only one-fifth of the time at the facility in Union Springs, which houses 1,550 prisoners.
"God opened the doors for me to be qualified for early release," Gossett says. He entered a halfway house, operated by the
We Care Program
. In 2013, Gossett received a full pardon. He became an endorsed U.S. Missions
chaplain
in 2017 and has formed his own ministry,
Breaking Every Chain
.
Two years after his release, Gossett started ministering at
Holman Correctional Facility
and had the opportunity to minister to some with whom he served time.
At Bullock, Gossett assists U.S. Missions correctional chaplain Stephen O. Walker, who helped disciple him with curricula after his conversion. Gossett graduated with a biblical diploma from the Montgomery-based
Liberty Theological Seminaries International
program that Walker established through
Alabama Prison Ministries
in 1990.
Intense faith-based courses are designed to teach inmates structure and responsibility, so they won't return to a life of crime. In addition to extensive classes about the Bible and scriptural principles, men also learn everything from how to handle money to how to be a devoted spouse.
"I didn't expect to get one of my inmates back to help me," says Walker, 68. "Frank is an excellent counselor and he's been leading men to Christ. His integrity is above board."
Because of Gossett's background, Walker says his assistant is able to determine whether an inmate is genuinely interested in turning his life around or not.
Gossett met his wife, Kathryn Ann, in 2010 at church, where they both worked for Celebrate Recovery. Initially, their relationship stemmed from Frank seeking someone to help his ministry with computer-related skills. But it blossomed from there.
"I watched this man walk the talk that he talked," Kathryn says. "I knew this man consulted God before making any kind of decision." The couple wed in 2013.
Ironically, Kathryn retired after 25 years of working for the
Alabama Board of Pardons and Paroles
.