Backpacks of Hope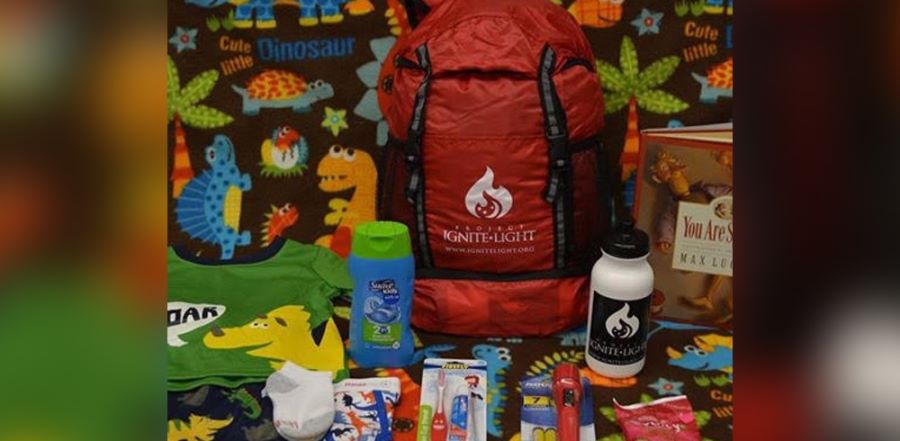 Don't miss any stories. Follow AG News!
For 12 years, Pebbles M. Thompson has filled backpacks with needed supplies to help abused children find a safe place during their darkest moments. Now, she and her team at Project Ignite Light based in Rogers, North Dakota, are hoping to add more church partners to keep up with the growing need.
In 2008, Thompson, a credentialed Assemblies of God minister and mom of five, founded Project Ignite Light after a series of what she calls "burning bush moments" while praying. She says she felt God place the word pajamas on her heart.
"God told me it wasn't about the pajamas, it was about what they represent," Thompson says. "In those dark times, when abused children are afraid, He would be their light."
After researching abuse statistics, Thompson put together a backpack with some items she felt God had asked her to give: a tied blanket, a flashlight, a pair of pajamas, and socks. The ministry connected with a child advocacy center.
Within its second year, Project Ignite Light had expanded to South Dakota and Minnesota.
"So many other nonprofits provide services, but not tangible goods," Thompson recalls. "We were blessed that so many different churches came around us almost immediately to be a support system, both through financial giving, but also donating pajamas or making blankets."
Sheldon H. McGorman, pastor of Watford Assembly of God in North Dakota, connected with Thompson early in the ministry. He asked her how the church could help supply one of the most expensive items in the backpacks: blankets. The church promised to make 400 blankets in one day.
"The first weekend, we cut all the blankets the day before, and then Pebbles came to share and we took up a special offering for the ministry," McGorman says.
Watford AG, along with other churches in the area, continues to conduct blanket drives, making up to 1,000 blankets in a 24-hour period.
Thompson says each backpack costs the ministry $50. She says each item has reached a child who may have been removed from their home of origin without time to grab a favorite toy or clothing, which had been confiscated by medical staff as evidence.
"In situations of trauma or duress, the kids don't have dignity about them," she says. "They are stripped down, their wounds photographed. It's a harsh situation, even though it's meant to be the start of help. When they've lost so much, a lot of these kids are looking for something to cling to."
Thompson says the Project Ignite Light team hopes to offer training at more local churches on how to create backpacks for local foster care parents.
"Abuse is a worldwide problem," Thompson says. "We want to connect churches with tangible ways to serve their community and advocate for foster kids, and to even become foster parents."
McGorman says the blanket drives and partnership with Project Ignite Light has helped unify the Watford congregation.
"People who normally didn't serve in any capacity in the church come and stand and cut for hours," he says. "They feel like the blanket they just made makes a difference in the lives of abused children. At the end, we circle around the blankets and pray for them, believing God will supernaturally use these items to bring peace and hope and comfort."
Thompson says the Project Ignite Light team is searching for ways to minister further in 2020.
"The kids need more than a bag," Thompson says. "But, it is a first step in urgent care for their souls during an often traumatic time. Starting here opens the door for churches to go beyond the bag."