Beefed Up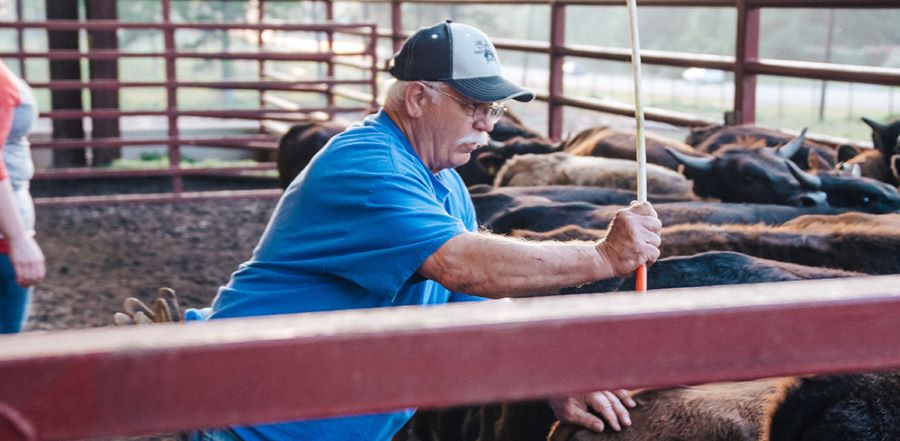 Don't miss any stories. Follow AG News!
Folks in Montgomery, Texas, population 621, are all about supporting their county's next generation of farmers and ranchers. So, when Montgomery County holds its annual fair and auction of student-raised cattle and hogs, some residents — including members of Lone Star Cowboy Church — buy them, even if they have no personal need for the meat.
Often they donate the animals to Lone Star, an Assemblies of God congregation. Its average weekend attendance of 2,300 makes Lone Star the nation's largest AG cowboy church. The church already purchased animals at "freezer sales" for kids at neighboring Montgomery High School — steers that didn't make the fair. In 2003, Darla Weaver, who with her husband Randy co-pastors Lone Star, set up Lone Star Beef, the church's program to supply residential Christian ministries with a steady supply of protein.
By 2015, however, buying a herd of corriente roping cattle each year had grown prohibitively expensive. Encouraged by the success of Shiloh Ranch Cowboy Church's herd, Lone Star opted to seek sponsorships to start its own. With that funding, the church bought heifers rather than steers for events in its covered arena. Those events include Rodeo Bible Camp for teens, team roping jackpots, and He Paid Your Fees, a roping event that attracts teams from across the United States. Participants enter for free if they attend a church service the morning of the event.
Charlotte Casey, Lone Star's arena director, says the goal is to build a genetically healthy herd of tough sport cattle that are lean, athletic, and have a solid set of horns, which is important in roping. The beef program works using heifers no longer good to rope that are sent to ranches with which the church has partnered. Those heifers become a part of Lone Star's stewardship/breeding program.
"Lone Star will then get 50 percent of the calf crop back for use at team ropings," says Casey, herself a cattle breeder and former team roper. By 2018, "We will no longer have to purchase heifers, and the program will become self-sufficient."
Right now, the program has 147 head of cattle and 40 calves, totaling 187 head. In 2016, Lone Star Beef's direct-to-freezer program (county fair animals purchased and donated to church) supplied 10,000 pounds of processed beef. Casey says the church aims to double that amount this year by culling their cattle herds to support the beef program.
"Another goal is to be able to let the nonprofits we support know exactly how much beef we will be able to supply them for the physical year so they will be able to budget accordingly," Casey says. Owning its own herd will enable Lone Star to do this.
Among the five faith-based ministries receiving Lone Star beef are U.S. Missions Teen Challenge programs in Magnolia and in Brenham, Texas, which serve Greater Houston. Magnolia campus director Jason Colston says that for 2½ years, Lone Star beef supplies 365 pounds of ground beef, roast, steak, and other cuts every three to four months.
The beef provides the 24-bed Magnolia facility with meat for residents and staff.
"Anything that can help them along the way in the journey is a bonus," Colston says. "At any given meal, we have at least 30 people eating. When they sit down at the table and are fed good food, it's a blessing."