Beyond Four Walls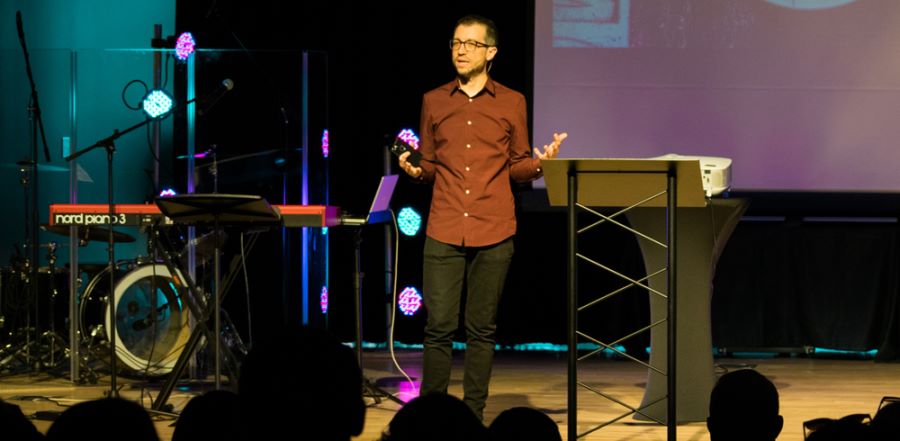 Don't miss any stories. Follow AG News!
Launching Essence Place in West Hartford, Connecticut, in the spring of 2018 has tested the faith and perseverance of lead pastors Brad and Christan Causey.
In sync with spiritually frigid New England, Connecticut is comprised of a 23 percent "nones" population, those defined as atheists, agnostics, or claiming no religion. West Hartford residents paint a bleaker picture: an estimated 44 percent have no affiliation with any faith.
"We exist to serve and be engaged in this community," says Brad, 35. "We desire to bring a fresh understanding about the grace and love of Jesus and the power of the Holy Spirit."
Sensing God's call to this needy area, the Causeys left secure senior staff positions after serving eight years at Evangel Assembly in Wilbraham, Massachusetts.
Working with the Church Multiplication Network, they landed in West Hartford in 2017, helped by a launch team of a dozen adults. The couple, with three children ages 3 to 8 at the time, moved to West Hartford to connect with those in the affluent, multiethnic city of 63,000. Christan, 35, even worked at a local Starbucks for a while.
"God led me there to learn more about pastoring outside the four walls of the church," she says.
As a parent-affiliated church, Essence Place received $30,000 in seed funding from Allison Park Church, a five-campus AG congregation near Pittsburgh, as well as an additional $30,000 in matching funds from CMN and AGTrust.
Essence Place rents space in the strategically located Charter Oak International Academy, just a few blocks from the Causey home. The new state-of-the art building allows for growth and opportunities for community events.
The launch team blitzed the neighborhood with personal invitations and doorknob hangers for the official opening in March 2018. Regular attendance now averages 50 committed worshippers. Many stay connected online. Other groups meet weekly in homes.
"We want to help people understand community and what being in relationship with Christ and other people means in the biblical sense," Brad says.
Orlando and Aryliz Estrella joined the launch team early, leaving Crossroads Community Cathedral, an Assemblies of God megachurch in East Hartford.
"This was our first time helping with a church plant," Orlando says. "Essence Place opens doors for people who don't know God and makes them feel welcomed."
Patricia, who had not attended a church regularly for more than a decade, visited a service after finding an invitation flyer hanging on her front door. She faced serious financial needs after losing her job, undergoing major surgery, and being beaten up by an inebriated former boyfriend.
Finding the love of Christ at Essence Place changed her life. She felt compassion and understanding when Christan sat next to her during that first service and listened intently to her story.
"Christan became a friend who prayed for me and checked up on me all the time by email and texting," Patricia says. "The church also prayed for my new job that I have now. I consider myself blessed to be part of a family with God as my Father."
In 2019, the Causeys will stress discipleship and helping other church leaders focus on community transformation growth track programs.
"We want to care for the whole person in terms of body, soul and spirit," says Christan, who also serves as women's ministries director of the Southern New England Ministry Network. "Our hope is that Sundays are an overflow, as God moves in individual lives throughout the week."