Blessing MKs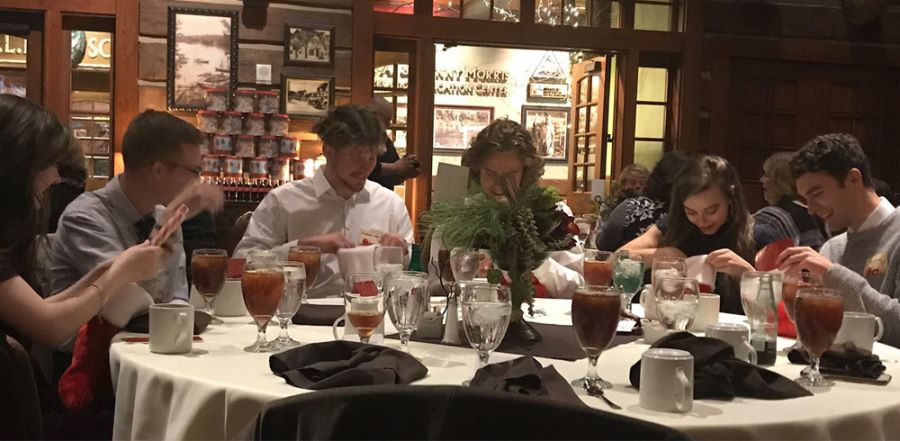 Don't miss any stories. Follow AG News!
City Center Church in Lenexa, Kansas, looks upon missionary kids as heroes. And every year, the church goes over the top to make several of them feel that way.
For the past decade, the church has held an annual banquet for missionary kids attending Evangel University in Springfield, Missouri. The event, which typically occurs in late November, features an upscale dinner, games, fellowship with the other MKs, and large gifts for each student totaling about $400 apiece.
Lead pastor Matt Purkey says the banquet is, in perspective, a small gesture to show the church's thankfulness for sacrifices students have made over their lifetimes.
"To us, all MKs are heroes and are to be celebrated," Purkey says. "They didn't ask to spend their lives where they did and didn't have a say in the sacrifice. For that, we take one night a year to say thank you. It doesn't even remotely cover how much appreciation and gratitude they should and need to be shown."
City Center Church is in Lenexa, a growing city of more than 53,000 in the Kansas City metro, about 170 miles northwest of Evangel University. An average of 1,800 people attend weekly.
The church began its relationship with Evangel MKs in 2009 while Matt's father, Mike Purkey, served as senior pastor. Stories of missionary kids who struggled with the lack of family or nearby friends when they returned to the United States for schooling impacted the senior Purkey. The church started the dinner to bring the MKs together and to show their appreciation around the Thanksgiving and Christmas holidays, toward the end of the fall semester.
Church staff coordinate the event, along with the International Society of Missionary Kids, which assists with reservations and invitations. City Center Church fully finances the banquet through special offerings and a line in its annual budget. Both Matt and Mike, who became pastor emeritus in 2016, take roles role in the annual celebration.
The church's generosity has touched hundreds of MKs over the years, among them 20-year-old Evangel senior Megan Pruitt, whose parents, Shannon and Susan Pruitt, serve as AG world missionaries in Ecuador.
"I'm continuously in disbelief," says Pruitt, who attended the banquet for the third time this year. "Through their giving, we can see that they understand a small portion of what our families go through by being apart, and means the world to us."
This year's event welcomed 22 MKs. Each received cash and gift cards to restaurants, as well as Kindle Fires. Four students won large prizes: $1,000 and $500 scholarships, an Apple laptop, and an iPad.
"We really appreciate the gifts," says 20-year-old junior Nathan Oakley, whose parents Chris and Leneé Oakley are with AGWM in southeastern Europe. "But the thought behind it means the most to me."
Oakley says the event regularly causes a buzz among the MKs around campus, who look forward to it weeks ahead of time. "We really enjoy the night of looking fancy, eating really good food, and catching up with friends," he says.
For the past two years, the church has put together a video compilation of each students' parents saying "Merry Christmas," to show at the end of the dinner. Pruitt says that has grown into one of her favorite moments of the night.
"We all know how it feels to miss family and to be away from them, especially during the holidays," she says. "Seeing everyone's reaction to the video makes me cry."
City Center Church has supported more than 100 missionaries monthly since 1996.