Border Refugee Outreach 2.0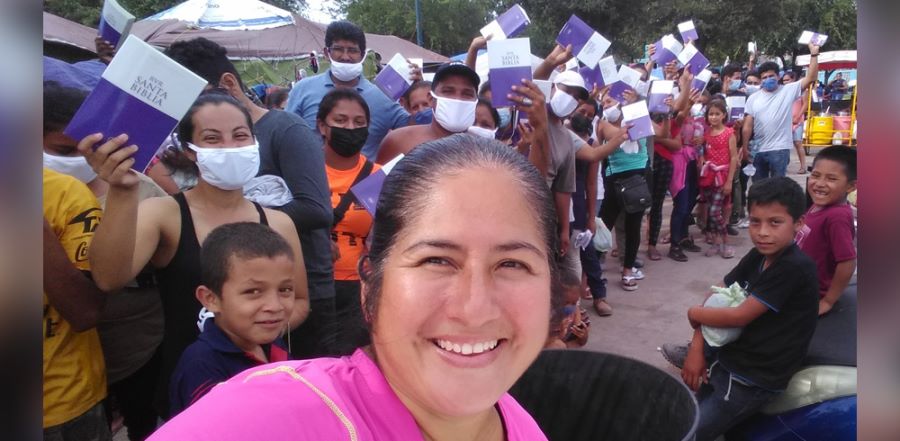 Don't miss any stories. Follow AG News!
When back-to-back winter February storms paralyzed the Rio Grande Valley, more than 1,000 refugees steeped in misery awaiting approval for immigration into the United States huddled in donated tents in a camp in Matamoros, Mexico.
Many in that camp that formed in 2019 by the Gateway International Bridge connecting Matamoros to Brownsville, Texas, were Christians who had fled threats and persecution in their homelands, mostly in Central America. Others had come to faith in Christ while awaiting processing of their asylum requests. Almost since the camp began, Assemblies of God pastors
Frank and Maribel Sedeño
ministered to the refugees.
As hopes faded that the asylum-seekers would be allowed to continue their processes from within the United States, the Sedeños and the church within the camp fasted and prayed for God's favor regarding their asylum cases.
"That's when things changed," says Maribel, 42.
On Feb. 25, the Sedeños held signs in Spanish that read "God always fulfills his promises" and rejoiced with the refugees as the asylum-seekers began crossing legally into the United States. Two weeks later, the refugee camp emptied out and closed.
But then they sensed the Holy Spirit spoke to their hearts:
Now it's time to move to Reynosa
.
The couple assumed their refugee ministry had ended. They anticipated focusing on the vision of their church plant and missions resource center in Weslaco, Texas, near McAllen. By faith they were poised to implement that vision,
Jesucristo Rey de Gloria para las Naciones
(Jesus Christ King of Glory for the Nations), left pending since July 2019 when they began ministering to the Central American refugees.
"God, but Reynosa!" Frank, 37, recalls telling the Lord. Everybody knew the reputation of the Mexican city 55 miles northwest of Matamoros: kidnappings, murders, extortion, threats. All of Tamaulipas — the state that includes both cities — remains under a "do not travel"
advisory
from the State Department because of crime and kidnapping. Matamoros remains dangerous, but Reynosa is worse.
He pressed the Lord again: "Are You sure, Lord?"
Maribel affirmed she had heard the call as well. So, off they went.
In Reynosa, the couple found dispossessed refugees sleeping on the ground without blankets or tents, even in the cold and rain. More families arrived each day.
"When we traveled to that area, we felt a hostile, fearful environment," she says.
"There were lots of immigrants in the street not knowing what to do," he says.
The Sedeños, other Christians, and workers from nonsectarian relief agencies began to provide the refugees with food and supplies. Tents started filling the city plaza.
The Sedeños recognized that their ministry in Matamoros had been training for the even larger work in Reynosa where refugees' struggles often include abduction for ransom, rape, or murdered loved ones.
With experience gleaned in Matamoros, the Sedeños created a committee to greet newcomers in need of orientation when requesting U.S. asylum.
"We share the gospel, we tell them they're valuable to God, regardless of what has happened," Frank says. "We tell them God has a purpose for them there, and to seek Him, get to know Him, that they can find shelter in Him."
The reassurances are essential. Early on, at night in particular, criminals circled the plaza, robbed families, sometimes snatching women and children. Shootings are commonplace. Corruption is rife. People live in dread.
The couple began teaching the terrified refugees how to stand firm in Christ, taking courage against the enemies, and that prayer and fasting is central to spiritual warfare.
"The battle is not against flesh, but is spiritual," she says. "We have power and authority in the name of Jesus to rebuke all spirits of death, kidnapping, and violence. We have One we can trust, and His name is Jesus." She directed them to
Psalm 91
. "Fear is bondage. We have to live by faith in God."
Adults and children alike memorized the psalm, she says. The group began to experience supernatural protection. Within two weeks of prayer and fasting for safeguarding, abductions diminished.
The Sedeños continue to channel provisions to the refugees, including food, blankets, tents, gas cookstoves, and other goods. As in Matamoros, they preach and teach the Bible to adults and children. From their arrival March 17 until now, the couple has handed out more than 3,200 Bibles, 300 New Testaments, and 1,000 books of children's Bible stories, donated by churches, families, and individual Christians with whom they have connected.
"It's a beautiful ministry that not everybody could handle, but they're built for that," says
Eddie de la Rosa
, superintendent of
Texas Gulf Hispanic District
, to which the Sedeños belong. "A lot of things in Reynosa are not normal, but it's a very different normal to them and they handle it like normal."