Braeswood Assembly of God Repeats as JBQ Champions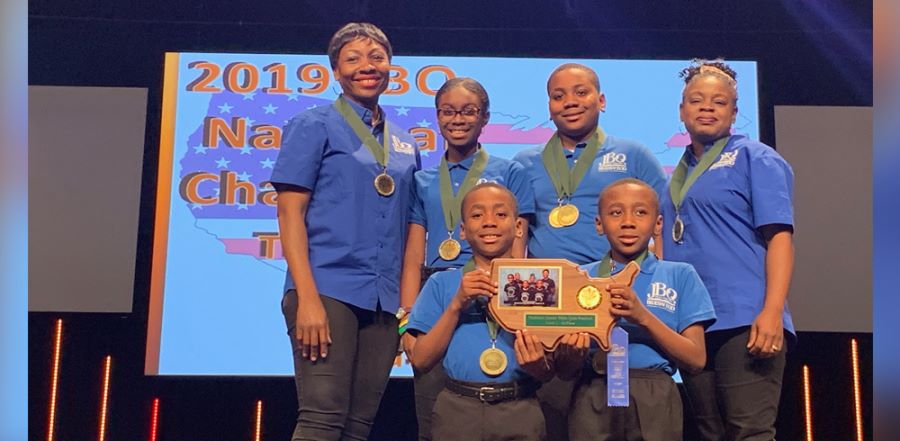 Don't miss any stories. Follow AG News!
The Chosen Ones of
Braeswood Assembly of God
in Houston finished with an 8-1 round-robin record in the final day of quizzing to win the 34th annual National
Junior Bible Quiz
(JBQ) Festival held at
Victory Worship Center
in Tucson, Arizona, June 6-8.
This marks the third time in five years that a JBQ team from Braeswood AG has claimed the national JBQ title.
The Chosen Ones, coached by Grace Ukonu, were led by Brandon Ukonu with 2,315 points followed by Iyanu Akanbi, 1,180 points; Jaden Ukonu, 955 points; and Jason Ukonu, 190 points. Grace is the mother of the Ukonu brothers. Seyi Akanbi, Iyanu's mother, is the assistant coach.
Good News Church
of Omaha, Nebraska, came in second with a 7-2 record and More Than Conquerors of
Freedom Church
in Tallahassee, Florida, finished third at 6-3. Remarkably, Braeswood AG's second team, Gideon's Army, finished sixth overall. Five of the top 10 teams were from the South Texas district.
The top three individual scorers for the tournament were Samuel Biruduganti of
Calvary Church
in Naperville, Illinois, with 2,850 points for Naperville S; Shaylee Powell, also of Calvary Church, with 2,845 points for Naperville M; and Elijah Stewart of Freedom Church in Tallahassee, Florida, with 2,780 points for More Than Conquerors.
Eighty teams from across the country took part in the JBQ Festival that began with an opening night service with more than 1,000 in attendance. Day two featured five divisions of 16 teams each in an opening round-robin tournament, quizzing to determine who made one of eight finals flights. The top finals flight featured the top two teams from each of the five 16-team pools, for a total of 10 teams. The second finals flight featured the third and fourth place teams from the five divisions, the third finals flight had the fifth and sixth places teams, and so on.
All quiz questions come from the
Bible Fact-Pak
. The 576 graded questions found in the Bible Fact-Pak cover people, places, events, and teachings of the Bible. Each question has a point value of 10, 20, or 30 points and are designed for children K-6th grade.
Todd Papendick, assistant coordinator of the JBQ Festival, says that this year's top flight finals was one of the closest ever. "There wasn't a team that was clearly better than the others — no one knew who was going to win," Papendick says. Even the overall competition was tight, with Papendick noting that no team was undefeated and that that the overall first and third place champions (The Chosen Ones and More Than Conquerors) came from the same day-one pool.
Barry Jorris, the National JBQ Festival chairman, who's the student ministries director at
First Assembly
in Fort Wayne, Indiana, says the entire event had a great spirit about it.
"On Friday night, we held a Holy Spirit emphasis service," Jorris say. "At least 15 kids were filled with the Holy Spirit that evening and there was a really sweet presence of God throughout the week in Victory Worship Center."
Jorris says that Saturday evening was also special as they prayed over the sixth graders — as it was their last year they're eligible to compete in JBQ. All participating teams received a plaque for advancing to the nationals. "By the time we get to the top team, it's a pretty thrilling moment as we crown the national champions," says Joris, who has been working with the festival since 1996. "It's just really exciting."
To view the final flights' results, in descending order (Blue L1 being the top flight),
click here
. To view individuals' points scored,
click here
.
The 2020 National JBQ Festival will be held in Naperville, Illinois, June 11-13.