Bridging the Gaps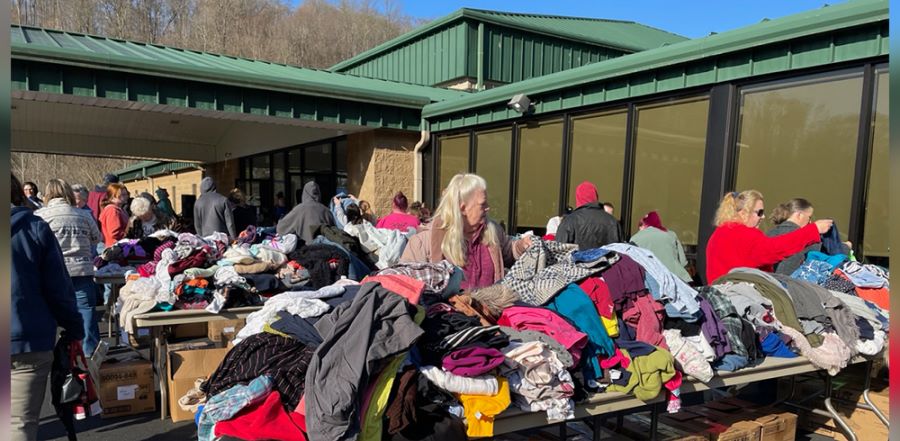 Don't miss any stories. Follow AG News!
In just over two years, what started as a foster families ministry based out of
King's River Worship Center
in St. Albans, West Virginia, has mushroomed into a multifaceted community resource center.
Community Bridge
distributes everything from clothing to household goods, and hosts recovery groups and other classes.
Nearly 40 churches are among the 150 partnering organizations. Last year, Community Bridge distributed more than 79,000 items, such as beds, furniture, and blankets. In the first three months of 2023, nearly 100 volunteers donated 2,100-plus hours to help nearly 1,000 people.
"There's not one person, church, or group that could have made it happen," says King's River lead pastor Chris S. Kimbro, 46. "The Church is coming together as one to meet the needs of the community."
Originally designed as an outreach to the homeless, that effort got curtailed by 2020 pandemic lockdowns. Later that year, when some adherents brought clothing items to help church families with foster children, Kimbro set aside a 435-square-foot room as a "foster closet."
When donations kept coming, the church informed other congregations and the state Department of Health and Human Services that help was available. Then King's River installed a phone line for foster calls and put it under Community Bridge, first used with a short-term backpack project 15 years ago. Kimbro reactivated the name, nonprofit structure, and bank account. The closet opened in January 2021.
"We connected with schools and told them to send us students in need," Kimbro says. "By the end of the year, we had helped 340 students."
That included a student who had been living with her father in a car. After the school found them an apartment, Community Bridge furnished the dwelling with a bed, dresser, lamps, microwave oven, and television. The organization has offered similar help to several families who lost their belongings in house fires.
In February 2022, King's River added $280,000 to its mortgage so the church could start building an 8,000-square-foot Community Bridge distribution center on its property. In the future, the center will host events like its twice-a-year "Bless You Days," as well as recovery groups, state-led foster parenting classes, and various special interest classes. At present, most such programs meet in the church.
Although the initial funds erected the shell, the $600,000 center remains unfinished because the church is relying on volunteer labor and donations to complete the project. Helpers have included students from the
Putnam (County) Career and Technical Center
, who put up walls last November.
Community Bridge is an all-volunteer effort. In addition to Kimbro's oversight, Church Life Coordinator Jennifer McKay is the program director, while members Vickie Kimbro, the mother of Chris, and Mandy Guthrie direct the resource center and recovery program, respectively.
A major boost to its efforts has come from a partnership with the eastern Kentucky-based
Christian Appalachian Project
(CAP), an outreach to impoverished people in the region.
CAP regularly sends truckloads of furniture and other goods, with transportation of two recent loads sponsored by
Valley Christian Assembly
in nearby Charleston. Other AG groups that have supported Community Bridge include
New Beginnings Christian Fellowship
in Dunbar,
New Horizon Worship Center
in Cross Lanes, and the
Appalachian Ministry Network
in Ghent.
Community Bridge receives an enthusiastic endorsement from the St. Albans Ministerial Alliance, a 32-church pastoral fellowship in the city of 10,861, located just west of the state capital of Charleston.
President Jason E. Robbins, 44, says Community Bridge has offered effective help to impoverished people who move to West Virginia from other states. He appreciates the way the ministry fits in with the ministerial alliance goal of finding ways to help those in need, while preventing abuse of the charitable giving system. He is glad Community Bridge has expanded beyond its original scope.
"Community Bridge is able to help people who need a leg up to gain a sense of self-sufficiency," says Robbins, pastor of Highlawn Baptist Church. "The organization has been able to offer that kind of support and intentionality. A lot are heart-wrenching cases where, through no fault of their own, they've lost everything."
In addition to attracting an eclectic mix of backgrounds to the congregation of 250 regular attendees, the ministry has changed Kimbro's view of church.
"In the church world we get so caught up in what we're doing we forget our job is to make disciples," the pastor says. "We are called to equip people to do the work of ministry. If we love Jesus and take care of people, He'll take care of the rest."