Busy, with Purpose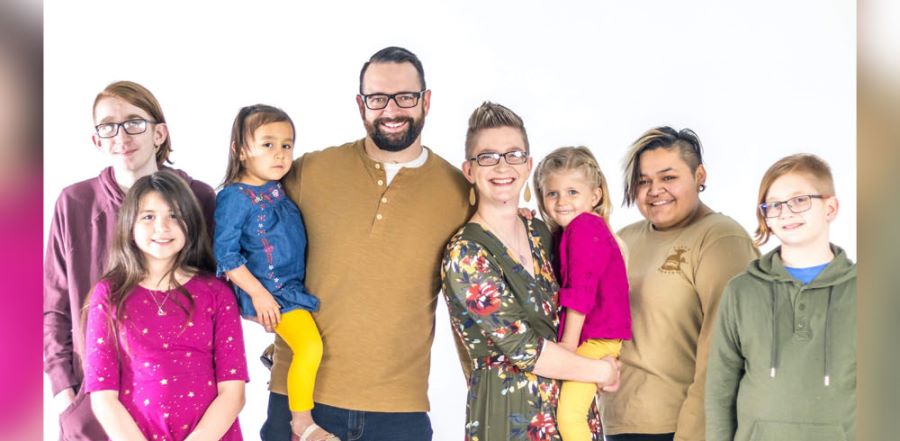 Don't miss any stories. Follow AG News!
Most people with two preschoolers aren't thinking about taking on extra responsibility. For Pete and Jenn Eekhoff of Sioux Falls, South Dakota, the obligations multiplied as they accepted their first foster care placement in 2011, when their second biological child was just 1½ years old.

Now the Eekhoffs are parents of three biological children: Judah, 14; Israel, 11; and Ariella, 4; as well as three adopted from foster care: Keri,18; Levaia, 11; and the most recent addition, in November 2020, Raelynn, almost 4. Pete serves as executive pastor at Sioux Falls First Assembly, and Jenn became communications director at the church in 2019, after stints in tech and worship ministries.

Pete and Jenn acknowledge God's leading in their journey toward both vocational ministry and foster care. Raised not far from Sioux Falls, Pete felt called to full-time ministry over 20 years ago. He and Jenn met at college. During personal devotions one day, he had an encounter with the Holy Spirit.

"I was sincere, but I had a concept of a distant God," he says. "After receiving the baptism in the Holy Spirit, I began to see the Spirit more like a brother walking alongside me. I had to rethink ministry."

After Pete completed his music degree at Visible College in Memphis, Tennessee, the couple married and Pete advanced through the regional management ranks of Starbucks, where he started working as a student. Both in Memphis and upon returning to the Sioux Falls area, the Eekhoffs attended Pentecostal churches, eventually landing at Sioux Falls First. They became aware of the tremendous need for foster families and started training in 2008.

"Pro-life means more than just opposing abortion," says Jenn of their decision to become foster parents. "It means being pro-family and serving in the community." For Pete, it also meant switching to a local position with Starbucks involving less travel in order to spend more time with the growing family. Then God began renewing in his heart the earlier call to vocational ministry. He took Global University courses to obtain ministerial credentials, and became executive pastor at Sioux Falls First in 2018.

Jenn, as stay-at-home mom to a large family, started a home-based business, Great Harvest Creations, as a means to supplement the family income. She works with a graphic artist to design custom necklaces and keychains. Her "Fearless" design, based on 2 Timothy 1:7, became the theme for the 2020 Enough Conference sponsored by Sioux Falls First's women's ministry.

The family's ingenuity isn't limited to jewelry. They have conducted fundraisers — involving everything from sewing to breakfast burritos — for family needs, including a larger vehicle. Pete, who enjoys woodworking, has taught son Israel the skill, and the 11-year-old boy now sells ornately carved pens via online auction as a Speed-the-Light fundraiser. He raised over $800 in 2020.

As they successfully navigate ministry, business, family, and foster care, the Eekhoffs are honest about the difficulties, most notably the pain of losing a foster child after attachment.

"Redemption in the biological family is always possible," says Jenn. "Reunification is always the first choice, but it's tough after a long-term placement. Even our adopted children still have the longing to know what happened with their birth family, and we understand that."

One particularly heartbreaking episode occurred when another family adopted a young boy who had lived with them for over two years because that couple had adopted the boy's sibling. Even though the Eekhoffs favored the arrangement, dropping the boy off prompted tremendous sadness.

Yet as they drove away, Peter says God comforted them with an analogy of Jesus.

"Now we know what it's like to give up a son," Pete says. "That was a new understanding of how much God the Father loves us."

Jenn believes it's important for congregants to be educated about the importance of foster care.

"Even people who aren't in a position to foster can come alongside those who are," she says. "People tell us we must be really special to do what we do, but in reality, we're just regular people being obedient."
Photo: Members of the Eekhoff family are (from left) Judah, Levaia, Raelynn, Pete, Jenn, Ariella, Keri, and Israel.