Buzzing with Excitement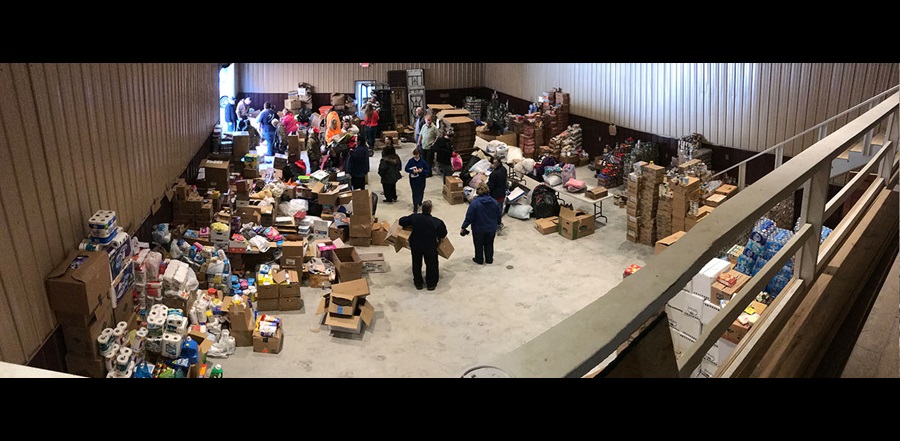 Don't miss any stories. Follow AG News!
Although a few finishing touches remain, the Jolo Family Worship Center's new Family Life Center has the McDowell County town of Jolo in West Virginia buzzing with excitement.
In March, two mission teams helping with construction and community improvements became the first to stay in the 6,500-square-foot building's dormitory space. Another team is to help finish the gymnasium floor in May.
Even before fully functional, the Assemblies of God church hosted a special food and clothing distribution at the center.
"The week of Thanksgiving we fed over 600 people," says Jolo FWC Pastor Charles E. Rose. "We had people come to the sanctuary and then to the gym, 15 families at a time. It's making an impact in the community."
Steven R. Perry, whose Alabama church has been making regular mission trips to southern West Virginia for 10 years, says until now many residents figured the grand vision never would be fulfilled.
"I think this building has served to further Brother Rose's standing in the community, says Perry, pastor of Calvary Temple AG in Saraland, Alabama.
Rose, a veteran AG pastor and McDowell County native, had hoped to put the facility into use last September with literacy and General Educational Development classes.
However, teachers lined up to teach the sessions told Rose two rooms reserved for those classes were too small. That necessitated additional construction work, and a delay in the program's launch until this fall.
With the gym floor scheduled to be finished this spring, Rose envisions starting youth basketball and volleyball leagues soon.
Calvary Temple's men's group will be working on the floor in May. Pittsburgh-based sports minister Brent Furlong, president of Go Time Ministries, also will be leading school assemblies and inviting students to evening meetings at the gym.
Rose says AG support has blossomed lately, crediting a 2017 PE News story and an appeal last year at the Appalachian Ministry Network's annual meeting by former Revivaltime speaker Dan Betzer. Betzer is pastor of First Assembly in Fort Myers, Florida, and a member of the AG Executive Presbytery.
"They showed a video clip about our area and Betzer asked, 'How much do you need?'" Rose recalls. "I estimated we needed at least $40,000 for materials." Betzer agreed to give the first $1,000.
That night, ushers took up $11,000. Thanks to additional faith pledges, the offering ultimately generated $73,000. Rose says more than 80 small churches gave between $500 and $1,000 apiece.
First Assembly has donated thousands more, and invited Rose to speak at its annual missions convention last November.
As a result of that appearance, the church began working on a special project to finance Bible distribution in McDowell County. The Fort Myers congregation has already raised $14,000 to give a Fire Bible to 1,400 elementary students this fall. It hopes to collect additional funds to present copies of the Scriptures to all middle and high school pupils on that trip.
"Supporting Bible distribution struck a spiritual chord with us," says Sammy F. Whaley, children's minister at the Florida megachurch. "Being the poorest county in the country, we said, 'Why not put a Pentecostal Bible in their hands?'"
In addition to building the Family Life Center, Jolo FWC has used offerings from around the country to help build widow's cottages, porches, wheelchair ramps, and other facilities to help needy area residents.
Perry, who originally connected with Rose through mutual friends, says helping the West Virginia congregation is one of the greatest things Calvary Temple has ever done.
Two years ago, when the Alabama church offered those in the youth group a choice between a fun trip to Gatlinburg, Tennessee, or visiting Jolo, the teens unanimously voted for a mission trip to McDowell County.
"It's instilled a passion and a desire in our people," Perry says. "We're honored to have a little part in what God is doing there."