Calling on All the Community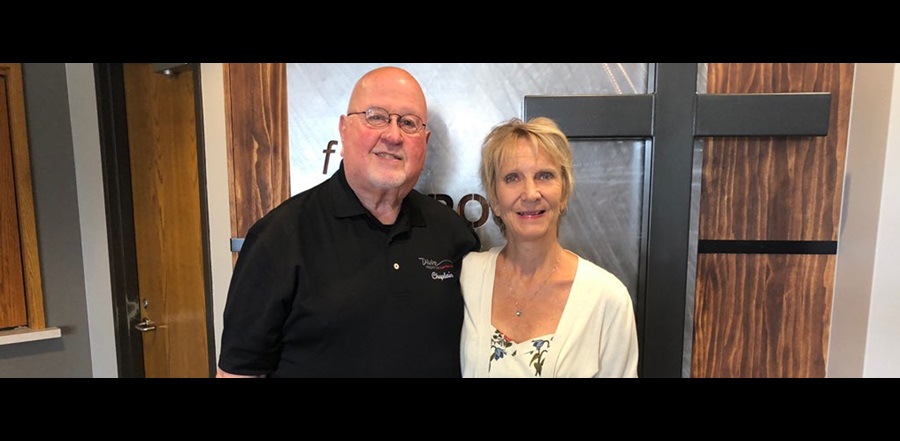 Don't miss any stories. Follow AG News!
Most everybody in Willmar, Minnesota, recognizes H. Paul McCullough. His contact with the public goes beyond his role as
community outreach pastor
at
Willmar Assembly of Go
d
.
Although he has been on staff at the church in various capacities for 29 years, for the past five years since he went part time, McCullough has acted as a "community chaplain" throughout Willmar, a city of 19,600. He wears multiple chaplain hats, most of them in a volunteer role: fire department, police department, ambulance service, stock car raceway, addiction recovery center, even for the railroad. McCullough, an endorsed chaplain with U.S. Missions
Chaplaincy Ministries
, is known as "Pastor Paul" by many in the community.
"It's all about being a pastor where pastors aren't usually found," says
McCullough
.
Every Monday, McCullough strolls through the city's law enforcement center, distributing a one-page self-penned devotional on workers' desks.
At
Divine House
, he likewise leaves the motivational encouragement for those working with special needs. He provides grief counseling and comfort to housemates of deceased residents and their families, as well as to staff members.
"Pastor Paul has considerable skill and patience in speaking with individuals with cognitive disabilities to assist them with the grieving process," says Brenda Streich, quality assurance director at Divine House.
Pam Brede, owner and administrator of
Divine Home & Hospice Care
, has known McCullough since 1991. She says he makes himself available to the company's 600 home care clients and is willing to drive hundreds of miles to see family members.
"Pastor Paul has done a wonderful job providing emotional and spiritual support for hospice clients and their families," Brede says. "He is a constant inspiration, showing warmth and hospitality to all he meets."
During summers, McCullough spends Thursday nights at the
KRA Speedway
. He talks to the drivers and crews in the pits, delivers the invocation before races, and even sings the national anthem.
In one of his most unusual gigs, McCullough serves with Railroad Chaplains, a division of
Marketplace Chaplains
based in Plano, Texas, working with the Burlington Northern Santa Fe Railway as well as Canada Pacific Railway. He travels around the region when there is a train fatality involving a vehicle or pedestrian, offering condolences to the family of the deceased and attending the funeral service.
"You can bond with people quickly as you pray with them at 2 in the morning after their daughter took her own life," says McCullough, who has been married to his wife, Francesca, for 48 years.
But much of his work is nurturing locals that he sees all the time, including the regulars at the five local businesses where he drops off his devotions to over 200 workers every Monday.
At 71, McCullough is grateful that Willmar AG allows him the flexibility to rearrange his schedule as needed to conduct ministry elsewhere.
"The ability to help someone feel valued and loved is incredibly important, and Pastor Paul demonstrates that ability on a daily basis," says
Keith T. Kerstetter
, lead pastor at Willmar AG, which has 1,150 weekly attendees. "I have sent younger pastors with him to learn from his bedside manner." McCullough previously pastored in Ohio, Missouri, Wisconsin, and Michigan following his 1970 graduation from Central Bible College.
McCullough's ubiquity hasn't escaped Willmar Mayor Marv Calvin, who believes listening is perhaps the chaplain's greatest strength.
"Paul has prayed for our city council, attended to the needs of our emergency responders as a chaplain, provided death notifications and family contacts in difficult times, and has been a community cheerleader," Calvin says. "He has performed marriages at the fire station, shared God's Word in monthly meetings, and has been a shoulder to cry on in time of need. Whenever I have seen him in action, he is always warm and engaging."