Campus Groups Partner With Churches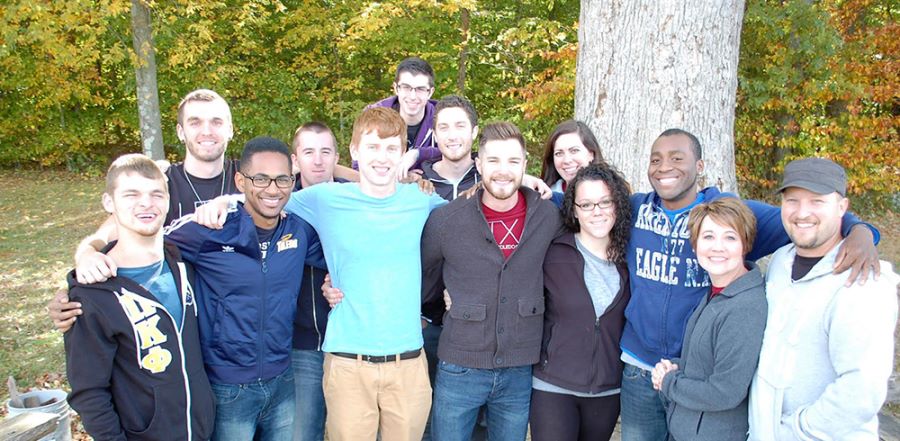 Don't miss any stories. Follow AG News!
Several years after joining forces, a partnership between Calvary Church and the Chi Alpha chapter at the University of Toledo is bearing fruit. The two entities recently launched plans for a 2016 spring break missions trip to Southeast Asia. 
The Maumee, Ohio, church planted significant seeds for the college student ministry by dedicating its 2011 Christmas Extravaganza -- where members bring gifts for an auction -- to Chi Alpha. 
The event raised more than $13,000. The funds helped with such logistics as equipment purchases, mission trips, and promotions through the Ohio Ministry Network.
"It also allowed us to help students who couldn't afford to go on a retreat, and buy a computer," says Greg Mahaney, Chi Alpha director at the University of Toledo. "As much as a financial blessing, though, it was a huge vote of confidence. It said to students: 'We believe in you and want to help you reach the campus.' "
Calvary Church Pastor Chad Gilligan says the partnership reflects the kind of statewide AG cooperation that is making campus ministry possible. 
"It's taken many, many churches to come together and invest to make things happen," Gilligan says. 
The pastor says the exchange with the Toledo chapter has given Calvary congregants insights into the need for campus ministry, and created a future connection point for youth group members. 
"In the past we had young people who would grow up excited about the Lord and stay home for college," Gilligan says. "But then there would be a disconnect from youth ministry and we would see them disconnect from church as well." 
The partnership is a significant development amid the student ministry's rapid expansion, according to Steve Brannan, an A.G. U.S. Missions missionary now in his fourth year as Ohio Chi Alpha state director. 
Brannan, former Chi Alpha campus pastor at Wright State University in Dayton, says chapters have nearly doubled, from seven only four years ago to 13 now. Currently, 300 students are involved. 
In addition to the Toledo partnership, the director says Peoples Church in Cincinnati is helping Chi Alpha in the Queen City. Bethel Temple in Parma is sponsoring a new work with Cleveland's colleges. 
Chi Alpha groups benefit when church pastors are supportive, not just financially but also relationally, according to Brannan. 
"Campus missionaries can feel like they're on an island sometimes. They run into a lot of opposition," Brannan says. "Chi Alpha is on a direct mission to contextualize the gospel to collegians on campuses. The church doesn't have that same luxury because they are serving a broader swath of people." 
Developing mutually beneficial relationships takes patience, though. Brannan says local churches that support Chi Alpha shouldn't expect a return on their investment for a year or two. 
He hopes members of congregations appreciate the long-term value of strengthening the kingdom by helping students act as the church on campus. 
"Calvary supports outreach into the campus," the director says. "It's beautiful because it's selfless giving and it returns naturally. If it's giving with strings attached -- expecting students to get involved in church ministry -- it's unhealthy. That makes for a strained relationship between the campus pastor and the church pastor." 
Calvary also stood behind Mahaney as he completed the extensive process of becoming a nationally appointed AG U.S. missionary. Today, Mahaney says nearly 60 percent of his budget comes from individuals in the church. 
"It has been incredible to see the connection I have with the church body," Mahaney says. "They always want to know what's going on with the students, and a lot of the students follow us and wind up at Calvary." 
Once there, Gilligan says the church helps expand students' base of relationships with adults and families. Now approaching 1,500 in weekly attendance, the pastor thinks the church size is a buffer against the temptation to draft students for various ministries. 
"We're not viewing them as volunteer we can dial into out of desperation," Gilligan says. "We have a mutual partnership and are excited to see how God will use these individuals when they plug into church." 
That is the point of churches nurturing Chi Alpha groups. Brannan says as congregations help students develop their spiritual gifts, the church also will reap the rewards when graduates take their missional DNA into churches. 
"We want to bless churches," Brannan says. "Chi Alpha helps the church wrestle with its missionary identity as it interacts with those outside the church. As we're healthier together, we can do great things."