Centering on Compassion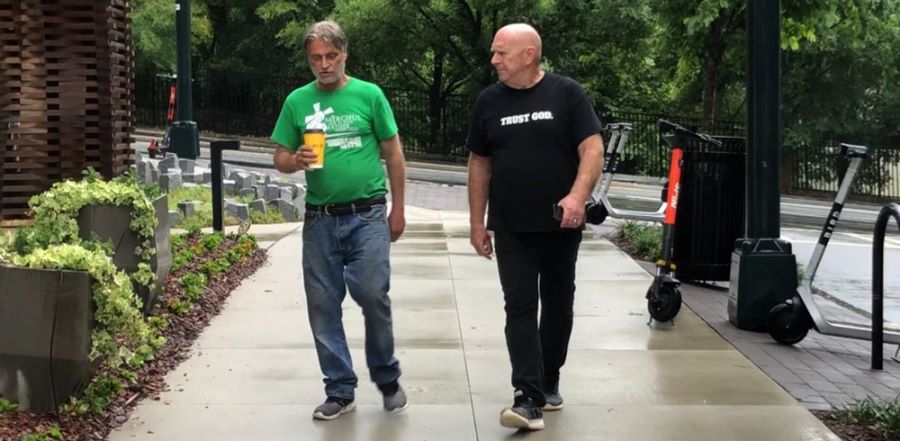 Don't miss any stories. Follow AG News!
U.S. missionary Paul V. Palmer hit the streets when he turned 70, but not to celebrate his birthday as a septuagenarian.

The founder of the Atlanta Dream Center, an Assemblies of God church, Palmer spent 70 consecutive hours on the streets to raise money for the center's ministries. His goal this year: raise $500,000 to provide transitional housing.

On his birthday every year for the past five years, in an effort to increase awareness and funds for the cause, Palmer, a U.S. missionary with Church Mobilization, spends as many hours on the street homeless as the age he turns.

Before he became a Christian, Palmer lived homeless for almost three years. That experience forged a passion to reach out and show compassion for those living on the streets.

"People are moved when they realize that someone would do this for them," Palmer says. "Knowing I have a home, bed, and family, but chose to sleep on the ground to raise funds to pay for their recovery, gives them value, and it shows someone cares." About half of this year's goal has been raised so far.

Many of those Palmer encounters wonder why he puts forth such an effort.

"I let them know because we love them, and want them to know they can capture their God dreams again that they walked away from or forgot over the years," Palmer says.

In his venture in May, Palmer encountered Frank W. Wayne within a few hours after hitting the streets.

"I met pastor Paul at a very tragic time in my life, when homeless and begging for food at McDonald's," recalls Wayne, 57. "Pastor Paul, his son, and three other gentlemen offered to buy me a meal. They sat with me as I ate and Paul told me his story about how he used to be homeless."

Palmer asked Wayne if he wanted to get off the streets as well as whatever substance dominated his life. Without hesitation, Wayne said yes, so they walked to the nearby Atlanta Dream Center, where Wayne showered and received new clothes.

Next, Palmer offered Wayne the opportunity to enter a substance abuse and mental health treatment center. The church paid for the treatment plus the bus ticket to the center in Florida.

"He changed my life," a grateful Wayne says. "I am no longer homeless. I now have a job, I am clean and sober from any substances, including alcohol and cigarettes, and my health is great."

Palmer, who plans to spend his birthday homeless for five more years, doesn't take a break because of shootings or rain while living in the streets. Every year he simply starts out with $10, a change of clothes, and a sleeping bag. This year he went a little lighter, trading his sleeping bag for a beach towel.

"I used it to clean up in a park and hoped it would dry so I can use it as a blanket at night at a construction site," Palmer says.

Nearly 500 men and women who had been homeless or trafficked have entered the Dream Center's programs this year, and more than 300 have come to Christ.
Palmer believes every church can be involved to some extent in assisting the homeless.

"Not every church may be equipped to do what we do, but all can work with the local homeless center or support ministries like ours," says Palmer, who has ministered to the homeless for nearly 20 years.

Wayne says the Dream Center church services impacted him.

"I had chill bumps, broke down, and cried like a baby," Wayne says. "I've been to a lot of churches, but I have never experienced such a genuine, sincere man of God as pastor Paul."

Mirabehn Froum, 38, met Palmer in September 2020 when she went through a recovery program at the Dream Center.

"The love he showed me was so welcoming," says Froum, who came out of human trafficking at the time. "To see my pastor go out on the streets and sleep with the people without homes inspired me. Pastor Paul shows the love of God to everyone in any situation, anywhere."

She credits Palmer for saving her life in October 2021 when she had a relapse.

"The love of pastor Paul, the church, and God really helped me to get focused," Froum recalls. "I started helping people in addiction and the homeless after seeing pastor Paul doing that. I found my purpose."
PHOTO: Paul Palmer (right) has helped Frank Wayne (left) turn his life around.