Chaplaincy's 461 Response Program Receives International Recognition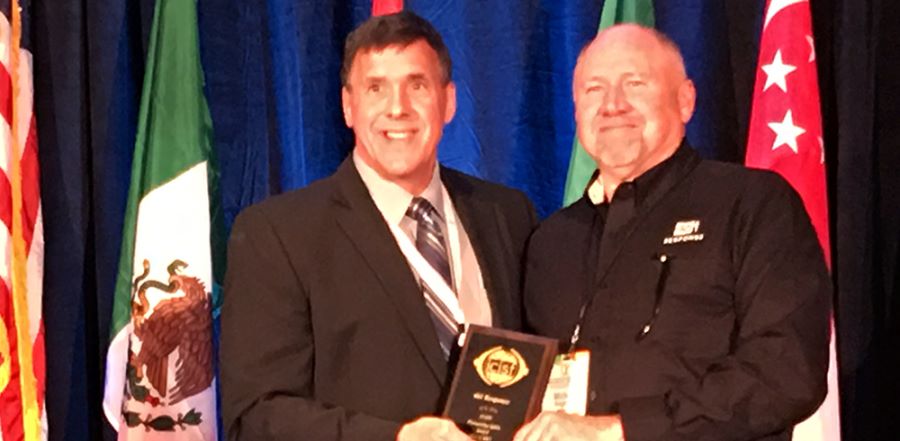 Don't miss any stories. Follow AG News!
The International Critical Incident Stress Foundation (ICISF) recently presented its Pioneering Spirit Award during the ICISF World Congress held May 3 in Baltimore, Maryland to the 461 (pronounced "forty-six one") Response program. Chaplain Mike Reighard, director of the program, was present to receive the award.
The ministry, a part of U.S. Missions Chaplaincy Ministries, is based on Psalm 46:1: "God is our refuge and strength, an ever present help in trouble." The program was created in response to a perceived need in local AG churches and districts. "Many churches and districts are not ready to respond to critical incidents in their communities" said Chaplain Manuel Cordero, senior director of Chaplaincy Ministries.
"When tragedy strikes, where does a church or district turn? Who has the knowledge, resources, and proximity to help with that specific incident?" Reighard asks. "Through the 461 Response program, districts and churches can access a database that helps them find the right people with the right resources in the right place to respond right away. The Assemblies of God fellowship is resource rich. But resources have little value if they cannot be found and used at the right time. The 461 Response ministry organizes these resources and makes them discoverable.".
However, what earned the 461 Response program the Pioneering Spirit Award was its three-pronged approach to tragedy: churches serve as caring, responding, and healing communities. In the caring community, the district or church serves as the hub where spiritual needs such as prayer or fellowship are provided. Sustenance and immediate needs such as food, water, and shelter are also met. Organizations like Convoy of Hope can utilize the church as a Point of Distribution (POD) or districts can offer campgrounds for shelter.
In the second component — the responding community — the church sends out teams of volunteers to help with things like, clean-up, repairs, or sandbagging a levy.
"Most programs and response organizations offer these first two steps," Reighard says, "but where we stood out to ICISF was in the healing component. This step focuses on the comprehensive emotional and spiritual care of people by training individuals to help those suffering from a critical incident — including things like school shootings and suicide — to build resiliency and continue on with their lives."
Cordero agrees. "Providing for the physical needs is critical and must be done, but it is not enough. Ministering to the emotional and spiritual needs must also be done," he says.
Reighard, who has spent decades interacting with first responders as a chaplain, believes the healing component is vital for the emotional and spiritual health of individuals. It also gives a church the opportunity to demonstrate extended compassion and possibly form lasting relationships with community members who otherwise have little or no connection to a church.
What makes the 461 Response ministry even more beneficial to districts and churches is that in addition to offering a database to quickly locate specific responders, training is also provided and conducted so churches and districts understand the urgency and sensitivity of critical incidents and can form teams that are qualified to respond to these incidences.
"We offer training opportunities in developing a church emergency response program, an introduction to critical incident stress management, and an introduction to chaplaincy," Reighard says. "We also provide certified training in seven ICISF courses, including suicide awareness, work place violence, assisting individuals in crisis, pastoral crisis intervention, and three additional courses."
When a district or church that is part of the 461 Response program learns about a critical incident, they simply access the database and conduct a search for what they need. If the resource they are looking for is not found locally, they can contact their district for further assistance. If needed, the district can contact the national office for additional help. "This was demonstrated recently here in Missouri," Cordero says. "The 461 Response program in the Southern Missouri District is crucial in the ongoing process of providing assistance due to the recent floods."
Any AG district, church, or member is eligible to participate and become a part of the database by filling out an online form that indicates things such as name, location, contact information, and specific skills and/or equipment offered. Missionaries or other AG ministries can offer their ministerial services to the whole Assemblies of God fellowship.
Reighard says that the 461 Response ministry, which was launched in 2013, is steadily growing, but awareness has been one of the biggest challenges. This low maintenance, easily managed program offers huge benefits to any district, church, or ministry.
"Once I meet with a district or church, the value of 461 Response and what it means to the church and the community it serves, quickly becomes evident," he says. Several districts have built 461 Response programs, including Alaska, Puerto Rico, Northwest Ministry Network, New York, Southern Missouri, Louisiana, Oklahoma and N. California-Nevada. Currently, 30 districts are represented by individuals, including chaplains, ministers, missionaries, pastors, churches, and laypeople.
To learn more about the 461 Response ministry, email [email protected] or review the 461 Response website at 461response.org.