Cherishing Kids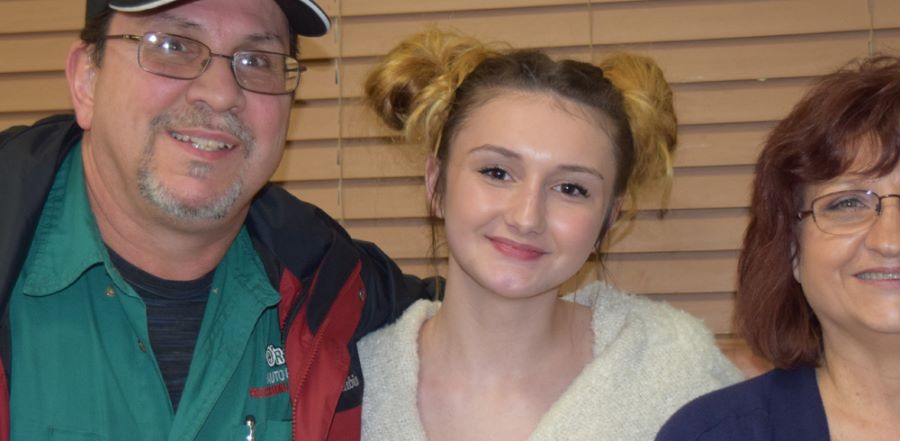 Don't miss any stories. Follow AG News!
Joclynn Jeanette Weir engages in the normal up-and-down interactions a 15-year-old girl has with her parents, Will and Lisa: tender one moment and sassy the next. The give-and-take tussle between the generations represents a familiar family dynamic in many homes.

Yet Joclynn is anything but a typical teenager. Removed from her biological family's home at the age of 5, Joclynn bounced around 17 foster homes before landing with the Weirs in Nixa, Missouri, in November 2017. The couple officially adopted her Feb. 26 with the help of Cherish Kids, a ministry of James River Church based in Ozark.

Despite her past trauma, Joclynn appears to be cordial, confident, clever, and candid. She aspires to be an attorney.

That belies the reality of what she has endured. Another family adopted Joclynn's two younger sisters when she was 9. But, worst of all, from the ages of 2 to 4 Joclynn's mother trafficked her as a child prostitute to earn income in exchange for drugs.

"I was bitter and angry for a long time," says Joclynn, whose extensive Bible reading subsequently helped change her behavior. "All I wanted was a home and someone to love me."

Will and Lisa never had considered foster care before. Joclynn came into their lives after they saw the effervescent girl at church. Will, 56, formed a special bond with Joclynn; he had been adopted by his grandmother because of abuse in the family home.

"We've assured Joclynn that we'll never leave her or forsake her, just as God will neither leave or forsake any of us," says the soft-spoken Will, who drives a semi-trailer truck for O'Reilly Auto Parts.

The Weirs have one other child, 27-year-old Shelby Bettis, an Evangel University graduate who lives in Wilmore, Kentucky. The Weirs have attended Nixa First Assembly of God for more than a quarter century.

"God saw Joclynn's trouble and heard her many prayers for a forever family," says Lisa, who works in a real estate office. "He caught her many tears throughout her childhood. We were put into her life, picked by God as the answer to her prayers."

The Weirs admit to being clueless about the plight of orphans before connecting with Cherish Kids. The ministry, started a decade ago, has assisted finding foster and adoptive homes for more than 5,000 children.

Cherish Kids arranged for Joclynn's surprise adoption ceremony to take place at James River Church, with a hearing before Jessica L. Kruse, Christian County associate circuit court judge.
The ministry started as a result of Debbie Lindell, co-lead pastor of James River Church with her husband, John, noticing the number of foster kids attending the megachurch. Debbie wanted to adopt a child, but John thought a more widespread impact would be if the megachurch could rescue myriad children. Today, around 500 people who attend the four James River Church campuses are actively involved in foster care, respite care, or adoption. Cherish Kids has two full-time employees and 10 key volunteers.

Cathi Keene, who for the past five years has been James River Church director of outreach, including overseeing Cherish Kids, has been concerned about foster care since college. She recalls a summer job assisting a caseworker as she transported a 4-year-old boy to a foster home. He brought a few possessions in a brown paper bag.
Keene repeatedly sang "Jesus Loves Me" to him.

Psalm 8:2 is a key verse for Keene's ministry philosophy: "From the lips of children and infants, you have ordained praise."

"My prayer is that orphaned children will one day praise God and that their heartache and pain is quieted by personal awareness of how much God loves them," says Keene, who has four children, ages 10 to 18.

"The local church is the answer to come alongside families in helping orphans," says Keene, whose husband of 21 years, Don W. Keene, is director of counseling and Living Free Ministries at James River Church.

This month, Cherish Kids is embarking on an ambitious effort to impact kids in need of a home beyond southwest Missouri. Cherish Kids is launching a network throughout the Show Me State. There are 14,000 children in foster care in the 114 counties of Missouri.

Keene says every Christian can do something to help, whether practical, prayerful, or financial. When a congregation is committed to the cause it's more likely to succeed, she says. James River Church has multiple small groups that meet specifically to address the topic of foster or adoptive care.

"It's important for people of faith to speak into the lives of foster children," Keene says. "We've seen a better retention rate in the church because God helps kids through trauma."

Amy Marie Acker is a Cherish Kids volunteer and a longtime foster parent. She and her husband, Mark, a nurse at a behavioral children's home, have a 14-year-old biological son, Elijah. They adopted their daughter, Elena, who just turned 12, when she was 5 months old. Last year they adopted an 8-year-old boy, Avery.
Acker says families who take a step of faith are rewarded.

"God will provide everything needed for these kids," says Acker, 38. "He gives grace, patience, mercy, and love, even when it's really hard."

Keene notes that half of the homeless people in the U.S. have aged out of the foster system, a transition period often accompanied by post-traumatic stress disorder or reactive attachment disorder. Nearly two-thirds of boys are incarcerated after they age out while three-fourths of girls have a premarital pregnancy, she says.

A recent emphasis of Cherish Kids is raising awareness of the need to find a stable home for teenagers such as Joclynn. Those who have been in multiple homes during childhood have a better shot at succeeding in adult life if they have just a couple of years staying with a permanent family, Keene says.

Lisa Weir agrees that Christians are a vital part of the solution, if they are willing to be God's extended hand to help the orphans in their community. Her daughter is an example of what a difference a loving family can make.

"God has great things in store for Joclynn," says Lisa, "She has a passionate heart for people. Her story is going to impact many people as God directs her path."