Christmas Is Still in July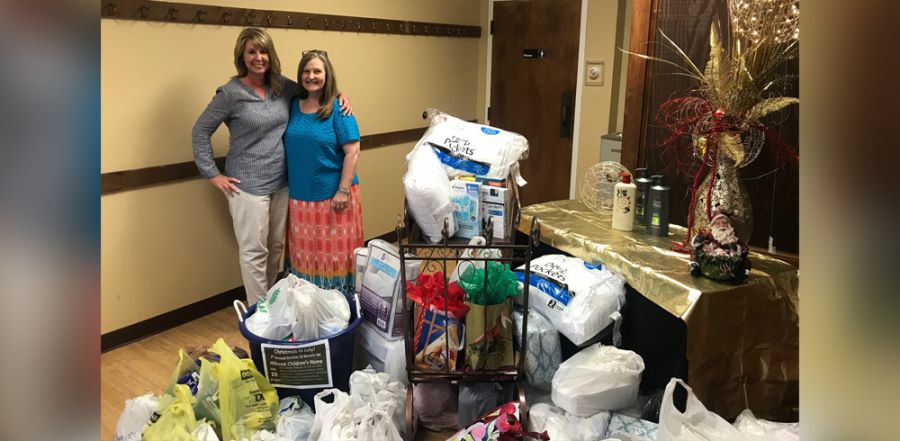 Don't miss any stories. Follow AG News!
Ask Teresa A. Porter how to run a successful fundraiser, and she answers with Zechariah 4:6: "'Not by might nor by power, but by my Spirit,' says the LORD Almighty."
Porter says God gave her that message in 2012, the day before her first Christmas in July fundraiser, and she has seen it fulfilled every year since. It's God's unique reminder of how He provides for vulnerable children, she says.
As the section 10 Women's Ministries representative for the Arkansas Assemblies of God, Porter holds Christmas in July to benefit COMPACT Family Services, the Assemblies of God's child welfare program located in Hot Springs. The ministry has effectively served children and their families since 1944, but many in the pews didn't understand its purpose.
Porter set out to change that when she became Women's Ministries rep in 2012. In her first meeting with Angela Carpenter, Women's Ministry leader for the Arkansas District, Porter learned she could specifically choose COMPACT's Hillcrest Children's Home as a ministry to support. Although Hillcrest is flooded with gifts from around the world every Christmas, by July, the supplies of hygiene products, linens, and other items needed are exhausted. A midyear push is needed to stock the home's eight cottages.
Porter, 61, consulted with Rick Mays, her pastor at Trinity Temple Assembly of God in Arkadelphia and the section 10 presbyter. Mays concurred with Porter's plan.
In time, Porter benefited from divine connections. She met conference speaker Dana Davin-Ward at a district women's meeting and learned about her work in women's prison ministries. In discussing the possibility of Davin-Ward speaking at a sectional women's rally, Porter mentioned the upcoming Christmas in July fundraiser.
That's when Porter learned that Davin-Ward and her friend Susan Paul had prepared sermons on the theme "Unwrapping the Gifts," but they had not found anywhere to share their messages. Porter and her team worked with Davin-Ward and Paul and their connections to put a program together.
Ginger Kinman and Alicia Mason, who both attend The Assembly in Hot Springs along with Davin-Ward, filled two key roles. Kinman, 68, handled decorations, and Mason, 42, headed the drama team and worship music.
Mason, whose husband, Michael, pastors The Assembly, knows Hillcrest well. Two generations of her family worked as houseparents at the home, and she grew up there. She jumped at the opportunity to get involved.
After meeting with Rhonda Gant at Hillcrest, Porter and her new staff settled on July 26-27 for the first Christmas event, held in Hillcrest's cafeteria. Despite rain, more than 100 women showed up. By the end of the event, hygiene items had been collected, money had been donated, and Hillcrest had made a permanent impression on the women's hearts.
Since that first Christmas in July, the fundraiser has grown, with more section 10 churches participating. Even local vendors get involved, donating goods to help the children. In 2019, the event raised $1,800, in addition to the usual contributions of toiletries. The money goes to purchase Walmart gift cards that are used by houseparents to buy needed items.
Awareness of Hillcrest has grown as well in the past seven years. People are volunteering there year-round, and churches in section 10 have adopted cottages to support.
Kinman says Christmas in July is a way to partner with the Hillcrest staff in making a difference in the lives of troubled children.
"We're investing in them when we do that, which makes all of our world a better place," Kinman says.
This year, Christmas in July is scheduled for July 16. The theme "In the Fullness of Time," is set, and the speaker, Susan Nordin, is booked. Decorations are being prepared, as are the skits and music. But Porter faces probably her greatest challenge yet: the coronavirus. With the pandemic wiping calendars clean, she and her staff are praying that the event can take place. If not, offerings still will be taken and toiletries collected for the children.
Porter again is trusting God.
"He has always come through," she says.