Church Gives Away Hundreds of Bicycles for Christmas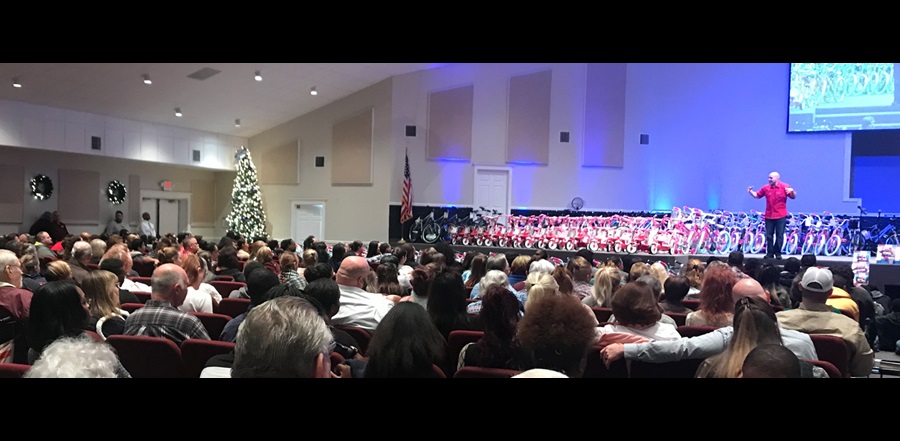 Don't miss any stories. Follow AG News!
What did you get for Christmas this year?
For many of more than 700 children in the Pollok/Lufkin, Texas, area, instead of making up a story or even admitting they didn't get a Christmas present, this year they can say with joy, "a bicycle!"
Pastor Josh Poage and the congregation at
Clawson Assembly of God
, which averages about 400 on Sundays, promised to give away 500 bicycles to the first 500 families who registered for the bicycle giveaway and came to the service. However, when over 700 children showed up, many with at least one parent, the church didn't blink.
"We had the children register by age groups, with each child receiving either one of two colors to designate between a girls or boys bike," explains Michelle McAdams, the Connect director for the church. "Once the bikes for an age level were gone, we issued the remaining children an orange wristband — which was basically a voucher for a free bike that we will order and get to them."
McAdams says that bike giveaway is designed to benefit those in need during the Christmas season and as a way to reach out to their community, including Lufkin. "On Wednesdays, we have buses that go into Lufkin to bring kids to church," she explains. "Sometimes we pick up hundreds of kids, many, if not most, come from difficult circumstances."
Through a huge social media push, word of mouth, and an article in the
Lufkin Daily News
, news of the bike giveaway was wide spread. The church had a crowd of 1,460 attend the service on Sunday, Dec. 16 — over 1,000 more than typical Sundays.
Of course, the excitement in the crowd was palpable. At the conclusion of the service, children, their eyes huge and their smiles broad, began making their way across the platform on one side, being presented their bicycle, and then connecting with their parents on the far side, and out the side door . . . where what surely must have been a bicycle rodeo ensued, as peals of laughter and excitement echoed in the air.
"The parents were so grateful," McAdams said. "So many told me that their children wouldn't have had any presents this year if it wasn't for this . . . and to get a bike was such an incredible gift for them."
Valentin and Samantha Hernandez's four children, ages 13, 12, 11 and 7, each received a new bike for Christmas through the giveaway. Valentin suffered an on-the-job injury to his back several years ago, which limits his ability to work.
"During this time of year, things get hard with four kids, but this [the giveaway] gave my kids something to look forward to — they were so excited," Samantha says. "I spoke to so many other parents who told me this [the bike] was literally the only thing their kids were going to get for Christmas."
A couple weeks prior to the giveaway, Poage had posted a video request for volunteers to help put the hundreds of bikes together. McAdams says about 150 volunteers, some who don't even attend the church, showed up to help as even those who don't attend the church were inspired by what Clawson AG was doing.
Poage, who had been speaking on a series of messages he called, Manger to Majesty, that examined the humanity and deity of Jesus, concluded his series with a message titled, "Jesus — Savior of the World," on that Sunday.
"Dozens of people came forward to the altar call," McAdams says. "And I have the stacks of response cards here ready to follow-up with them."
The church also has contact information for all the families who participated in the bike giveaway, enabling the church to follow-up and invite the families to other special events held throughout the year.
Although the bicycle giveaway would seem to be enough of an outreach for any church, Clawson AG evidently isn't just any church. The congregation is also involved in three other Christmas "blessings," including the Angel Tree program, Backpack Buddies (food sent home with children during extended holidays), and Poage himself left shortly after the bike giveaway to lead a team to Reynosa, Mexico, providing jackets, blankets, hygiene items, and toys for children in an outreach there.
McAdams says the church's DNA is embedded with caring for those struggling — whether that be due to addiction, homelessness, poverty, or some other weight on a person's ability to thrive.
"One of our staff members at the church started coming here because she and her husband saw how this church was about helping others," McAdams states. "A lot of times, our efforts bring in the people who aren't received by others . . . , but our church does a really good job of having anyone walk through our doors and making them feel welcome . . . and, as a result, so many lives have been changed."
Samantha Hernandez says she is a product of Clawson AG's bus ministry — originally a bus kid, now she's one of the bus drivers. "We reach so many people," she observes. "When people come around this area, they hear about Clawson — about the generosity, giving, and caring."
According to McAdams, as the church has given, God has blessed. Individuals and business owners who attend the church, and generously helped support the bike giveaway, have shared how God has been blessing them personally and in their businesses, enabling them to increase their giving to church outreaches.
"God has blessed every part of our church, sending us the people we need when we needed them and the resources we need when we needed them," McAdams says. "He has blessed us in every area — blessed us beyond measure!"