Church Welcomed by Indiana Schools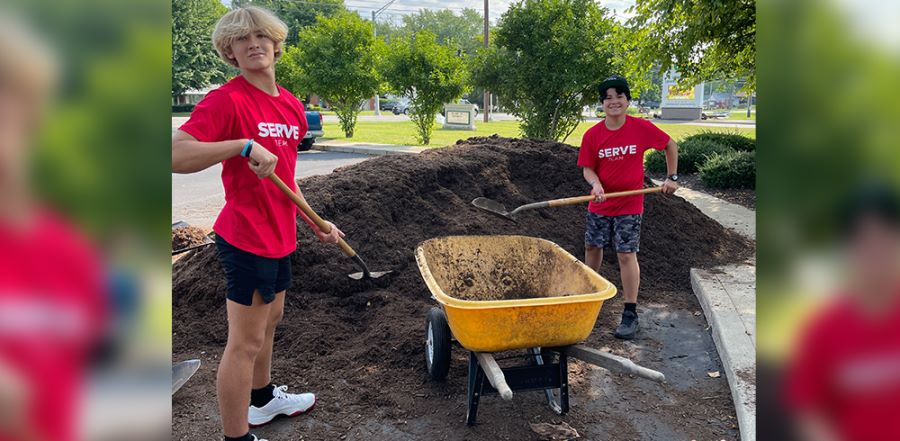 Don't miss any stories. Follow AG News!
The separation of church and state is an all-too-common uttered and often misunderstood phrase, which has led to extreme interpretations. Yet for
Grace Assembly of God
in Greenwood, Indiana, and local school districts, they have cultivated such a relationship that now the church is welcomed into the public schools.
As Mathias Grehn, communications pastor at Grace, explains, however, the partnership is not about sharing the gospel or proselytizing, but living out the gospel message before students, parents, teachers, and the community.
"Wayne Murray, since he became the senior pastor of Grace 25 years ago, has preached that we go into our community with our palms down — we go to bless — never with our palms up asking for something," Grehn says.
In that spirit, every year, Grace Assembly institutes Serve Day for the church body. And every year, 200 to 300 volunteers — kids to senior adults — spend a Serve Day Saturday being a blessing to a different school in the community.
In recent years, they have gone to five different schools — painting classrooms and hallways, cleaning windows, power washing sidewalks, adding mulch to playgrounds, landscaping, and other manual labor efforts. Then, to specifically bless teachers, skilled volunteer laborers either remodel or even create the schools' teachers lounges so teachers and administration have a comfortable, convenient, and well-appointed retreat where they can go to relax and recharge.
According to Patrick Spray, superintendent of Clark-Pleasant Community School Corporation, Grace Assembly of God has become a trusted partner with the schools, going above and beyond to meet needs and bless students and teachers.
"When we were contacted by Grace Assembly of God about their Serve Day," Spray says, "they let us know they were reaching out to schools in an effort to engage and give back. We met with them and identified schools in the greatest need — and that's where that's where they started."
Tracy Bruner, who has been attending Grace Assembly for 17 years and has participated in making the Serve Day a success since its inception five years ago, has a better understanding than most as to what the Serve Day means to teachers.
"I am a former teacher and know what they go through," she says. "I love what (Serve Day) has done for the teachers . . . I've been in the teacher's lounge, delivering donuts and cookies to the staff, and that's where I personally hear of the impact . . . I hear about the difference Serve Day has made and how amazed teachers are, many times with tears in their eyes."
Spray says that Serve Day has led to personal friendships with staff and individuals from Grace Assembly, even though he doesn't attend there.
"And through Grace, we were able to arrange a guest speaker for our schools — Reggie Dabbs," Spray says. Dabbs, a Christian, is a motivational speaker and author who regularly speaks in public schools.
And when tragedy struck the school system when a student committed suicide, Spray says Grace Assembly was one of the first to reach out.
"The suicide became the impetus to start spirit teams," Spray says. "Now, volunteers from Grace and several other churches come out once a month just to clap, high-five, and cheer for students (and provide treats to them) as they arrive, to let them know people love and care about them — it builds up community with the students."
Grehn says that Grace congregation members look forward to Serve Day every year. Serve Day — and other efforts — are funded through a very generous annual Christmas offering and weekly giving that raise hundreds of thousands of dollars for missions, outreaches, Serve Day, and other events.
"We also do a huge Christmas outreach every year," Grehn says. "We create the Christmas Store where we provide gifts for kids from economically challenged families. The families come to the church, they hear the gospel, and then parents go and pick out gifts from the store for their children (for free) for Christmas — the children are unaware the church provides the gifts."
This extended partnership, that is not limited to a single day, but has resulted in ongoing relationships with the schools and in serving the community, is what has led to Grace Assembly being a welcomed and deeply appreciated guest in the local school districts.
"There's a lot of opportunity to work with faith partners in our school districts," Spray says, noting how clear boundary lines have been established. "And even for families who live in the neighborhood, seeing a small army of (Serve Day) volunteers working their tails off from 6 a.m. to 6 p.m. — it speaks a lot of the community as a whole and resonates with families and kids."
Bruner sums up the relationship well, stating: "When there is a need in the district, the schools contact Grace because of that longstanding and ongoing relationships we have built . . . through the heart of serving."