Churches Still Rebounding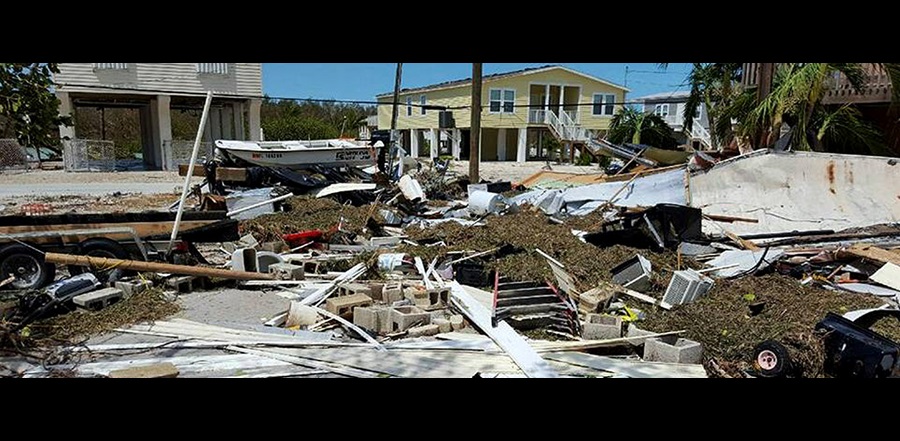 Don't miss any stories. Follow AG News!
Many Assemblies of God churches in south Florida still are rebounding from the impact of Hurricane Irma, which hit the Sunshine State more than six months ago.
In September 2017, Irma decimated the U.S. Virgin Islands before churning toward Florida. Irma, which caused $50 billion in damage, soared to category 5 strength, the top of the Saffir-Simpson scale of hurricane intensity. Irma was the strongest storm on record in the Atlantic — excluding the Caribbean and Gulf of Mexico — with maximum winds of 185 mph.
Peninsular Florida District Superintendent Terry Raburn says no Assemblies of God churches have closed permanently due to Irma, but many sustained damage. No AG members died in the disaster.
"We are still moving the incredible amounts of storm-damaged items that have to be hauled away before rebuilding can begin," Raburn explains.
Raburn adds that a few churches missed two weeks of services in the aftermath of the massive storm, but that didn't mean congregations quit working in communities.
"Our ministers in the Virgin Islands, Keys, south and north Florida have all worked together in this massive undertaking, as well as traveled to other locations to help," he says. "We will continue to do the work of the Lord."
Russ R. Debord, Peninsular Florida District presbyter, notes that First Assembly of God Frederiksted in St. Croix, Virgin Islands, and New Life Assembly of God in Marathon, Florida, sustained extensive damage, forcing them to meet outdoors under tarps and in temporary locations.
Debord says Frederiksted Pastor Jeff K. Culver has used creative means to keep the church open, but the restoration process is going slowly due to lack of funds and insurance settlements still to be paid.
In November, Debord and Michael Nelson, president of the AG National Black Fellowship, traveled to all six U.S. Virgin Island AG churches and met with those pastors. The pair provided encouragement plus nearly 80 pallets of food, water, generators, and other supplies.
"Each had harrowing stories recounting how three separate hurricanes hit, causing untold amounts of devastation," says Debord, noting that Hurricane Harvey and Hurricane Maria also wreaked havoc on the U.S. Virgin Islands last year. "Even with a lack of resources, these pastors have remarkably lifted the banner of hope and love."
Debord's own property sustained damage from Irma, including a tree that rested on his residence for more than a month while he busily assisted others who had greater needs.
"The real heroes of our efforts are the many hundreds of unnamed volunteers who traveled down to the Keys, and were very instrumental in helping our churches and pastors serve their communities," says Debord, who is pastor of Sunset Chapel in Miami — which took five distinct teams of volunteers to assist churches and families in the Keys.
Jonathan C. Carey, lead pastor of Glad Tidings Tabernacle, a Peninsular Florida District church in Key West, Florida, and a few members stayed at the church during the hurricane.
Even though most of the community had been evacuated, Glad Tidings Tabernacle held services on Sept. 9, a day after Hurricane Irma passed through the area.
"We felt it was important to open the doors and be a point of contact and hope for those who could not leave Key West," Carey says. The church has a community food pantry, which enabled the congregation to distribute provisions to needy individuals and families. From Sept. 19 to Nov. 25, Glad Tidings partnered with Convoy of Hope, Samaritan's Purse, and the Billy Graham Evangelistic Association to provide help for area residents.
Although many of the 130 regular attendees at Glad Tidings sustained damage to their homes — as the church itself did — that didn't stop congregants from reaching out.
"We had 2,500 volunteers pass through the church's doors who spent 34,800 hours doing clean up and repair," Carey says. "More than 100 persons made a salvation decision for Christ."
Glad Tidings housed 80 volunteers for 10 weeks and distributed 403 pallets of food and other supplies.