Clay Urges Leaders to Learn from Seven Churches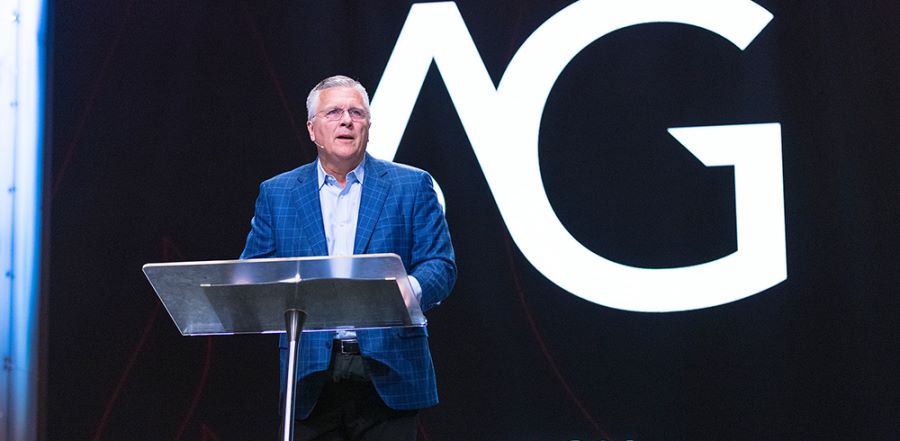 Don't miss any stories. Follow AG News!
General Superintendent Doug Clay opened the 59th General Council in Orlando, Florida, Wednesday evening with a challenging message from Revelation where Jesus spoke — in often hard-to-swallow truth — to seven churches in Asia Minor more than 2,000 years ago as well as to the Church today.
As he began his message, Clay recognized the challenges church leaders and Christ followers face today, especially in light of COVID-19 and what seems to be an attack on the Church and the dismantling of American culture. He noted that in order to make Christianity "more inclusive," people use compassion to override judgement regarding activities and lifestyles that violate Scripture.
"What's the Lord's heart in all of this? Clay asked. "How does He want the Church to respond?"
Clay then examined what Christ said through John in Revelation to seven churches, noting that Christ's message is applicable to anyone involved in building the Church.
STAY PASSIONATELY IN LOVE WITH JESUS
In addressing the first church, Ephesus, Clay noted how Christ had praise for the Ephesians work and how they endured hardship and guarded against false teaching, but He also had serious concerns.
"They were passionate about ministry," Clay said, ". . . yet they were doing the work of the Lord without a passionate love for the Lord and each other" (
Revelation 2:4
).
The point Christ was making was to stay in love with Him. "Loving Jesus isn't a matter of doing great things," Clay said, "it's all about delighting who He is."
The second complaint against the church of Ephesus was that they didn't love each other as they once did.
Clay pointed to today's social media, noting how it has connected people like never before and has also divided people like never before.
In quoting Dr. Esau McCaulley of Wheaton College, Clay said, ". . . people have convinced themselves that their sincerely held beliefs release them from the responsibility to display the fruit of the Spirit. Virtue is biblical."
Clay noted that loving God meant loving others as well. Reciting
John 13:35
he added, "As God's image bearers you and I are designed to love God and loves others in the same way that Jesus loves God and others — stay passionately in love with Jesus and others."
STAY STRONG IN TIMES OF TESTING
For the church at Smyrna, Christ warned of difficulties and suffering, but urged them to stay strong in times of testing in order to receive the crown of life (
Revelation 2:10
).
"The Lord never promised the church in Smyrna that He would remove their difficulties — think about that . . . no earthly solution," Clay stated. "No one, regardless of spiritual maturity or spiritual status, is immune from suffering."
Using Jehoshaphat as an example of trusting God in the face of his greatest crises (
2 Chronicles 20
) Clay urged leaders to put their trust in the Lord and stand strong, through an attitude of acknowledging and embracing the attributes of God who is omnipotent, omniscient, and omnipresent.
"The attributes of God can give you a sense of stability," Clay said, "but it's the Word of God that can give you strength . . . stand strong and lead with the Word, because a society in panic can easily be led or misled and I believe this is the finest hour for the church to lead culture to an understanding that God wants to lead us."
LIVE ABOVE REPROACH
In Pergamum, the church existed in dire circumstances — in the city where Satan had his throne (
Revelation 2:13
), but Christ urged them to live above reproach.
Christ was pleased with the loyalty of the church to Him, even in the face of martyrdom, but the church tolerated religious and moral compromise "like that of Balaam" (
Revelation 2:14
).
Clay focused on religious compromise, stating, "I pray that the Assemblies of God, we will never offer the benefits of grace to people without talking about the cost of discipleship."
He warned, "When a church gets too distracted for biblical engagement as their central ministry, it produces believers who simply don't know enough to be faithful Christ followers."
Much of Christian compromise in this generation "can be traced to biblical illiteracy, both in the church and at home . . . [but] we overcome the enemy by the Word," Clay said. "The answers found to cultural issues, the answers found to race relations are in the Word . . . God's Word provides a sustaining stability in a morally shifting culture."
KEEP MAKING IMPROVEMENTS
The church in Thyatira, the least important city of the seven, receives the highest praise from Christ as he notes the church's constant improvement in love, faith, service, and endurance (
Revelation 2:19
).
However, Thyatira was small and its purpose was simply to slow invading armies in order for Pergamum to get its defenses ready.
"Thyatira represents the rural area of the land," Clay said, and then noted, "the smallest, the least important city, received the longest letter."
According to AG statistics, more than 43% of AG churches are located in communities of fewer than 10,000 people.
"Rural America matters to the Assemblies of God, rural America matters to the kingdom of God," Clay said.
Clay, who himself is a product of a small community church that invested in him and that kept making improvements, stated, "if you minister in or you are a pastor in a rural area, I want to affirm to you that small churches in small communities can claim the promises given to Thyatira that you will have authority over the nations" (
Revelation 2:26
).

LET YOUR REPUTATION MATCH YOUR LABEL
The church in Sardis, according to Christ, had a good reputation, but the reality was just the opposite. And unlike the other churches, it did not receive one compliment (
Revelation 3:1
).
"It lacked the presence of God," Clay explained. "Sardis is a sobering example that it only takes one generation for a church to become spiritually dead."
Clay said he doesn't want the AG to rely on its reputation, organization, or structure but to become a Bible-engaged, Spirit-empowered church that is known for matching what it says with what it does.
In identifying the AG reasons for being, Clay urged leaders to keep
evangelism
focused on presenting the gospel to people to come to faith in Jesus Christ,
worship
about directing people's attention to God and His attributes,
discipleship
not sacrificed for growth, and
compassion
on seeing and responding to people as Jesus does.
"Let God baptize you with the spirit of doing evangelism like you never done it before, that you'll worship like you've never worshiped before, that you'll disciple like you've never discipled before, that we'll have acts of compassion like we've never had before so that our reputation will match our label."

SEIZE DIVINE OPPORTUNITIES
The Philadelphia church Clay compares to missions in today's church, where Christ is opening doors "that no man can close" (
Revelation 3:8
) around the world until all have heard the gospel.
Noting that reaching the spiritually lost with the gospel through every available means is a focus for Assemblies of God missions, Clay emphasized that people, not projects, are the highest priority.
In recognizing the service and sacrifice of missionaries, Clay stated, "I want to be a church that keeps opening the doors for this network of people [missionaries] . . . I pledge to you that in the Assemblies of God we're going to keep opening the doors for you to take the gospel here and around the world."
BRING JESUS TO THE TABLE
The seventh church, the church in Laodicea, enjoyed material prosperity, but when it came to their relationship with Christ — lukewarm was where they lived.
"You might say that it offered no cold water to the spiritually thirsty and it offered no hot water to the spiritually weary," Clay said, "but they had resources, and maybe that was the problem. They brought resources to the table in their ministry instead of Jesus."
Revelation 3:20
speaks of Jesus standing at the door and knocking. Clay notes that when taken in context, it appears the Laodicean church put Jesus outside of His own church and He was knocking on the door to get back in.
"I don't want to be the church that replaces Jesus with money," Clay said. ". . . I'm very grateful for the resources, but I'll take the anointing presence of Jesus every time!"
In coupling religion with resources, it led the Laodicean church into a false send of security and independence. "A self-sufficient attitude and a lukewarm faith are a threat to ministry effectiveness," Clay said.
Clay encouraged leaders to seek the presence of Jesus in their lives and a fresh infilling of the Holy Spirit to invigorate their spiritual lives and ministries.
In his closing prayer, Clay urged leaders to take Christ's prophetic words to seven different churches and find the ones that are applicable to their lives and ministries, contextualize them, and work them out.