Coffee with a Cause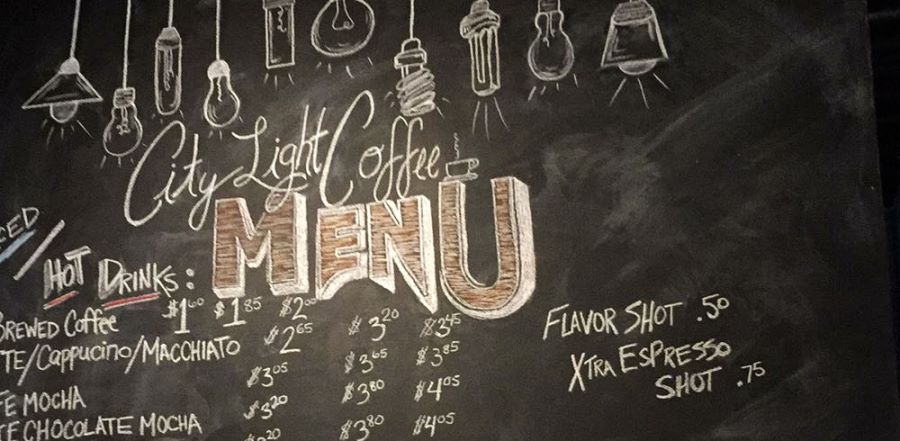 Don't miss any stories. Follow AG News!
To the casual observer, the coffee shop on Washington Street in downtown Binghamton, New York, might seem typical: students occupying small tables or couches, alone or in clusters, armed with steaming cups of coffee and laptops, a hand-lettered overhead chalkboard menu enticing visitors to try a new flavor.
Beyond the first impressions, however, City Light Coffee begins to look like something quite different. The tagline on the cup sleeves — Coffee with a Cause — has created many opportunities for those from the church across the street to share the gospel with people in the community. The connection Binghamton First Assembly of God has with the café dates back to the 1970s, when the building functioned as Sunday School rooms overflow and for occasional local outreach programs. Several years ago, the property was remodeled as a coffeehouse, but not open to the community at large.
That changed not long after J.J. Hefley and his wife, Brandi, moved from Texas five years ago. Hefley says many people desire a place after work and besides home where they can spend free time, relax, and engage in conversations.
"Our church wanted to create that kind of space for people, kind of like a modern-day well," Hefley says. In February, with new branding and some cosmetic changes, including new coffees and trained baristas, City Light Coffee opened its doors to the public.
Hefley, the church's outreach pastor, recently received his master's degree in Bible theology from Southwestern Assemblies of God University , where he previously completed an undergraduate degree in psychology. He sees the café as a ministry of the church, which funds the project completely and then redirects all the proceeds to its outreach efforts.
"Customers know they can round up their bill to help the homeless or missions, whatever they choose, with the extra change," Hefley says.
"We developed a pretty aggressive approach to the community," says Hefley, explaining that the church connects with local residents by serving two meals a week (to about 450 people) and operating a food pantry that helps low-income families and homeless individuals. On a global level, Binghamton First Assembly supports missionaries and fights sex trafficking.
Over time, relationships have been built and Hefley chuckles as he talks about how students often ask the café's volunteers to attend their soccer games.
"They're looking for deeper connections, and our aim is to represent Christ in our lives and through our relationships," Hefley says. "Our hope is that we turn it into an every-day, all-day place that can build a bridge to our faith community. We also want to move people within our faith community to live out their faith and serve at the coffeehouse or in other areas. But it takes time to develop all the moving pieces."
Brandi Hefley says during finals week in May, City Light Coffee extending the closing time by four hours to 1 a.m., and offered free cookies and coffee to over 100 students.
"We have the opportunity to connect with college students," she says. "We will be able to build relationships and hopefully introduce them to the Lord."