Coming Home to Appalachia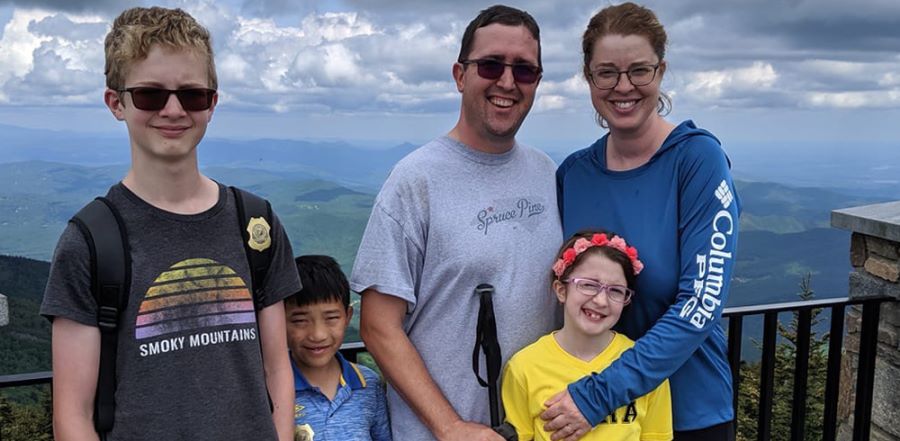 Don't miss any stories. Follow AG News!
Emily Landers Houser's dream of giving women a place to go after incarceration will become a reality when the Smoky Mountain Dream Center opens in eastern Tennessee.
Houser, a western North Carolina native, moved to eastern Tennessee with her husband, Britt, and three children, William, 13, Cora, 10, and Nate, 9.
After completing Global University courses and being ordained with the Assemblies of God in 2016, Houser found her place as a U.S. Missions correctional chaplain for women in Cocke County Jail in Newport, Tennessee.
Upon release from incarceration, women face a bleak future due to depleted finances to cover court costs and restitution.
"She has no place to go," says Houser, 41. "Her children have been living in bad situations. She gets these broken, hurt children back, and she has no place to take them."
Fellow Appalachian Keith A. Hall and his wife, Alicia, worked as Assemblies of God world missionaries in Ecuador until returning to the Knoxville, Tennessee, area. Hall researched poverty and hopelessness in Appalachia, which traditionally includes all of West Virginia and parts of 12 other states: Alabama, Georgia, Kentucky, Maryland, Mississippi, New York, North Carolina, Ohio, Pennsylvania, South Carolina, Tennessee, and Virginia. He sensed God leading him to pioneer a ministry in the area.
The Halls both had educational backgrounds, so they began ministering in schools through Assemblies of God U.S. Missions' Intercultural Ministries in 2015 to gain trust in Appalachian communities.
"We were able to incorporate the gospel into the mentor clubs we were doing," Hall says.
Houser heard about the Halls' ministry and sought help in repairing a structure to start a church. But the building's owners refused to let Houser conduct services as a woman pastor. Houser realized the cultural obstacles women in the 35 counties of eastern Tennessee face. Females released from jail had few available resources.

"These women don't need a church; they need a whole life change," Houser says. "There were no transitional housing beds for women parolees. Nothing for their children. We need a place where we can take people. A farm where we can take them."
Houser became a U.S. Missions chaplain in 2017 and determined that rural Appalachia needed a Dream Center — one that would partner with the Halls' ministry.
"We realized a lot of our passion and a lot of what we wanted to do went hand and hand," Hall says. "Her working with the women and my wife and I working with the students went together."
In July, the Smoky Mountain Dream Center, an AG parachurch ministry, found a home on 94 acres in Cocke County.
Houser says the property, bought debt-free, will serve as an umbrella organization to serve women and children impacted by incarceration, abuse, and poverty. It will provide a place of refuge for healing.
"Here we are, both Appalachian raised," she says. "God called us to be missionaries to our own people group in a world that doesn't make sense to people on the outside."
The ministry uses Living Free curriculum. The AG ministry based in Chattanooga, Tennessee, helps women in the jail confront life-controlling problems.
Prison ministries will be able to send women to the Dream Center after incarceration for a year of discipleship before they return to their communities. The center will have transitional housing for women and leadership training and programs for youth.
The Smoky Mountain Dream Center will host an open house on Sept. 18.