Convoy of Hope Responds to Missouri Flooding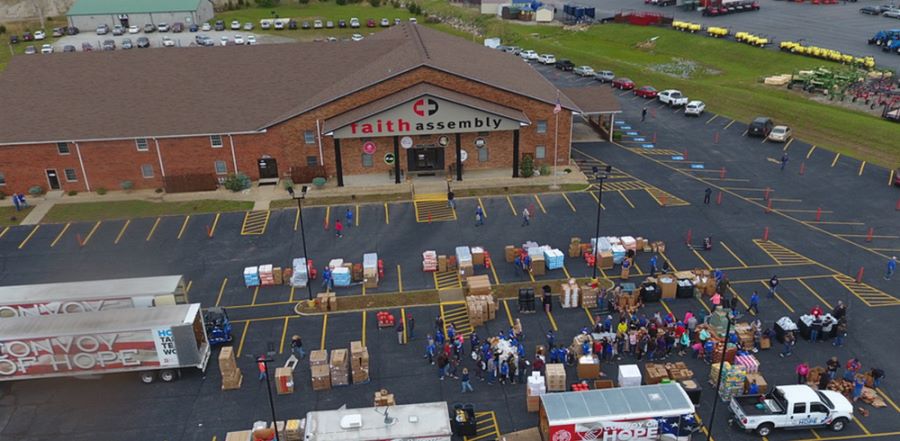 Don't miss any stories. Follow AG News!
Convoy of Hope, acting as a compassion partner for the Assemblies of God, is responding to historic flooding in Missouri following days of torrential rain. Governor Eric Greitens has declared a state of emergency as flash flooding continues in many areas.
Southern Missouri District Superintendent Don Miller says that several AG churches have reported flooding issues, including Doniphan First Assembly of God. Pastor Kevin Crider reported having water to within three feet of the church's basement ceiling — and the water was still rising.
Convoy's response began Saturday in Branson where it resourced local first responders with water and sports drinks. A load of bottled water was also delivered to Ellington where the local water treatment plant was flooded.
"On Sunday, we had several truckloads of emergency relief supplies en route to additional areas that have been affected," says Stacy Lamb, U.S. response director.
Miller urges teams interested in coming to assist in relief and clean-up efforts to contact Carol Hudler, district response coordinator, at 573-465-2733 or mrshud@gmail.com. "We will pass the word on to you as soon as we know when and where you can assist," he stated in a district-wide email.
On Monday morning, Convoy set up a distribution point — supplying food, water, hygiene items, and cleaning supplies — at Faith Assembly of God in West Plains. A majority of the town flooded, including two main grocery stores. More than 320 families were served and 300 volunteers were mobilized at this distribution point.
Convoy also distributed supplies in Dora and Thomasville and a truckload of water to Neosho. On Tuesday, Convoy will be moving to aid the towns of Van Buren and Eminence. So far, a total of 150,000 pounds of supplies have been distributed.
"We are working with the Missouri State Emergency Management team to identify the areas of greatest need," adds Lamb. "We will continue to respond, as needed, in the coming days."