Could a Smile Save a Life?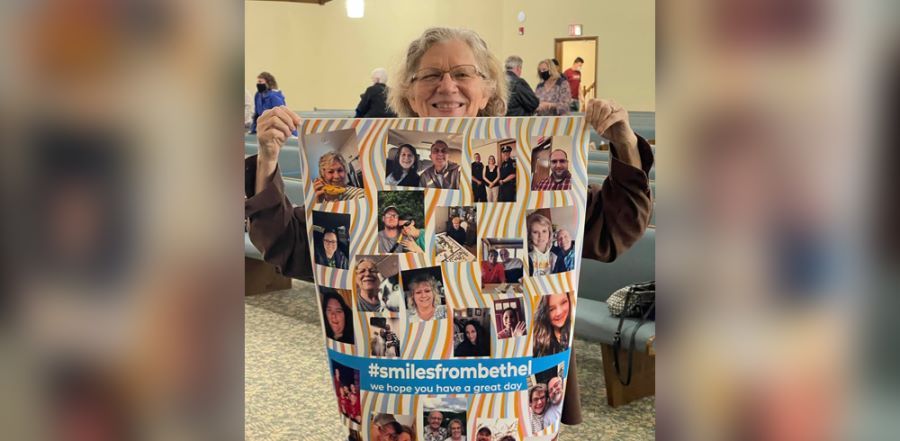 Don't miss any stories. Follow AG News!
Pre-COVID, it wasn't uncommon for people to be encouraged to smile — how much does a smile cost anyway? More importantly, that free gift of a smile has been known to change a mood, bring happiness to people, brighten the smiler's day, and place a smile on the receiver's lips as well. Medically it has
proven beneficial
to both the giver and the receiver!
But with the coming of COVID-19 and masking requirements, a vast percentage of smiles literally disappeared from sight. This may be bearable for those who go home to families where masking isn't required or can go outside and encounter maskless faces, but what of those who can't? In particular, the people considered most vulnerable to COVID — those in nursing homes or long-term care facilities.
Not long ago, Chuck Kish, senior pastor of
Bethel Assembly of God
in Carlisle, Pennsylvania, made that observation.
"I was recently in a COVID-lockdown unit," Kish says. "I overheard a resident say to a worker, 'Could you please lower your mask? I have not seen a smile in a very long time.'"
Kish noted that everyone — residents, staff, and visitors were all masked. Smiles — those infectious, mood-boosting, pain-relieving, anti-depressants — were simply never visible.
Kish knows full well how a warm smile can break tension, lighten a mood, or bring peace and comfort. Through his years of service as a minister, a smile has often played a key part in
opening doors
of discussion. Also, as multi-discipline chaplain, he has been called on many times by local officials to be on site at
horrific tragedies
. In those times, a gentle, compassionate smile has brought confidence and comfort to those working the scene as well as the witnesses or surviving victims.
But how do you bring smiling faces into a lockdown area? It's not as if church members could stop by the nursing home — where fear of COVID tends to run high — without their masks and safely "smile away" at residents for hours on end.
. . . or could they?
If a maskless in-person presence wasn't permitted, what about pictures of people smiling?
"I talked to several nursing homes and they thought this — taking pictures of people smiling and hanging them as posters in common areas — would be a wonderful idea," Kish says. "One director told me, 'You have no idea the psychological effect of going month after month after month without visually seeing people smiling.'"
So, Kish and his team gathered 26 pictures of happy, smiling individuals, couples, and families of all ages and backgrounds from the Bethel congregation and had a colorful poster created using the images. The large two-foot by three-foot posters include a message which reads: "#smilesfrombethel we hope you have a great day." The church name and web address are also included in the lower corner of the poster.
"We started out by giving three nursing homes five of the posters each," Kish says. "They placed the posters in common areas."
Almost immediately, the church was notified by one of the nursing home's directors.
She wrote: "The posters that you delivered today have already had a positive impact! Not only are residents stopping and chuckling under their masks, but I also witnessed many staff stop. One resident stated, 'It feels good to see so many people smile!' Thank you for thinking of us."
With the posters already achieving their intended purpose, Kish says that the church is looking to place the posters in other facilities.
"We pray that these posters will not only brighten the days of those in nursing homes, but that they will bring a sense of God's joy, hope, and love for them into their hearts," Kish says. "Who knows, in this case where it's been such a dark time for so many, a smile may very well lead to saving someone's life, physically or spiritually."