Critical Decision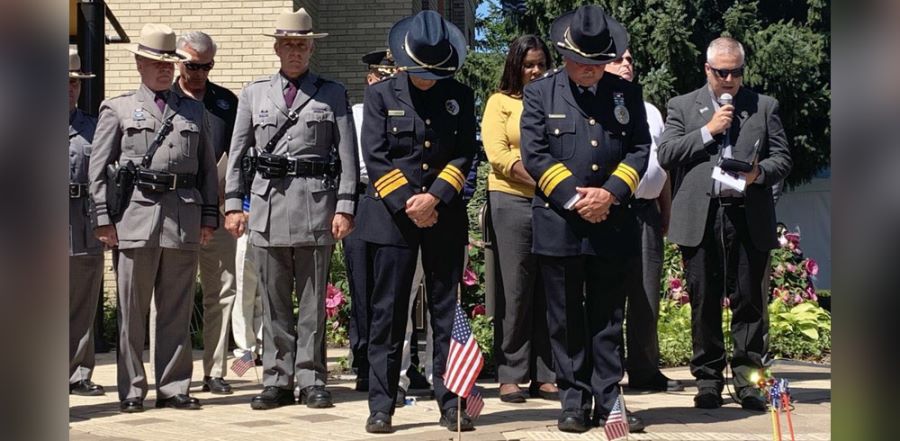 Don't miss any stories. Follow AG News!
Endorsed Assemblies of God chaplain Joshua M. Czyz stood in the Auburn, New York, police on-site command unit and observed as Special Weapons and Tactics and local officers worked to bring an end to a standoff with a man who barred himself in his house after a domestic situation turned turbulent.
Though Czyz, 44, ministered to the man's family during the standoff, he didn't get involved primarily for them. He was there to minister to the police.
Czyz, a 1997 graduate of the University of Valley Forge (UVF), always dreamed of ministering to those who worked in emergency services and the military. But when he felt called to pastoral ministry, he assumed he couldn't do both. So he placed his chaplaincy dreams on the back burner to focus on working in the local church.
Almost a decade later, in 2008, he accepted the lead pastor role at Lakes Church, then a struggling central New York congregation of 15 people. He took a part-time job as a patient advocate at St. Joseph's Hospital in Syracuse to supplement his family's income. Though he loved the challenge of revitalizing the church, first responder chaplaincy never strayed far from his mind. So it delighted him later that year when his job at the hospital turned into a chaplaincy position.
And when an opportunity arose to volunteer his services with the Auburn Fire Department, he felt God clearly opening the path. From there, more doors opened with other emergency services — including the Auburn Police Department, Onondaga County Sheriff's Department, Civil Air Patrol, Armoured One (which responds to active shooter events), the New York State Corrections Department, and, most recently, the U.S. Secret Service. Czyz is a U.S. Missions chaplain endorsed for corrections, critical incident ministries, and Civil Air Patrol.
But in the midst of juggling those roles, he and his wife, Rachel, also a UVF graduate and deeply involved in children's and church ministry, became foster parents. Already the biological parents of two sons, Jeremiah, now 18, and Joshua, 16, they felt God leading them to care for children whose parents couldn't. When their foster parenting opportunities turned into adoption ones, however, they readily accepted. Over the next decade, their family of four grew into a family of eight, with the adoption of Jerry, now 15, Josiah, 10, and biological brothers Joseph, 10, and James, 8. Four boys — dealing with their own post-traumatic stress disorder, abuse issues, and grief — meant Czyz needed to turn his chaplaincy attention toward his family.
Czyz found he and his family needed even more of his chaplaincy training and skills in 2016. In a seven-month span, he lost his cousin, a close friend, to a heart attack; Rachel received a diagnosis of an aggressive form of breast cancer; and he and his wife finalized adopting the younger two boys.
"There were moments when I didn't think I could handle everything," Czyz says. He credits Rachel, now cancer-free, and God for giving him his strength.
"I'd never experienced that kind of grief before," Czyz says. "That time made me realize what so many families go through. It helped me become a stronger chaplain."
As that crisis passed and with the church thriving, Czyz again turned his attention to chaplaincy work. In 2018, he founded the nonprofit Critical Support Services, which provides training, consultation, and support services in chaplaincy, disaster response, and crisis intervention. But as much as Czyz loved working and connecting with these important men and women, he felt torn between his work at the church and this new ministry, which had taken over much of his schedule. Something had to give.
"Chaplaincy is his passion and his personality draws people to him," Rachel says. "We need people to minister to those who carry the brunt of tragedy and have to take it home to their families. He has the heart to do it and he does it well."
So in November 2019, Czyz stepped down from his lead pastor role to devote more time to his chaplain work through his sponsor-funded organization. The work, though long and hard, is rewarding, as he receives opportunities to share God's love and healing strength with those who put their lives on the line every day. He acknowledges that God has given him a gift of empathy to communicate with first responders.
"I've learned to read what they need," he says. "And they trust when I speak to them. I show that I care about them, that I want to listen and help, and they ultimately will open up."