Dandelion Kids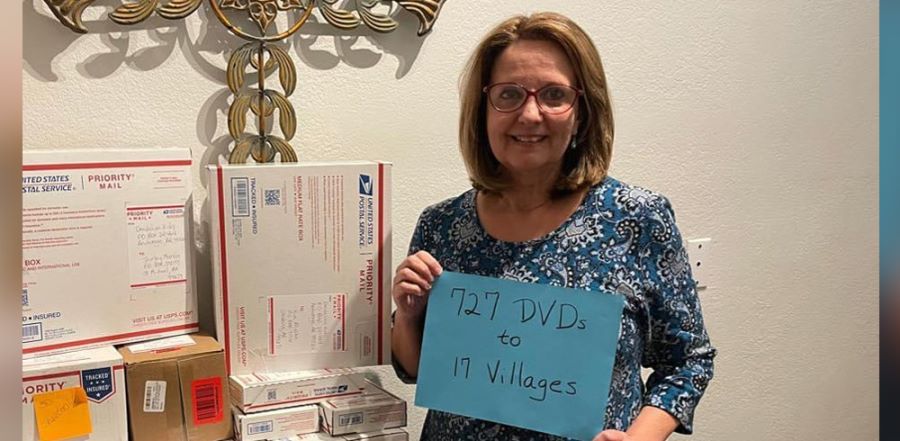 Don't miss any stories. Follow AG News!
Various data show Alaska social problems such as substance abuse, depression, suicide, and child abuse have risen dramatically during the pandemic. Assemblies of God U.S. missionaries
Pamela and Tracy Hodge
s
have responded to the needs of children by sending a message of hope directly to residences.
In January, the couple mailed 737 DVDs to 17 villages containing the first episode of
Dandelion Kids
, a program that provides inspiring lessons full of biblical truths. The goal of Dandelion Kids is to plant lasting values, empower kids to thrive, and help them to become positive leaders of influence.
In pre-COVID times, the couple's original strategy included working closely with four churches each year to help those congregational leaders develop impactful children's ministry programs. Two-thirds of AG
churches in Alaska
are considered developing or missions churches, and children's ministry remains an area in need of expansion.
However, government-mandated restrictions due to the pandemic caused a shift in ministry opportunities and ministry needs.
"Alaska's churches were closed, so we started to create kids programming for several churches on the road system," Pamela Hodges says. "Dandelion Kids was born as we saw a need for getting children's ministry out in the remote communities."
The internet in rural areas costs a great deal and has limited bandwidth, preventing residents from accessing and downloading online content. However, virtually every home has a television set as well as a DVD player.
The couple sent DVDs to residents of target villages — communities with need and opportunity.
"We have dozens of unreached villages in Alaska, and this is another tool to get the gospel where there is no active ministry taking place," says Terry D. Hull, U.S. Missions director in the state.
Hull believes the digital video discs could have a long-lasting impact.
"The Dandelion Kids DVDS can lead to the establishment of house churches or church plants," Hull asserts. "It reaches beyond children's ministry, because the adults in the home watching with the kids will be impacted as well."
Pamela and Tracy Hodges arranged for contacts in each rural community to distribute the DVDs to homes with children, and provide local families with someone they can talk to after viewing the discs. Packages also include a postcard viewers can mail to the missionary couple to receive more information about salvation and a free Bible.
The most recent DVD presented content on the topic of overcoming fear and included games, a memory verse, and a Bible lesson. The missionary pair want to enlarge the program to include four lessons per disc. They plan to keep expanding their list of rural communities and the number of DVDs distributed each month.
The dissemination comes at an opportune time. Currently, Alaskan schools do not permit students to attend in person, and students have limited access to distance-learning options.
"My heart is so broken for all the families dealing with trauma," Hodges says. "Alaska already had high rates compared to other states of suicide, depression, violence, child abuse, and the number of children in foster care before the pandemic. We are praying that the anointing of the Holy Spirit will come into the room and minister to the whole family."
The program received its name as an indicator of hope for the children of Alaska. Experts in psychology have labeled children who excel despite stressors and trauma as "dandelion kids" because of their ability, like the plant, to thrive in any environment.
Financing to provide a camera, lights, green screen, editing software, and other supplies has come through multiple sources. Prior to COVID-19, Pamela spoke at a kid's missions convention in Pennsylvania, where leaders provided money the couple had hoped to use to fly to remote areas. Those funds now help them reach communities digitally instead.
Boys and Girls Missionary Challenge
also has provided needed resources and has featured Pamela and Tracy in the ministry's Christmas and project catalog.
The ministry echoes the work of Pamela's parents, Eldon and Gloria Hicks, who are retired after also serving as U.S. missionaries to Alaska. Eldon, 82, has helped duplicate and distribute the DVDs.
"My dad did a similar thing with cassette tapes," she says. "In its heyday, they sent 5,000 tapes a month. It's amazing how it's all come around again."