David W. Flower with the Lord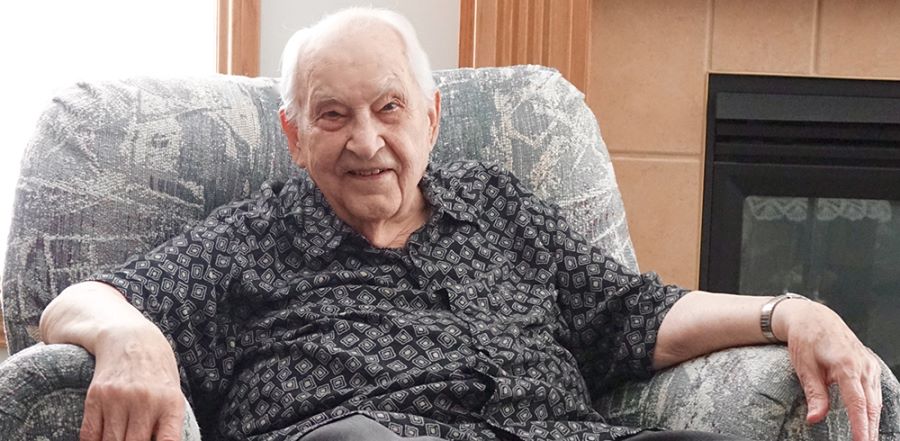 Don't miss any stories. Follow AG News!
David W. Flower, the youngest of six children born to early Assemblies of God leaders J. Roswell and Alice Reynolds Flower, went to heaven on Jan. 4, 2017. At 91 years old, he was the last surviving member of the original Flower family, all of who served in full-time ministry for a collective span of over 100 years.
Born in 1925 in Springfield, Missouri, Flower received Christ as a child during family devotions, was baptized in the Holy Spirit in his early teen years, and began preaching as an evangelist in 1942.
He attended North Central Bible Institute (now North Central University) in Minneapolis, Minnesota, and graduated as a five-star athlete from Houghton College in Houghton, New York. He was credentialed by the Assemblies of God in 1944 and ordained in 1950. He retired from full-time ministry in December 1995.
During his 54 years of pastoral ministry, Flower served in several capacities, faithfully supported by his wife, Doris, whom he married in 1948. The Flowers pioneered a church in Olean, New York, and then pastored Augusta Gospel Tabernacle in Augusta, Maine.
The Flowers left Maine to pastor Bethany Assembly of God in Springfield, Massachusetts, for 11 years. Flower was then elected to serve as superintendent of the Southern New England District, an office he held for the next nine years.
The final 21 years of his active ministry were spent as senior pastor of Bethel Temple Assembly of God in Dayton, Ohio. He also preached on the radio and at various camps and conferences, ministered overseas, and served on the boards of Northeast Bible Institute, University of Valley Forge, Evangel University, the General Council Finance Committee, National Home Missions, and AGUSM missionary Ray Gannon's "All Israel" ministry.
Flower was a passionate champion and advocate for missions. At a youth rally during his early teenage years, he experienced a graphic vision that gripped him the rest of his life. In it he saw Africa's darkest jungles, filled with disturbing images. God asked Flower, "Are you committed enough to go here?" Though unnerved by what he had witnessed, Flower agreed to go if asked.
David Flower was never called to be a missionary, but his commitment to missions was permanent. His father was also key in instilling the love of missions into Flower, says David K. Ringer. Ringer, David Flower's son-in-law, recently published J. Roswell Flower: A Brief Biography, a work in which David Flower was heavily involved and of which he was very proud.
In every pastorate and position he held, Flower aggressively championed the missionary cause and strongly encouraged missions giving. He took many missionary preaching trips to Russia, Ukraine, and various European and Caribbean nations.
Upon retirement, David and Doris moved to Springfield, Missouri. After Doris' death in 2002, Flower continued to minister as a prayer counselor and volunteered for Global University's prison ministry. Until mid-2016 he also led the Sunday School class founded by his parents in 1937 at Central Assembly of God. His dedication to missions was carried in the class's faithful support of Global's prison ministry and the "All Israel" ministry. Once a month through August 2016, Flower preached at the Maranatha Village Chapel on Sunday nights.
Flower is survived by his daughter, Kathryn, and her husband, David Ringer, of Springfield, Missouri; two sons: David of Phoenix, Arizona, and John and his wife, Brenda, of Somers, Connecticut; six grandchildren and two great-grandchildren.
In a sermon Flower preached during the 2011 General Council in Phoenix, he stated:
"Psalm 116:15 says that to our Lord the death of the righteous is precious. The Bible gives us several examples of this divine love and care, both for the departed and for we who are left behind. He was there for your loved one and He is there for you now.
"We occupy now. We face challenges now. But friend, we have a steadfast hope — an assurance of a fast-approaching day when we will have a glorious reunion with all who have gone before and also with the Lord. Jesus will soon call us all home!
"His hand is now resting on the doorknob of heaven. And when that moment of rapture comes, the door of heaven will again swing open and Jesus, the Monarch of earth and sky, will call out, 'It's suppertime, my children! Come on home.' Oh, what a day that will be!"
The family will receive friends at Central Assembly of God in Springfield from 10-11:30 a.m. on Tuesday, Jan. 17. A memorial service will follow at noon. In lieu of flowers, donations may be made to Assemblies of God World Missions account #2947307, class #46, a ministry which was dear to Flower's heart.