Defying Prison Recidivism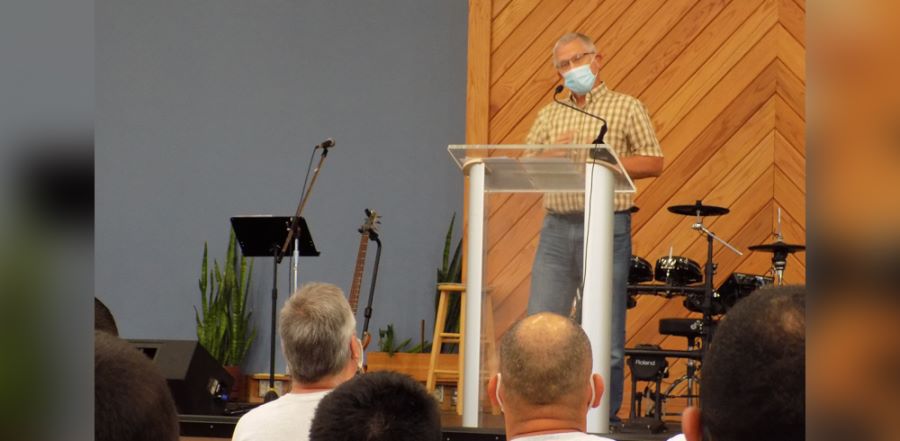 Don't miss any stories. Follow AG News!
Prisoner recidivism begs fixing as a national plight. For example, two out of three former prisoners are rearrested and more than 50% eventually return to prison.
Exie E. Barber, pastor of Assembly of God of Ellsworth in Kansas, has devoted more than 30 years helping inmates at Ellsworth Correctional Facility (ECF), defy these embarrassing statistics.
He visits the prison regularly, conducting Bible studies and special events, mentoring parolees, and assisting the chaplains.
"I try to be the tool of Jesus with skin on," says Barber, 66. "Members of our small church understand God's forgiveness in their own lives, and show authentic compassion and grace."
ECF is a medium-security prison housing almost 900 male inmates. The 68-acre compound guarded by metal fences topped with layers of razor wire, sits less than a mile from the church, where around 45 attend on Sunday mornings. Ellsworth is a community of 2,961.
Barber gained early compassion for those caught in the web of crime at Pennsylvania Adult & Teen Challenge in Philadelphia. At age 18, during the summer of 1973, he counseled young men at the former Mabel Althoff Home for Boys, a Teen Challenge program. He carried that burden after leaving in 1975 to pastor churches in the Kansas Ministry Network, where he received his ministerial ordination. He joined AG of Ellsworth in 1989.
Along the way, Barber earned a bachelor of career arts from Southwestern Assemblies of God University and a master's degree in Christian education from Assemblies of God Theological Seminary.
Before the arrival of COVID-19, Barber's weekly ECF Bible studies drew up to 50 inmates. While the number of attendees dwindled to around 20 during the height of the pandemic, the number has increased lately. Christian inmates have remained strong in their faith meeting alone, despite COVID-19 restrictions for volunteers, according to Barber.
Barber currently mentors two inmates who are scheduled for release in December 2021 and May 2022, respectively.
"These men feel strange and out of place when they leave the culture from inside the walls," he says. "Meeting Christ replaces the void in their hearts."
Steve Pritchett, 43, met Exie Barber in 2014, while serving a 6-year sentence at ECF for aggravated battery against his wife. Drugs and marital infidelity had devoured their marriage.
"Our lives were a mess," he admits.
Caught doing drugs in prison, Pritchett cried to God for mercy while in solitary confinement for 45 days.
"I finally hit bottom and I turned my life over to Jesus," Pritchett says.
Pritchett joined Barber's Bible studies and the Mentor for Success program before his release in 2016. He reunited with his wife and children when they moved to Ellsworth.
"The church people helped us repair our marriage and showed God's love and grace," Pritchett says.
He has since moved with his family to another city for a new job, but still connects with Barber. "Jesus is my rock today," Pritchett says.
Barber also serves as president of the Right Track Foundation of Kansas (RTF). The umbrella organization is under ECF chaplain Dale Bailey, religious program coordinator for the Kansas Department of Corrections.
The foundation solicited donations to build the facility's 9,167-square-foot Spiritual Life Center, containing classrooms, library, chaplains' offices, and a 300-seat sanctuary for worship and community events. RTF supports the center by raising funds for training inmates in work skills such as repairing bicycles and wheelchairs, welding, and woodcraft. It also maintains the band and sound equipment for worship.
"Exie has made a huge impact discipling guys for years," Bailey says. "He is a solid pastor in the community who preaches the gospel."
Barber also guides Brothers in Blue (BIB), a multichurch ministry that sponsors biannual retreats in ECF's Spiritual Life Center. Volunteers from the men's group and other churches spend Friday and Saturday connecting with as many as 90 inmates.
They gather around tables of six new inmates, one returning inmate recommended by the chaplains, and a volunteer. They hear music and encouraging volunteer-led presentations. The gospel is shared, leading to a final salvation service and water baptisms for those publicly committing their lives to Christ.
The latest BIB event in October attracted 67 inmates and 17 volunteers, including former ECF inmate Steve Pritchett. On Saturday afternoon, Barber helped baptize nine men publicly confirming decisions to follow Christ and four rededicating their lives.
"This has carried my vision and dream to reach the incarcerated and empower them with the message of Jesus," Barber says. "What a victory God has given us!"