Delivering Sermons Instead of Prescriptions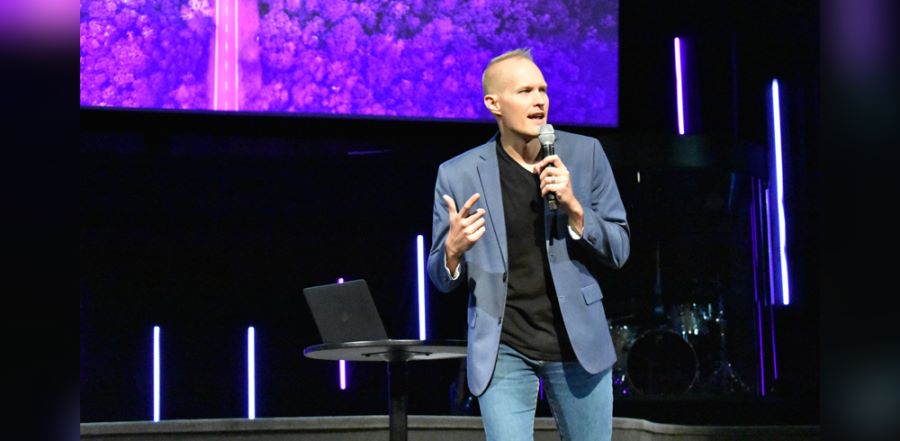 Don't miss any stories. Follow AG News!
In a 1½-year span, David D. Leedahl experienced tremendous satisfaction in his role as director of pharmacy for Sanford Health based in Fargo, North Dakota. Just after his promotion to the position, the COVID-19 pandemic struck, forcing Leedahl and his 225 regional staff members to find innovative ways to help stricken patients in the health system's hospitals, infusion centers, and retail pharmacies.

Leedahl and his team unpacked the first novel coronavirus vaccines available in North Dakota in the exhilarating, yet stressful, time in medical history.

Yet all during the crisis, Leedahl kept feeling a tug to a different profession: pastoral ministry. Some friends he shared with thought him unwise to even consider relinquishing a financially lucrative career for the rigors of ministry.

"Leaving the profession I loved was hard, but I really felt a distinct call of God," says Leedahl, 35. "I had a strong burden. The Lord convinced me I had to do it. God is all about putting us where we need to be."

Leedahl's installation as lead pastor of Northview Church in Fargo occurred Oct. 31.

Not that he didn't have a little prodding from others along the way. That included retiring pastor Bob A. Ona, who has been leading the congregation of 700 for 15 years and has since moved to Milwaukee. Brad G. Lewis, another encouraging father figure, also had been suggesting for years that Leedahl might succeed Ona.

Leedahl has been a part of the church his entire life. He says several men in the church served as mentors after his father left the family, forcing his then-44-year-old mother, Debra, to raise him and his twin brother, Nate, as a single parent. Debra worked three jobs at a time to make ends meet. In the early going, the young twins helped their mom with janitorial work after school.

Lewis saw the potential in the brothers and during their senior year in high school made the unprecedented offer of recruiting them as Chi Alpha Campus Ministries student leaders at North Dakota State University (NDSU) in Fargo. David became a small group leader.

At 20, the brothers both sensed a ministry calling at a leadership conference they attended at the invitation of Lewis.

During his junior year, David felt discouraged and perplexed when only one student attended his small group meetings several weeks into the fall semester. Lewis urged him to stick with it. By Christmas, 30 guys had become part of the group; today, five are in full-time ministry.

At NDSU, David met his future wife, Alissa, who studied to become a nurse. Alissa attended Jamestown First Assembly 100 miles west of Fargo growing up.

David captured one of four open spots out of 100 applicants as a pharmacy resident at Mayo Clinic in Rochester, Minnesota. While there, David and Alissa assisted the Chi Alpha group at Winona State University.

Both David and Nate embarked on pharmacy careers, while remaining active in lay ministry.

After his two-year residency, Leedahl spent 6 months as a front-line critical care pharmacist for Sanford Health intensive care units. A 6-year stretch as pharmacy manager for the health system followed, before he received the pharmacy director promotion.

Leedahl sees parallels between pharmacy and ministry.

"Health care is a precious resource, with allocation for a maximum impact for patient care," he says. "Likewise, every dollar or minute spent in ministry is designed to impact the kingdom of God."

The Leedahls, who wed in 2011, have three children: son Jay, 6; daughter Harper, 4; and son Jones, 2. The 33-year-old Alissa, who holds AG ministerial credentials, is children's pastor at Northview, an area David is intentional about prioritizing. He also is committed to a continued focus on the college ministry.

Most of the staff at Northview participated in Chi Alpha under Lewis, who has been on the church team while simultaneously serving as Chi Alpha director at two campuses since 1989. In 33 years of double duty at NDSU and Minnesota State University Moorhead — 5 miles across the Red River — 200 Chi Alpha group members at the schools have gone into full-time ministry under his mentoring.

"Dave has leadership capabilities, wisdom, and insights that make him as good a pastor as he was a pharmacist," says Lewis, 63. Some of David's pharmacy co-workers have started attending Northview since his installation as pastor.

Lewis credits David with helping him in 2014 to write the book Small Group University: Relevant Training for the Emerging Leader, which has become a primer for many Chi Alpha leaders across the nation.

"Dave has a passion for small groups and seeing people discipled well," Lewis says. "He is an excellent communicator and passionate about the baptism in the Holy Spirit."

When the Leedahl brothers attended North Dakota State, it had one of the largest Chi Alpha groups in the nation: 600 students attending worship services and/or small group meetings.

Nate — who continues working full time as a pharmacist for Sanford Health — and his wife, Whitney, are Chi Alpha staff at Northview who continue to assist Lewis with Chi Alpha. Like her sister-in-law Alissa, Whitney became a nurse and licensed AG minister after graduating from NDSU.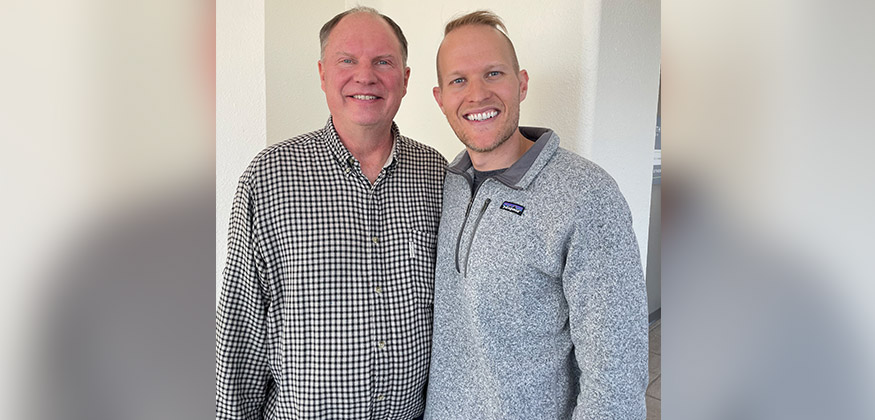 PHOTO: Brad Lewis (left) has been a mentor for Dave Leedahl and many others.