Discipleship Redemption Online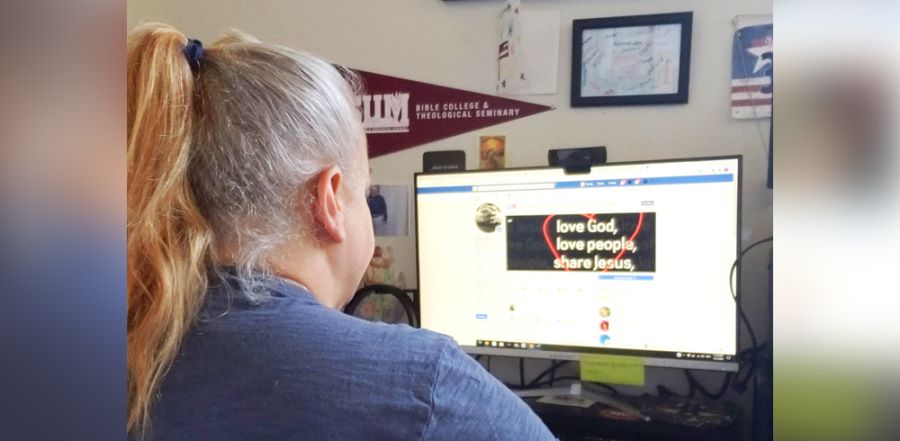 Don't miss any stories. Follow AG News!
Mark Zuckerberg launched Facebook in 2004 from his Harvard University dorm room. At the same time, Jenny A. Holloway served at Fort Leonard Wood in the Missouri Ozarks as a senior technical training instructor, teaching automated drafting and design.
Flash forward 16 years to the present. From her home in Middleboro, Massachusetts, and now retired from the Air Force, Holloway each morning logs onto to her Facebook account, where she is the founder and administrator of three relatively new groups. Two of them titled Single Ministry Mom's Life began in 2018-19. A third discipleship group, Rooted & Grounded Disciples Making Disciples, started this year. More than 107,000 people are Facebook followers on the sites.
"Ladies, do not be deceived, our enemy lurks prowling, just waiting for us to forget to put on our armor on or be weak," she writes. "Stand firm! Be strong in the Lord and above all else, put on your spiritual armor daily!" Holloway's daytime schedule appears to be an intimidating gauntlet for even the most determined online multitasker. She spends her day, near full time, on Facebook as a volunteer tending to the spiritual needs of these virtual congregations.
On top of this, she is a graduate student in an online master's program at SUM Bible College & Theological Seminary, where she also completed her undergraduate degree. When she's not on Facebook or doing school online, she is a single mom, caring for her young-adult son who is disabled due to autism.
RESPONDING TO THE SPIRIT
"She is very flexible because she's been through so much; I see her as a fighter," says Deborah Fulthrop, one of Holloway's professors at SUM. "The Spirit of God has transformed her from being military-minded to focus on really opening up her eyes to see the opportunities God has given her. She responded to the Holy Spirit."
Prior to enrollment at SUM, Holloway endured decades of heartache, abuse, sickness, mental illness, and disability. Abused at age 5, she struggled through school but graduated in 1987 from high school. Under a special delayed enlistment program (parental consent included), she joined the Air Force at 17. She followed the military careers of her father and grandfather, who died after being shot down flying over Italy during World War II.
Stationed in Okinawa, she married, had her first child, and divorced. By 1993, she had remarried and given birth to two more children. But she divorced her second husband a short time after he broke her jaw.
In 1995, she deployed to Saudi Arabia and later to Grand Forks Air Force Base in North Dakota, where her third marriage broke up in 1998 after one month. She relocated to Fort Leonard Wood, and in 2004 — as a result of watching The Passion of the Christ in a movie theater — she accepted Jesus and experienced an anointing of the Holy Spirit.
"I wanted to shout it from the rooftops that I was a Christian," Holloway recalls. "I told everybody. I rushed down to the Christian bookstore and bought a Bible. You get zealous as an adult when converted."
A short time later, Holloway experienced a devastating setback after her retirement from the Air Force. Overwhelmed by multiple mental health concerns, doctors diagnosed her with dissociative identity disorder. This rare and complex condition, until very recently, had been labeled "multiple personality disorder." Holloway received treatment at an in-patient clinic in Washington, D.C., and for a time was confined to a wheelchair.
In 2016, she enrolled in SUM's undergraduate Bible College but had a severe bout with septic shock. In 2017, she joined The Assembly in West Monroe, Louisiana, and began to experience healing from dissociative identity disorder.
During 2018, Holloway's comeback story took flight. She achieved the dean's list at SUM and graduated cum laude in the spring. That summer, she launched the Facebook group Single Ministry Moms' Life, which took off. Today, this group has 45,800 participants.
After enrolling in SUM's seminary, Holloway took part in the school's annual Mardi Gras outreach, where she discovered an unexpected passion for evangelism. For four days in 2018, she and an outreach team walked the Bourbon Street area of New Orleans. Despite having a torn tendon and walking in a cast, she still logged 18 miles on foot, telling revelers about Jesus and offering to pray with them.
A PLACE TO SHINE
Fulthrop, who took part in the 2018 SUM Mardi Gras outreach, says Holloway is like many other people who are called to vocational Christian outreach but don't easily fit into the traditional jobs of pastor, Christian education director, or youth minister. These often-new believers are well-positioned to minister to people who would never cross the threshold of an established church. This has become all the more commonplace during this year's COVID-19 pandemic and the suspension of typical Sunday morning in-person worship.
"In some cases, women really struggle to find a place where they can shine," Fulthrop says. That place to shine, as Holloway, now 51, has discovered, can be paradigm-busting. Meanwhile in May, she finished her first year of seminary with a 3.8 grade point average.